Fundraisers can't turn a page on their calendar these days, it seems, without discovering hundreds of nonprofit conferences to attend. That's not a bad problem to have.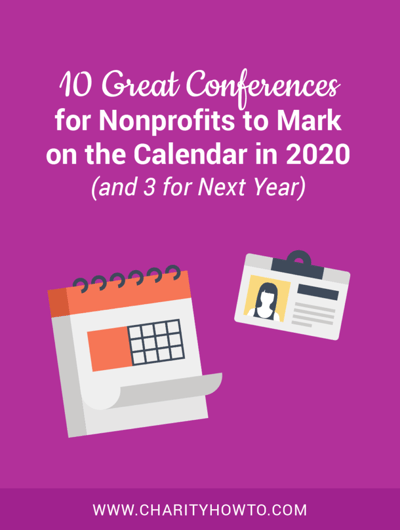 The nonprofit/fundraising sector is one of the sharing-est sectors there is. Fundraisers really do seem to believe that a rising tide lifts all boats (because it's true). So, there's really no harm in the free and eager exchange of ideas in the fundraising world.
One thing you'll find at just about any nonprofit conference is an air of camaraderie – commiseration, even – with attendees sharing war stories, success stories, lessons learned, nuggets gleaned, etc. in the halls, at the lunch tables, at the after-session gatherings and, oh yeah, in the session rooms.
Done right, a fundraising conference can pay for itself many times over by sending attendees home with a wealth of new ideas, insights, connections and strategies they can use not just in the immediate wake of the conference, but over months or even years.
But how to do it right?
Before we get to our list of the best nonprofit conferences on the circuit, here are some tips to make the best of them
1.Plan.
Itineraries for nonprofit conference can be as simple as a single-page agenda or, more likely, as daunting as a cross-referenced, color-coded opus complete with venue maps and tips to getting from the session in Room 1A to the keynote in F27 without hyperventilating.
For the best experience, register early and get your hands on the conference program as soon as possible. Then pour over it. Assess your options and make a game plan.
Choose your must-attend sessions first, then your second-tier choices in the remaining time slots, then your third choices among what's left. If you have to register for anything ahead of time, do it as early as possible. And while you're planning, be sure to get the lay of the land by checking out the venue map and keeping "leg time" in mind as you decide on what sessions you'll hit and when.
2. Be flexible.
Choose backup sessions in every time slot in case your first choice is full. And be prepared to jump into a session that seems more suitable on the fly.
3. Look for balance.
Choose sessions based on:
Topics you need to know more about… because your organization is doing or planning to do something in that subject area – but don't shy away from one or two subjects that are entirely new to you.
Who is presenting… because we all have our favorite speakers – but open your mind and seek out a few speakers you've never heard who might even be from another part of the world.
Format… because you might be most comfortable in a traditional classroom setting – but check out a few non-traditional formats as well, such as roundtables or those crazy sessions where you sit cross-legged on the floor and communicate telepathically with the presenter.
4. Be present.
More likely than not, you'll have access to speaker presentations after the fact, so don't spend your time taking copious notes. And out of sessions, take a break from your electronic life and engage wholly with your peers.
5. Network, network, network.
Better yet, connect. Anyone can collect business cards after a quick meet-and-greet. But take the time to really engage as much as you can. You might never remember why you thought it was important to take 90 percent of the cards you collect.
But you'll never forget the major gifts officer who you chatted with over coffee who confessed she loses sleep at night over the same things you do.
6. Take care of yourself.
Bigger fundraising conferences, especially, can be overwhelming. Something to do every minute of every day. But don't overtax yourself. Eat healthy meals.
Rest when you need to. Hit the gym or the pool or the spa. Don't overdo on caffeine. And no matter how cool or fun those after-hours networking events are, get your butt to bed at a reasonable time. We know all of this, of course, but the high-energy happenings at big conferences can be a siren's call.
7. Plan on sharing your learnings.
The best way to get the biggest bang for your conference buck is to spread the wealth. Once you've gotten back to the office and decompressed, plan a session with everyone who needs to hear what you've learned. Better yet… do it on a bigger scale and plan a workshop with other nonprofits in your area.
Now let's get to the good stuff….
Here are a few of the best nonprofit conferences you should look into attending.
NTEN
Baltimore, Maryland
March 24-26
nten.org
NTEN, the Nonprofit Technology Conference, might have been one of the first of the newer, higher-energy fundraising conferences. I remember its first year when so many people were stunned that speakers encouraged them to be on their mobiles, tweeting out what they were learning. It's been cutting-edge ever since.
Costs: The only pricing available now is the last-minute option — $949 for members and $1,249 for non-members
AFP ICON
Baltimore, Maryland
March 29-31, 2020
afpicon.com
Drawing 3,500 attendees each year, ICON is probably the largest fundraising conference in the world. The Association of Fundraising Professionals was the hallmark fundraising conference in the country but, for a while at least, it seemed to rest on its considerable laurels. But it upped its game a while back and came back strong with a more international flavor and souped-up energy. The level of speakers, diversity of session topics and excellence has always been and continues to be industry leading.
Costs: Early-bird deadlines have passed. Regular pricing is $1.499 for AFP members, $1,899 for non-members, with other options priced for different types of AFP members.

Cause Camp
Lincoln, Nebraska
April 20-21, 2020
www.cause.camp
Again, Cause Camp ushers in the new high-energy, holistic class of fundraising conferences. It's rather unique in that its agenda is such that attendees needn't choose between sessions in any given time frame, as it's planned out as a one-track, immersive experience. Breakout sessions are tailored to allow maximum interaction among attendees and speakers.
Costs: Early-bird options have passed. Regular rates are $499 for an individual in-person ticket or $149 for an individual online-streaming ticket. Group rates are available.
CASE Annual Conference for Corporate and Foundation Relations Officers
San Francisco
May 13-15
bit.ly/2VfFlMJ
The face of corporate partnerships is changing — companies are looking to partner with organizations, not just hand them big checks. This conference hosted by the Council for Advancement and Support of Education, addresses that fact head on, offering vital information to help nonprofits of any size meet the new challenges in securing external support.
Costs: Early-bird pricing ends April 3 — $1,030 for CASE members and $1,340 for non-members; regular pricing is $1,095 for CASE MEMBERS and $1,495 for non-member. Individually priced pre-conference workshops are also available.
Fundraising Day in New York
New York City
June 5, 2020
https://bit.ly/37zK4ey
The Association of Fundraising Professionals New York chapter manages to pull off a huge conference – attracting about 1,800 people every year – and stuffs a ton of information in to one day. It's fast-paced but thorough and leaves you feeling at the end of the day like you just stepped off a carousel ride operated by a NASCAR driver – exhausted, a little dazed but happy for the experience.
Costs: Early-bird rates available until March 13: $395 for NY AFP members; $420 for AFP members from other chapters, $475 for non-members. Regular rates available March 14-May 1: $445 for NY AFP members, $475 for AFP members from other chapters, $500 for non-members. Late rate is available May 2 to June 4: $495 for AFP members, $530 for AFP members from other chapters, $560 for non-members. Other options priced for different types of AFP members.
Bridge Conference
National Harbor, Maryland
July 13-15, 2020
bridgeconf.org
Bridge was one of the first conferences to really, well, bridge fundraising and marketing. It came together at a time when most fundraisers were loath to use the term "marketing," much less acknowledge their role as marketers. It seemed that after its inaugural event, other older, dustier conferences upped their game in terms of both energy and diversity of topics.
Costs: Vary greatly from a high of $1,365 for a non-member with hotel accommodations and go down from there depending on accommodations options, days of attendance, etc. Anyone who is a member of the Association Fundraising Professionals Washington DC Metro Area Chapter (AFP DC); Direct Marketing Association of Washington (DMAW); AFP International; the American Advertising Federation of DC (AAF DC) or the Direct Marketing Fundraisers Association (DMFA) is eligible for member pricing. Different levels of early-bird pricing also are available.
The Nonprofit Innovation & Optimization Summit
Austin, Texas
Sept 29-Oct 1
niosummit.com
How do you not love something that bills itself as "the world's most scrumdiddlyumptious event for online fundraising and digital marketing?" This one is another fresh-faced entry on the fundraising conference, with more emphasis on energy than inertia.
BBCON
Seattle
Oct. 6-8
bbconference.com
BBCON started as a user conference for Blackbaud clients but quickly grew into a full fundraising conference for anyone in the sector. It was fresh, inclusive and forward-thinking from the start, with good energy and lots of access to top-notch experts without a lot of sales talk from Blackbaud (unless that's what you wanted).
Costs: Early-bird full-conference pass is $950 until June 26 (regular pricing will be released after this date).
International Fundraising Congress
Noordwijkerhout, Netherlands
Oct. 13-16, 2020
https://mindwize.org/events-en/ifc-2020/
I am an unabashed fan of IFC, and I suggest that any fundraiser or nonprofit leader experience it at least once. Here's why.
Costs: All ticket levels include meals, networking sessions, social gatherings and wellness events. Prices vary from about $2,000 to $3,500 depending on accommodation choice and option to add pre-conference masterclass. Different levels of early-bird pricing are available, and you can find substantial savings the earlier you book.
Nonprofit Storytelling Conference
Chicago
Oct. 29-31, 2020
nonprofitstorytellingconference.com
The storytelling conference is one of the new breed of fundraising conferences that feel more like a retreat than just another work event. The approach is holistic in regard to both attendees – with an emphasis on personal nurturing and empowerment – and on fundraising itself, with the understanding that truly successful fundraising is more about engagement than dollars. The energy has been described as magical, uplifting and extraordinary.
Costs: In-person conference only is $1095 ($695 before March 31); lifetime access to all session videos only is $995 ($595 before March 31); in-person conference plus lifetime access to all session videos is $1,245 ($845 before March 31).
Nonprofit Conferences to watch for next year
Philanthropy Southwest's The Nonprofit Organizations Institute
Austin, Texas
January
bit.ly/38wT85t

This is a pretty specialized event that focuses on the less sexy but highly relevant areas of expertise and brings in nationally recognized experts from private foundations, public charities, law, finance and government discussing the latest tax, legislative and governance issues affecting nonprofit organizations.
2020 ANA DC Nonprofit Conference
Washington, DC.
February
https://bit.ly/31XR1oE
The DMA Nonprofit Federation DC conference was always a great and exciting way to kick off the fundraising conference season. When DMA joined with the Association of National Advertisers, the conference expanded its breadth to offer a more expansive look at fundraising success.
The Nonprofit Alliance Fundraising and Marketing Conference
Boston
April
bit.ly/38xwSIz
This one is brand new and sounds promising – especially since it's already sold out! (But you can register to be put on a waiting list for spots that might open up.) Breakout sessions include women's philanthropy, benchmarking, diversity, data privacy, and a lot of the usual topics, but there's something really intriguing about the inaugural year… you just want to get in on the ground floor of something new. Plus, there are some hard hitters on the speaker list.
Guest Blog Post By: Margaret Battistelli Gardner
Margaret is a collector and teller of stories and a starry-eyed champion of the people and organizations. She's been in love with the nonprofit sector since becoming the editor of FundRaising Success magazine in 2003, a position she held until 2015.
From 2016 to 2018, she was the chief scribe and content manager for The Resource Alliance, a global organization dedicated to cultivating new ideas around social change around the world. Currently, she is a freelance writer and editor, and president of her fledgling consultancy, LunaSea Communications.
Margaret has been honored to put pen to paper (or finger to keyboard) to help support amazing, life-changing organizations such as Americans United for Separation of Church and State (Washington, D.C.), City Harvest (New York), The Resource Alliance (UK), and many more.