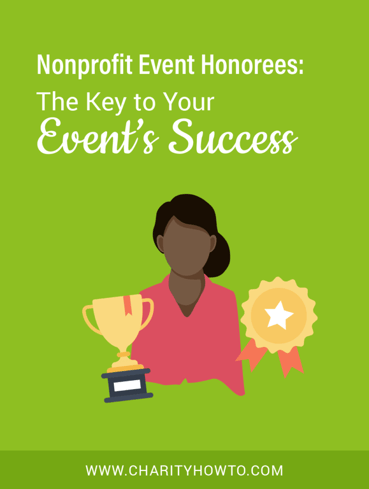 Organizations put a lot of time and effort into nonprofit events. They spend countless hours creating silent auctions, designing invitations and tribute books, and crafting stage programs. However, they spend very little time and effort choosing the perfect honoree, and because of this their nonprofit events often underperform and even, unfortunately, fail.
The difference between an honoree that is just okay and one that is perfect is akin to the disparity between a lame duck and a golden goose! A lame duck is just along for the ride, but a golden goose will continue to bring riches long after the event is over.
Why Your Nonprofit Event Needs a Golden Goose Honoree
A nonprofit event doesn't honor a person or business entity just to fill up time in the stage program or make the honoree feel special.
A savvy nonprofit understands that an honoree will add a specific focus to an event, expand community awareness of your organization, boost ticket sales dramatically, sell ads in the tribute book, and bring new prospects to your cultivation funnel.
In other words, they help with marketing impact, ticket sales, and the long-term revenue stream of your organization.
What's not to love about that!
I want to be clear that there are two kinds of honorees
Those being recognized for volunteerism and service and those being recognized for generosity of giving, and the latter is the Golden Goose Honoree.
I am a big fan of honoring people and companies for their volunteerism and organizations should of course include this element in their events, but ideally nonprofit events should also have a Golden Goose Honoree as a separate honoree category. The heart-felt tribute to a loyal volunteer is sure-fire tug at the heartstrings during the stage program but a Golden Goose Honoree will boost your events' success in a major way.
The secret to maximizing the impact of the honoree position is to choose the perfect person or business to bestow the honor upon. Choose well and that golden goose effect can have a long-lasting positive impact within your organization. Choose a lame duck honoree and your event risks being a turkey.
What Qualities to Look for in a Golden Goose Honoree
The process of choosing the perfect honoree for your nonprofit event starts by identifying prospects. Here are qualities to look for in your candidates.
Generous Donations: The ideal honoree will be a generous donor to your organization. This award reflects a genuine appreciation of their support.
Length of Donor Relationship: Look for long-term stability in the relationship.
Business Network: A person who is well-connected in the business community will help you to sell sponsorships. Their business colleagues will also buy tables and tribute ads to show their support of the honoree.
Social Connections: Popularity is important when choosing an honoree. A socially active person with an extensive social network will be able to help sell tickets and tribute book ads.
Genuine Connectivity: Make sure that you have a genuine reason to honor the person and that they have a deep connection with your organization. If a person feels you are honoring them to just capitalize on their personal wealth and peer group, they either will reject your offer to be honored or will refuse to share their contacts for invitation mailing list and sponsorships.

Who to Avoid as Nonprofit Event Honorees
There are three groups of people to reject as potential honorees. You may be surprised by their exclusion from your honoree hot prospect list but trust me that you want to steer clear!
Politicians
You may think that politicians would make an ideal nonprofit event honoree as they bring media coverage and name recognition, but they are actually lousy honorees.
First off, politicians are polarizing by nature, and chances are that a good chunk of your support base may not be fans of their policies. Also, politicians spend a whole lot of their time fundraising on their own behalf and will not be asking their supporters to shift their donations over to your organization.
Founders and executive directors of other nonprofit organizations
Yes, I know they have done meaningful work in your community and certainly they deserve recognition. However, these folks are loyal to their own organizations and absolutely will not ask their donors to come to your nonprofit event and risk them jumping ship and supporting your organization.
People who have been honored before
Sometimes nonprofits get lazy and decide it's easier to honor someone who has been successfully honored by other organizations in the past, rather than spend time prospecting their own honoree.
Avoid doing this, as previous honorees have already tapped out their friends and colleagues on behalf of another organization. Also, the tribute won't be as special to a person who has a collection of honoree trophies sitting on their shelf at home.
The Care and Maintenance of Your Golden Goose Honoree
Engagement is the key to unlocking your honoree's resources. Too often an organization will bring on an honoree at the start of their nonprofit event planning, and then completely ignore them until the date of the event.
This ghosting causes a disconnect between your organization and the chosen honoree and suggests to them that their participation in the event is just a minor element.
You need to create a bond with your honoree at the start of the event planning process and create a sense of excitement about their participation. This is all about relationship building, and part of this is being clear about your expectations and goals for both the overall nonprofit event and their involvement as honoree.
Ideally you will meet with the honoree in person after they have agreed to the tribute and you can share your vision for the event. It is important to ask their opinion on certain elements that surround their tribute, as soliciting a person's opinion makes them mentally more engaged and excited.
Let them guide you on their comfort level with speaking in public, photos they would like to use on the screen, and who they would like on stage to present their award.
All of this builds their feeling of ownership in the event which makes them far more likely to share their resources for potential sponsorships and invitation mailing list.
During the planning of your nonprofit event keep in touch with the honoree on a regular basis.
Send them updates on sponsorships, auction items, and the planning process in general. Always be enthused, whether speaking to them in person, on the phone, or via email. It is crucial that you build up their confidence that the event is going to be wonderful and they can be assured that their invited guests will enjoy themselves.
Pay attention to the honoree's family connections and personal interests and find ways to incorporate those into your nonprofit event's elements.
For one of my events we learned that our honoree was a fanatic about wine, so we personalized his invitations to his closest friends by having them delivered tucked into a beautiful box with a special bottle of wine. That made a huge impression on both his invited guests and the honoree who was touched that we had made that special gesture.
At another event we had an honoree who was known for wearing wacky bow ties, so as a tribute to this we placed a bow tie at each guest's place setting.
Thoughtful gestures such as these go far in making an honoree feel special which sets the tone for post-event engagement with both the honoree and their guests.
A Real-Life Golden Goose Honoree Fairy Tale
Here is a true-life example of how choosing the perfect nonprofit event honoree can be a game changer for an organization.
Once upon a time, there was a small nonprofit that chose a Golden Goose Honoree for their gala. This nonprofit did things right – they chose the perfect honoree, included him in the event planning decisions, and kept him engaged and excited.
The evening of the event was a glowing tribute to the honoree filled with family and friends, all there to celebrate his life's work and accomplishments.
At the end of the paddle raise, which raised twice as much as the previous year thanks to the honoree's invited guests, the honoree surprised us all by returning to the stage and announcing that he was so touched by the event and his friends' generosity that he would match all funds which had just been pledged during the paddle raise.
This was close to two hundred thousand dollars of unexpected windfall!
To illustrate how a Golden Goose can keep on giving, six months after this event the honoree, still feeling the warm glow of post-event satisfaction, donated the final $2million to finish up a stalled capital campaign and now the beautiful newly-completed building proudly bears his family's name.
And as you can imagine, both the honoree and the organization are all living happily ever after.
– – – – – –
Get more insight and strategies about choosing your nonprofit event's Golden Goose Honoree with my free webinar at CharityHowTo.com. Click here to register.
You can also get the help your organization needs to create profitable and engaging nonprofit events with my webinars. Click here to check out my available webinars.
About the Author
A.J. Steinberg, CFRE of Queen Bee Fundraising is a nonprofit event producer, topic expert, and speaker. In her 20 years as a nonprofit event producer she has produced over 100 successful events and raised millions of dollars for her clients. A.J. brings nonprofit organizations success with their events through her online courses, webinars and workshops.