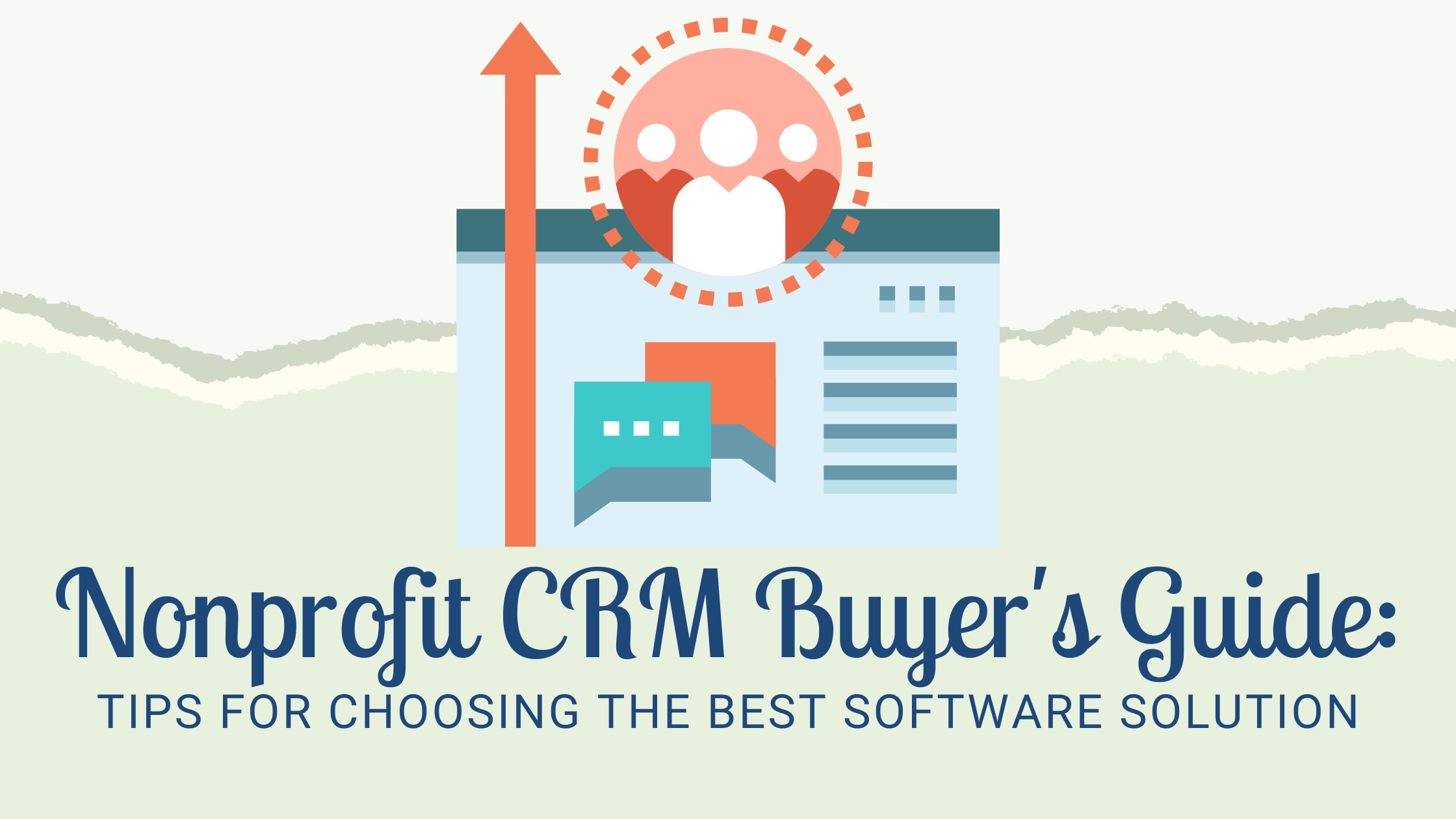 Your nonprofit CRM is the central information hub for your organization. With this software solution, you can develop great relationships with supporters, track important fundraising campaign metrics, and assign internal tasks to your team.
Whether you're looking for a new software solution or buying your first CRM, choosing the right software can be stressful and challenging.
In this guide, we've pulled highlights from Bloomerang's nonprofit CRM buyer's guide to provide some tips and tricks to help you through the process. We'll dive into both the features that you should consider for a great solution and the steps you should take when choosing the best option for your nonprofit.


Ready to start the process that will help you find the right CRM? Let's get started.
Features of great CRM software solution
The real measurement of the best solution is in the features that you'll find most useful for your mission.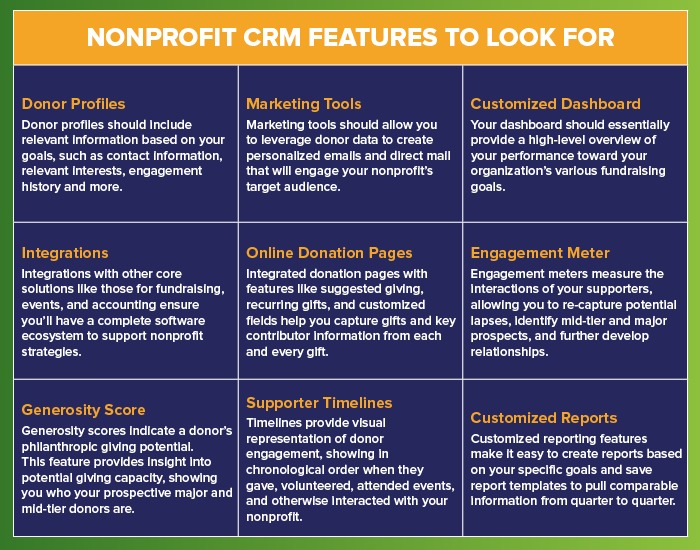 Above, you can see a list of features that most nonprofits prioritize in their search. While these certainly aren't all of the possible features to look for, we want to highlight a few of these as must-have and standout features.
Donor profiles
Donor profiles are basically the backbone of your CRM solution. They allow you to save important information about each of your supporters and pull data to fuel your outreach strategies for the future.
Look for a CRM solution that enables you to add custom fields to donor profiles, ensuring you can add and save all of the information most important to your organization. For example, an animal shelter may want to add a field about the type of animal adopted by various families. That way, they know who is a cat person versus a dog person and can reach out to those groups of people accordingly.

Marketing tools
Once you build out your donor profiles, you can leverage the information within them to create segments for your marketing strategy. Your CRM should have the marketing tools necessary to help you build and leverage smart donor segmentation strategies. Donor segments allow you to customize the information you send out to supporters, ensuring they have their own timeline and communication cadence with your nonprofit.
CRM solutions also sometimes have marketing tools built-in, allowing you to draft email campaigns that immediately leverage your segments and more. However, keep in mind that many of these tools are not as built out as the marketing tools you can get from other providers focused solely on those services. When possible, look for integrations with established companies like Mailchimp and Constant Contact.

Customized dashboard
The dashboard of your nonprofit CRM is the first thing your staff members see when they use the solution. That's why it's wise to invest in a nonprofit CRM solution with a customizable dashboard. This way, you can customize it to show the most important metrics that your team members should monitor.
Consider this: You've set a goal to increase your nonprofit retention rate by 15% this year. To keep an eye on the metric, you track your retention rate directly on your dashboard, such as in the image below: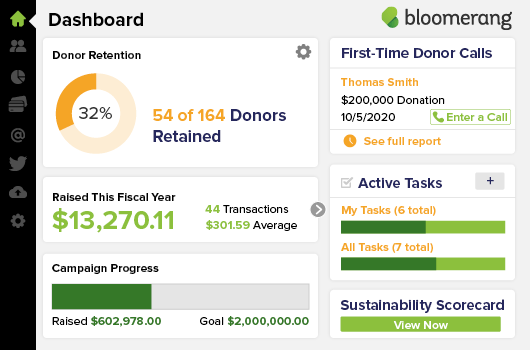 That way, every time your staff members open up the tool, they'll see your retention rate front and center. It reminds them of the goal and shows progress throughout the year.
With a customizable dashboard, you can keep an eye on the most important fundraising metrics for your organization's current goals. And when your goals change, so does your dashboard!

Engagement and generosity scores
When your nonprofit hosts a major campaign, you'll likely want to reach out to major donor prospects to ask for large contributions to help you meet your fundraising goals. This often requires some in-depth prospect research so that you can determine the perfect prospects and their chances of contributing to your organization.
One stand-out feature to look for in a CRM solution is an at-a-glance view of your audience members' engagement and generosity potential.
Supporters who are actively engaged in your nonprofit's various activities and have the capacity to give at a higher level make the perfect prospective major donors. If information about their giving capacity and engagement is already available in your CRM solution, you can simply review the information to identify potential prospects rather than run every contact in your database through third-party software. For example, the scores shown below rate supporters as "cold," "cool," "warm," "hot," and "on fire!"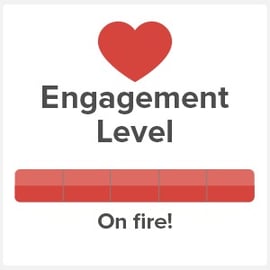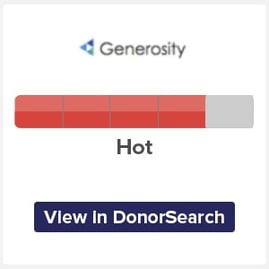 Note: Even if you choose a solution without these particular at-a-glance scores, that doesn't mean it was the wrong choice. Just make sure that you can save prospect information in donor profiles so that you can leverage it now and update it for future campaigns.

Integrations
It's unrealistic to expect a nonprofit CRM to provide everything your organization needs in a single solution. That's why you should look for a solution that has integrations with other top solutions available. Integrations allow for data to flow freely between your other solutions and your nonprofit CRM, making it easy to collect data from separate solutions and store it securely in one place.

How to choose a nonprofit CRM
Now that we've highlighted some of the features to look for in a new system, we'll dive into how to choose the right solution for your organization.

Conduct your initial CRM research.
The first step to finding the perfect CRM solution is to conduct your initial research. You need to get a feel for the different solutions available and their specialties. To do this, you should:
Conduct an initial Google search. Start the research process by finding the various solutions that could work for your nonprofit.
Review referral lists. In your research, you'll likely come across listings of top software solutions, such as this list of

top fundraising software from Bloomerang

. Use these lists and pick out the solutions that could meet your needs.
Ask for referrals. Are there other nonprofits in your area? Do they have similar missions? Ask them what type of software they use and note any details they provide about the software itself.
Write down a list of potential solutions from this initial research and take note of the important details, such as what the software specializes in and the price of the solution.

Narrow down your list of solutions.
Define the elements that are necessary in an ideal solution, such as the must-have features versus nice-to-have features and the budget you have to purchase the software.
Once you have this list, it's time to start narrowing down your selection. Compare each software solution's features to the features in your must-have list and eliminate the solutions that don't have those features and the ones that are outside of your budget.
Narrow down your choices further by comparing the features of each platform to your nice-to-have features. After you've conducted this research, you should be left with a shortlist of solutions. From here, take the following steps:
Compile questions you have about the software solutions.
Schedule demos to view the different solutions. During the demo, ask your questions and take notes during the demo itself.
Review your notes and determine your favorite two to three solutions.
Get a second demo from these two to three solutions.
Ask for a sandbox so that you can take the software for a test drive yourself.
Make your decision!

Sometimes, you may need two to three demos to determine what software solution is the best fit for your nonprofit. That's OK! Don't rush the process. It's much better to make sure you have the best software solution than accidentally making the wrong choice and having to start the process over again.

Create an implementation timeline.
Once you pick the right software solution, you need to implement it and get it incorporated into your regular processes to support your strategic plan. The first step is to migrate your current data to the new software solution, whether that's from a spreadsheet or from an existing solution.
Use any existing learning resources or software experts for help during the implementation process. Keep in mind that you may need to hire an outside consultant to help you with your new solution and to maximize your use of its features. Anticipate this potential expense and be sure it's accounted for in your initial budget.
Choosing a software solution isn't a fast or easy process. It can be incredibly overwhelming to start looking for the perfect one. Plus, once you start the research process, it's easy to get distracted by the bells and whistles of ineffective solutions. However, having a concrete plan will ensure you have everything you need in your new solution.