This a guest blog post by RobinCabral
Capital campaigns are the most ambitious fundraising campaigns that a nonprofit organization will ever embark on during its lifecycle. Because of this, systematic steps need to be followed to ensure that a campaign will ultimately be successful.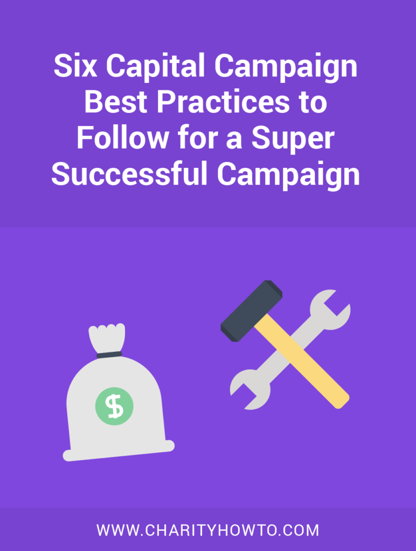 Over many years, these steps have been refined into capital campaign best practices.
The following are recommendations based on these capital campaign best practices that one should follow to ensure the ultimate success of their next nonprofit capital campaign.
Steps to Improving Your Nonprofit's Next Capital Campaign
1. Conduct a capital campaign feasibility study in advance.
Feasibility studies are conducted after a major project is conceived and a general project plan is developed, but before the plan has been finalized.
It explores the primary constituent's reactions to the project. It helps the organization to "test" a campaign goal as well as the overall perceptions about the organization in the community.
The recommendations made in the feasibility study provide a plan to move the organization into a campaign.
In some cases, the study suggests that the nonprofit organization takes some time to prepare for the capital campaign by strengthening elements of the organization such as volunteer management, overall fundraising infrastructure, and improving the organization's visibility.
Often groups will move forward with conducting these studies but then blatantly disregard study findings as they move into general campaign mode. This move proves detrimental to the overall success of the capital campaign.
2. Bring on a capital campaign consultant.
Many organizations will try to forgo hiring a fundraising consultant to assist with a capital campaign because they are often "big ticket" items in the campaign budget.
When assessing whether or not to bring on a campaign consultant, an organization must determine the experience level of the current staff as well as the size and complexity of the capital campaign.
Campaign consultants can bring a wealth of experience designing and overseeing campaigns in a variety of organizational settings.
A good consultant can offer valuable insight gained from many campaigns. In most cases, they leave the organization with powerful knowledge to guide them into the future.
Additionally, consultants can put an organization's problems in perspective when momentum is lost or a campaign has stalled, and they are able to provide an outsider's viewpoint and take tough stands without flinching when needed.
3. Develop donor recognition opportunities in advance of the capital campaign kickoff.
A clear and consistent plan of donor recognition must be developed and approved before any gifts are solicited. A formal policy should be developed that outlines all of the giving levels and categories, including the organization's donor listing practice.
Far too often, organizations have not done planning around named gift opportunities and do not have official policies in place.
When this happens, the organization runs the risk of inconsistencies in its naming rights, oftentimes leading to confused—and even angry—donors.
4. Ensure that your nonprofit team performs at their best level.
One of the most significant and most challenging problems arising from campaigns is the varying capabilities of its members.
Ideally, team members would be performing well if they were actively engaged in all elements for the campaign solicitation process from prospect identification, qualification, cultivation, solicitation, and stewardship.
Each member would be active performers if they were participating in all aspects of the campaign by attending prospect identification meetings, rating and ranking sessions, engaging in moving a prospect along through the cultivation cycle through conducting outreach and making calls, and then actively participating in asking a prospect for a gift whether alone or in a group solicitation call.
Campaign Chairs as leaders of the Capital Campaign effort, should be actively involved in soliciting their fellow committee members as well as maintaining and soliciting a portfolio of lead gift prospects.

Sometimes, campaign chairs are reluctant to actively solicit prospects. You must make every attempt to either find the right capital campaign chairs from the start and set strong expectations, or work with the chairs that you currently have.
When recruiting a chair, be sure to set expectations up front and ensure that your nominee can meet them.
If you cannot get a commitment from a prospective campaign chair, then perhaps consider a team approach to the committee. Or go inside your circle and approach a former board member or even current board chair to serve in this capacity.
If you find that your current chairs are not actively soliciting, you can offer to provide support and assistance by perhaps checking in on solicitation dates and offering to go along on visits.
Another strategy is to have a peer of the chair to go along on calls or even reassign the prospects. Regular committee report meetings provide natural deadlines and peer pressure to volunteers.
Sometimes the executive director is underperforming and derailing forward momentum. A good development director or consultant can work with the director to strengthen or support their skills during this time. It may mean that a reassignment of tasks takes place.
Board members are often known to be reluctant participants of capital campaigns. In some cases, board members have flatly refused to participate and have even gone as far as trying to "pull the plug."
It behooves the organization to have board members as part of the planning and/or steering committee and to keep them well informed about the campaign as it proceeds along. Uninformed board members lead to anxious members who can derail momentum.
Utilize Volunteer Support
To have the large numbers of volunteers needed to solicit your donor prospects, you will need to start recruiting volunteers well in advance of when you need them to become engaged, even before the launch of your capital campaign.
Organizations with strong volunteer programs are those most suited to running successful capital campaigns.
If you are not able to find a cadre of volunteers to participate, the organization may have to ask the committed volunteers to do more rounds of gift soliciting and/or prioritize the top prospects for solicitations. More prospects may need to be called on via telephone or mail if this does occur.
5. Ensure that your major donors are ready for a capital campaign effort.
A thorough rating and ranking of donors will allow you to make sound judgments on both the capacity and engagement levels of your donor prospects.
An ideal donor prospect should have affinity for your organization's cause and have some capacity to give.
I caution and say that capacity should not be the only criteria from which someone should be considered a donor prospect. There is more to what makes a prospect as ideal such as affinity and engagement in your cause.
All prospects fit into the campaign at various levels whether as a lead gift prospect, mid-level, or even the very community-facing public level. All donor prospects are necessary to create a healthy and effective capital campaign.
Before soliciting gifts, you must be sure that you have done your prospect research. Unless you know the answers to a variety of giving-related questions, it will be challenging to determine the appropriate giving strategy.
You want to be sure that you research all of your donors' past giving patterns to both your organization and others to determine the best course of action. Be sure to know the financial situation of each of your donors before gift solicitation.
The "Grapevine," or your informal sources of prospect information, is an excellent source of information about individuals. A formal rating and ranking process will allow you to learn a great deal about your donors that will help to inform your strategy.
6. Follow the sequential nature of capital campaigns.
Each capital campaign must follow the order and organizational principles according to how campaigns will be solicited. This fundamental sequential nature is often referred to as "Top-Down/Inside-Out."
This approach entails soliciting from the top down. All successful campaigns are predicated on soliciting from their top one-third of donors first before anyone else.
Campaigns are commonly divided into thirds.
The first third is the "lead gifts," the next is "major gifts," and the last is "community/general gifts." Lead gift solicitations set the pace for the rest of the campaign. They determine the standards of giving and establish the campaign's chances of success.
Soliciting from the inside out means that the campaign process starts from the inside, soliciting those closest to the organization, and proceeding outwards to those less involved."
One way of doing this is to organize a "family division" to solicit gifts from those insiders who are not being solicited by the lead gift division.
The family division may consist of gifts solicitations of the board, former board members, founders, essential volunteers, former staff, and anyone else close to the organization.
How the Six Capital Campaign Best Practices will Ensure a Super Successful Campaign
For most organizations, a capital campaign is the single largest campaign that an organization will undergo. It is imperative that these organizations turn to fundraising best practices before deciding to move into campaign mode and then ultimately losing momentum or even faltering.
The key to capital campaigns has been built on several core principles that, if followed, ensure that an organization's next capital campaign will be more successful.
Here are the key steps that an organization needs to take to improve the success of its next capital campaign:
Ensure that your people perform at their best level.
Ensure that your major donors are ready for a capital campaign effort.
Follow the sequential nature of capital campaigns.
Bring on a capital campaign consultant.
Develop donor recognition opportunities in advance of the campaign kickoff.
Conduct a capital campaign feasibility study in advance.
Are You Ready To Fundraise For A Major Capital Effort?
For more on how to plan your upcoming Capital Campaign, and bring in those big dollars to support your next effort, see the Charity How To top-rated step-by-step guide: How To Create A Successful Capital Campaign: New Money For Small and Large Nonprofits Alike.
About Robin Cabral
Robin Cabral, MA, CFRE, MFIA serves those both fundraising professionals and executive directors new to fundraising, wanting to excel in their fundraising role, or advance in their career. She provides proven fundraising strategies, tactics, and tools including coaching, training, and content for fundraising success.
She works with these professionals to position themselves to build capacity and generate MORE fundraising prospects, BETTER donor relationships, and BIGGER fundraising dollars all the while reducing their role overwhelm and helping them to grow into their careers.
Find out more at www.developmentconsultingsolutions.com. Follow her on LinkedIn, Like her on Facebook, and on Twitter: @RobinCabralCFRE