Get a Grip on Nonprofit Event Budgets
Creating Budgets and Cutting Costs
Nonprofit event budgets are as unique as snowflakes, and just as elusive to pin down! Whether a gala, festival, or house party, organizations need to understand how to create a nonprofit event budget in order to successfully plan and execute their events.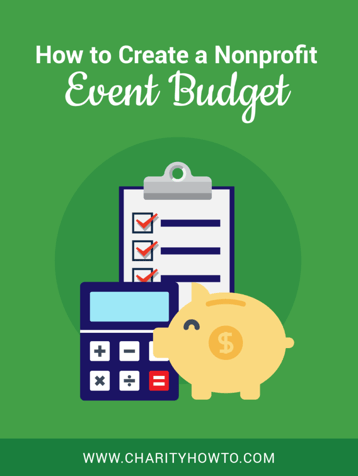 While there are loads of examples of event budgets available for you to review, whether online or from your organization's past history, you need to channel both your inner accountant and sleuth in order to accurately understand the costs you will be faced with when producing your event.
Overcoming your fear of nonprofit event budgets
As a person who has struggled with math, learning how to create a nonprofit event budget was daunting. Not only are there a ton of numbers and figures, which typically make my pulse race anyway, but also there are so many budget items to figure out and include.
At the start of my event planning career I felt nervous about messing up on the budget. Especially when guessing about expenses and revenue.
Eventually my fears about nonprofit event budgets subsided. I began to enjoy the process of penciling in numbers and evaluating an event's potential profitability, and gained confidence in my ability to anticipate both expenses and revenue.
Below I share with you an effective nonprofit event budget worksheet that is easy to create on an Excel spreadsheet.
Why you have a nonprofit event budget
A nonprofit event budget is an important evaluation tool for goal setting.
A nonprofit event has five goals – fundraising, raising awareness for the organization, raising awareness of an organization's programs, cultivation, and appreciation. The event's budget plays into the profitability portion of those goals.
A nonprofit fundraising event is supposed to do exactly that – fundraise.
You can bet your bottom dollar that any fundraising event that ends up losing money can trace its failure back to miscalculations on their event budget.
Your event budget is the first step in your event planning because it lays out your projected expenses and income. If your projected income doesn't match the projected cost of your proposed event, that spells trouble. You had better go back to the drawing board and figure out a different type of fundraiser to host.
A few things to know before starting your budget
When I began planning events, I knew nothing about budgeting. So here are some definitions for you newbies to get you started out right with your nonprofit event budget.
Expenses: Any item for which you pay money. This includes things like food and beverage, florist fees, and bank charges.
Income: Any money which is received in relationship to the event. This usually includes sponsorships, ticket sales, tribute book ad sales, auction revenue, paddle raise revenue, and any donations made at the event.
If you receive donations from guests after the event, that is still considered event income.
Line Item: This refers to any one specific item listed on your nonprofit event planning budget. That line item will list that particular income or expense and also the monetary amount.
In Kind Donation: If an event item is donated or paid for by someone other than your organization, it is considered an "in kind donation."
Examples of this would be donated wine or underwriting of the valet costs. In order to fully understand your event costs, you will need to note the value of the donated or underwritten item in your expenses. Then offset that by adding that same value in your revenue list with a notation of "in kind donation."
Getting started with your nonprofit event budget
I am not a whiz at accounting, but Excel spreadsheets make even me look like a superstar numbers cruncher.
Here is a sample of a simple budget done on Excel. Your budget worksheet may have even more details and line items than shown here. Everyone keeps track of their costs and revenues differently.
This is the basic structure of your nonprofit event budget. The expenses are at the top, the income follows below.

There are several ways to do these budget spreadsheets, but I like to have details broken down into sections for easy review.
In this example, the first expense group is venue costs and you can see that it lists food, beverage and tax/service. It is easy at a glance to see the total of venue costs. A breakdown of per-person costs is also noted in the right-hand column.
For income, we separate the sponsorship income from ticket and other revenue sources. This makes it possible to see our budgeted income projections at a glance.
WARNING! Be realistic with your projections of income.
Look at your past events as a guideline for income generation and use that as a basis for this year's projections. It is good to aim high for your fundraising goal. But you need to be realistic about your event's capacity to raise money.
Next comes the tricky stuff – filling in the line items that are specific to your event.
How to anticipate your line items
Let's start with the revenue portion of your nonprofit event budget. It is much simpler than the expense portion of your spreadsheet.
Your revenue items are things like sponsorships, ticket sales, auction and raffle sales, paddle raises and donations.
List each item. The pricing of each item (i.e. tickets are $150) and anticipation of how many will likely be sold. If we anticipate selling 200 tickets at $150 then that would give us a revenue estimate for ticket sales of $30,000.
Remember, this is a budget, which is basically an estimate of costs.
You will fill in the real costs and revenue after the event. The biggest costs, such as venue, audio visual crew, and rentals are easy to identify. And the biggest costs go at the top of the expense line items.
The smaller costs are just as important to identify. A little trickier as it is easy to overlook some of the smaller costs.
To avoid omitting necessary expenses, take a look at your organization's past nonprofit event budgets and see what line items exist on that document. Those will definitely be costs you will want to include.
Next, to help define expense line items, you can use visualization to help identify hidden costs. When I do this, I actually go step-by-step to recreate the entire guest experience. I think of everything from the Save the Date being received to the post-event thank you letters. I write down each cost and identify them each as a line item.
For example, I identify that invitees receive a Save the Date card. This means we need to have a graphic artist prepare the card, we need to get a printer to print them, and a mailing house to mail them with postage attached.
I mark each of those costs as a line item on the nonprofit event budget worksheet under Save the Date.
Then I identify that the guest will receive an invitation. This means a graphic artist, printer, and mailing house once again get put on the budget sheet under Invitation.
Go through each moment of your event and every item that a guest sees, touches, or experiences is something that you must pay to create.
Just to make your life easy, click here for a link to a compiled list of all the line items that could potentially be a part of your nonprofit event budget.
Where you can save money in your nonprofit event budget
When you are charging $200 or more for a ticket, you need to make the event feel upscale and elegant.
Sure, it is all to raise money for a good cause, but the old saying "it takes money to make money" really does apply to higher end events.
However, there are places where you can use creativity to replace cost.
Even when I work with high-budget events, I try to keep the expenses as low as possible in order to maximize the funds that go towards the organization's mission.
Here is how I save my clients money on events:
Auctioneers:
I am a huge fan of professional auctioneers. The good ones are invaluable for keeping audiences engaged and wrangling every cent possible for live auctions and paddle raises.
They are, however, a pricey bunch. There are lots of fees and clauses snuck into auctioneers' contracts that eat into your budget.
Beware of auctioneers who demand you offer fifteen live auction items. That only serves to line the auctioneer's pocket and a live auction that long bores most of the guests.
Also, you can negotiate with most auctioneers. If you note that they want a percentage of your paddle raise, negotiate that point. Offer them a higher set fee in lieu of them taking a portion of the proceeds from your paddle raise. This can save you thousands of dollars if your Ask is successful
Audio Visual and Lighting:
This is one of the most expensive line items for most events. While we all want amazing lighting, large screens and good sound systems, not everyone can afford a $20,000 price tag for these things.
I always work closely with my AV team to maximize my dollars spent with them. We start with a wish list that includes all my dream lighting and décor. Then I ask them how we can achieve that for less money.
Also, I am never shy about asking nicely for things.
Typically, an AV company owns all the equipment you could ever need, and it is sitting there unused much of the time. If I want a few extra lights or some free pipe-and-drape, I ask them nicely if they would consider just tossing those in our order at no extra charge.
I let them know I would love to pay them full price for everything, but it is a fundraiser, so could they find it in their hearts to give us a little extra.
Almost always they say yes, and I always thank them by bringing them chocolate chip cookies. Everybody ends up happy!
Centerpieces:
You don't have to pay a local florist a king's ransom for gorgeous centerpieces. Beautiful centerpieces can easily be created by any event committee.
From the simple to the elaborate, all your volunteer team will need is one sample of what they are supposed to be creating, and one knowledgeable person to walk them through the process of putting the flowers together.
Talk to a local florist who will design a centerpiece sample for your event. And be on site while your volunteers assemble the creations.
You can ask them to order the flowers wholesale for you. Or you can order wholesale online at a site like https://www.fiftyflowers.com/. Volunteers love working with flowers and learn a lot about floral design in the process.
Offer them title of Centerpiece Sponsor for their efforts, which is a valuable enticement to get them on board.
Wine and Corkage Fees:
Almost all events serve wine during the meal, and this beverage can really add cost to your nonprofit event budget.
If your venue allows you to bring in your own wine, jump at the chance. You're lucky if you find a winery who will provide the wine as an in-kind donation.
If this is not an option, go to a large beverage store like Wine and More. They have a huge selection of good wine and often will offer you a discount. These stores also deliver the wine to the venue for you, and will take the unused wine back for a refund after the event.
Your venue will most likely have a corkage fee if you want them to serve your own wine, and I always ask if they will waive that. Most often they won't totally waive the fee, but they always lower the per bottle corkage cost.
Also, to save money on wine, do not put bottles of wine on the dining tables. Guests not only tend to drink more wine and go through your inventory faster when open bottles are set on their table, but you have lots of left-over wasted wine since each table may have half a bottle of wine left at the end.
Instead, opt to have waitstaff offer wine to the guests twice during the meal, which is the standard number of pours for a sit-down meal.

Poster and Material Printing:
I am like a one-man band – I do it all when it comes to design and printing.
From Save the Date cards to invitation suites, from seating cards to welcome posters, I create those for my clients.
This means there is a lot of printing that I order, and almost always with a time crunch. Because of the number of posters and collateral materials I create for an event, I really rely on my printers to do an amazing job and get me my items on time, and some printers can be pricey.
That is why I carefully choose where I go to get my items printed. I have with a local printer that I adore for all my invitations and seating cards, and they also do last minute rush jobs for me.
However, for certain items I use GotPrint.Com who do an amazing job for posters at a reasonable cost.
If you are in a rush, try Walgreens for printing posters. You send your artwork to them online, and it is usually ready for pick up within an hour or two, and their prices are great.
And so…
Creating a nonprofit event budget allows you to strategize about producing an event that fits your fundraising needs and fits your supporter's wallets.
If your fundraising budget is top-heavy with expenses, consider hosting an event that is less expensive to produce.
You will sell far more tickets and have much more engagement than by pricing your support group out of the event.
Feeling like you need a little more help with budgeting for your event? Check out this helpful book or see our event planning tutorials, which is something I certainly could have used at the start of my event planning career!
You should also check out my nonprofit event Facebook group Everything Events with AJ where I share my knowledge and resources with an amazing community of nonprofit folk!
About the Author:
A.J. Steinberg CFRE, has created outstanding fundraising events since 1999 with her Los Angeles-based event planning company. She has produced over 100 events and raised millions of dollars for organizations Cystic Fibrosis, Jane Goodall's Roots and Shoots and Union Rescue Mission.
In 2015, A.J. launched Queen Bee Fundraising to share the art of nonprofit event planning with organizations worldwide. Through consulting, webinars, workshops and speaking engagements, A.J.'s goal is to make her successful event planning strategies and resources available to all nonprofits, no matter their size or location.
A.J. has earned the reputation as a leader in event-based fundraising and is a recognized topic expert and contributor to respected nonprofit resources such as CharityHowTo.Com.
For Further Reading
PS: For other idea's on how to succeed in nonprofit events, check out this article by our friend at:
Wild Apricot – Event Management Software: 42 First-Rate Tools for Any Organization [2019 Update]