Have you ever suffered the pain and embarrassment of empty-seat syndrome. You know…that horrible experience of staring at a half-full venue when your event hasn't sold nearly as many tickets as expected.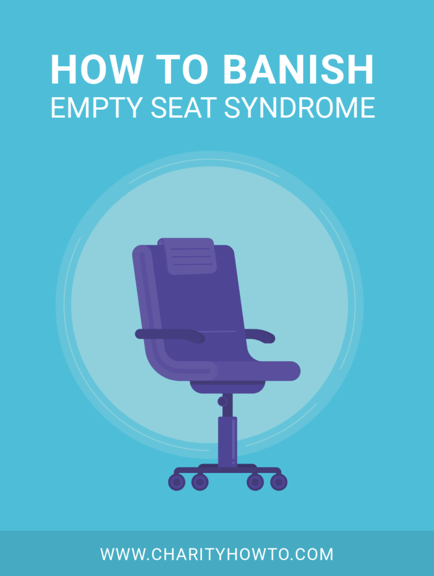 There's no reason for your event to languish from lackluster ticket sales. As a nonprofit event planner with over twenty-years of experience, I have found some simple ways to avoid this event malady. Here are the top five ways to get your guest list filled without making yourself crazy:
1. Choose A Realistic Ticket Price
Carefully consider what your supporters and target demographic can afford. Analyze what you are offering them – overcharging is a real turnoff for event goers.
General rule of thumb is that ticket prices should cover the hard costs – venue, food, beverage and rentals – of producing your event.
2. Make Your Event Irresistible
No one is all that excited about attending the same old event year after year. To sell tickets you must freshen up your event and make it enticing to those who may be bored of the same-old program.
Consider adding a theme to your event and build expectations with a clever invitation. Come up with a tag line and logo that engages your supporters' attention. This doesn't cost extra money and does a lot to sell tickets.
Using creativity when creating an event goes a long way to generating interest and ticket sales, and won't add an extra dime to your event budget!
3. Honor an Influencer
Whether they are wealthy donors or strong champions of your organization's mission, saluting a person or corporation does much to sell tickets.
When honoring a corporation, you set the stage for that company to purchase tables and ad space in your tribute program. Corporations have earmarked funds for their upper level management to attend charitable events, and honoring their business ensures they will want the tables filled when they come onstage to accept their award. Similarly, honoring an influential individual brings their social circle into play when creating your invitation list.
People are proud of their achievements and want to have friends, family and colleagues on hand to witness the tribute.
4. Use a Volunteer Event Committee to Plan Your Event
Using dedicated individuals with strong social circles to help with your event planning not only lightens your staff's work load, but also extends the reach of your mailing list.
When people put time and effort into a project they have "skin in the game" and are far more likely to open their address books and share contacts for your invitation list. These volunteers also encourage their friends and family to attend their event just as they have supported events of those same folks in the past.
All the effort your committee puts into the event's planning makes them determined for the event to be a success.

5. Use Social Media Effectively to Build Excitement
Don't be afraid to delve into the world of social media when it comes to promoting your event. Facebook and Twitter will build excitement as you post updates for your auctions and stage program.
Online calendars and "What's Happening" websites are excellent way of capturing the attention of those who are looking for something to do on the day of your event.
It is important to remember that most tickets are sold either immediately after receiving an event invitation, or two weeks prior to the actual event. Don't panic if you have a sales slump between those time periods – continue to be enthusiastic and promote the heck out of your event. If folks don't know about the event, they can't buy tickets!
About the Author
A.J. Steinberg, founder of Queen Bee Fundraising, has been creating outstanding special events since 1999.
In 2015 A.J. created Queen Bee Fundraising which focuses on the art of nonprofit special event management. Along with producing nonprofit events, A.J. teaches volunteers and professionals the strategies for producing successful fundraising events, along with guidance on how to successfully lead volunteer committees to achieve their goals.
A.J. works with a broad spectrum of nonprofit clients including The Jane Goodall Institute, Cystic Fibrosis, BreatheLA and Union Rescue Mission, A.J. is a leader in the field of committee-based fundraising.