This is a guest blog post by Tobi Johnson, MA, CVA
Volunteer appreciation events can be wonderful opportunities to recognize the hard work and achievements of your board members and volunteers with authentic, heartfelt and generous acknowledgment.
Too often though, overworked nonprofit organizers resort to the same breakfast, luncheon, or happy hour formula year after year. After a while, the event loses its glam and becomes a little worn and tired.

Whether you are looking for ways to refresh your annual volunteer and board appreciation events, or you are kicking off a new event, you can incorporate more meaning into these celebrations. Here's how:
Chose Your Event Site or Location Carefully
You don't have to go with the run-of-the-mill conference or event center. Think about booking your celebration in a unique location (e.g., outside at a city park). Symbolic locations that relate directly to your mission (e.g., a civil rights museum) are also very powerful places that can reinforce a connection to your cause.
Event Special Speakers & Guests
You don't have to go with that tired old speech about the value of volunteers and board supporters either. Volunteers already know how valuable they are! Instead, share success stories (e.g., a volunteer challenge that resulted in triumph). Also, make space during your event for expressions of appreciation between volunteers (e.g. a gratitude wall). Ask those who have benefitted from the volunteers' work to share their personal reflections. Invite spouses or families of volunteers and thank them, too.
After all, how many board members could do the work they do without the encouragement of their spouse?
>> Check out our nonprofit webinars on volunteering <<
Design The Event Program & Activities to Focus on Mission, Altruism & Individuality
Provide a "state of the organization" update & "sneak peeks" of the future. Read thank you notes from clients aloud. Create opportunities for volunteers to take a role in helping your community (e.g. make a donation to a sister organization on their behalf).
Individualize name tags and table tents as much as possible (e.g., include information about each specific key reasons for volunteering or catchphrases). Make space for socializing & "supported" networking & team building.

Recognize the Symbolic Nature of Sharing a Meal
In ancient times, sharing one's meal symbolized hospitality and goodwill. Build on that sentiment by asking community businesses and local leaders in your field to sponsor the meal as a symbol of gratitude from the greater community.
Ask employees to serve a seated meal as a gesture of thanks. If you're low on funds, consider hosting a potluck where volunteers and board members can break bread together and share their own culture and traditions.
Your appreciation even needn't be expensive or grand to make an impression. Nor do volunteers need to be given trinket for their service. Simple, yet authentic acknowledgments of each volunteer's unique contributions is all it takes. Bring people together to celebrate as a group is icing on the cake.
---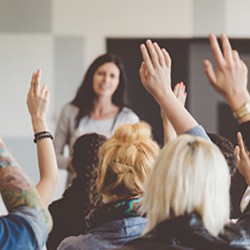 About The Author
Tobi Johnson is President of Tobi Johnson & Associates, a consulting firm whose mission is to help nonprofit organizations strengthen their volunteer engagement strategy. In 2015, Tobi launched VolunteerPro, an online learning and networking community for leaders of volunteers. Tobi is also the author of Chapter 1 of the anthology Volunteer Engagement 2.0: Ideas and Insights for Transforming Volunteer Programs in a Changing World.
For Further Reading
PS: For other idea's on how to engage and appreciate your nonprofit volunteers, check out this article by our friends at: