"It's #GivingTuesday! Give us money!"
Yes, there ARE ways to use Instagram to raise money on #GivingTuesday. But that's not one of them.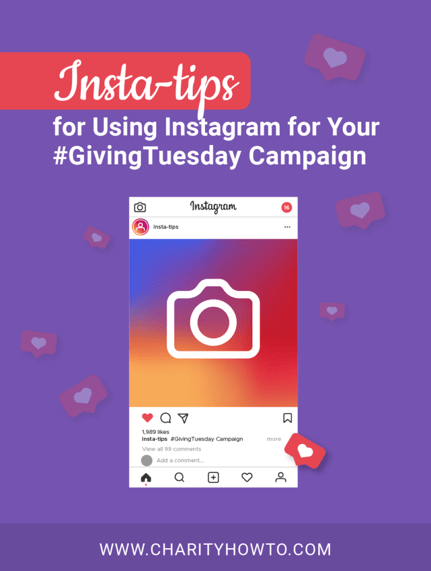 #GivingTuesday seems so simple. Possibly because it's so social media oriented. And we tend to think of social media as a quick 'n' easy way to raise money and awareness for our causes. But it's not. Not really.
Like any good campaign, a #GivingTuesday effort takes planning. And orchestration. And prep.
"Most of the stuff I see is organizations just posting on their social media pages, 'It's #GivingTuesday, so give us money,'" Ephraim Gopin, founder of nonprofit communications firm 1832 Communications, says with a heavy sigh.
But it needn't be that way. In order to make the very best use of social media on #GivingTuesday, you have to:
Have a clear goal (whether it's monetary or something else)
Have a plan (of where and how often you'll post)
Hype it up (build momentum over the weeks preceding day of)
Wind it down (posting on the actual day to encourage engagement and giving)
Wrap it up (last minute calls-to-action and a thank you)
This guideline is true for all social media efforts and can easily be translated to the 'gram, as the kids are calling it these days. Here are some tips for making the best use of Instagram for your #GivingTuesday campaign.
Remember that it IS a #GivingTuesday campaign and not a one-day, one-off deal.
Your followers need to be made aware of three important things in the lead-up to #GivingTuesday:
What it is
That your organization is participating
How they can help support the work you do on that day
Don't assume that everyone knows exactly what #GivingTuesday is or that your organization is conducting a purposeful campaign around it.
Ideally, you started planning your overall #GivingTuesday campaign and strategy back in June. If you haven't, immediately review steps 1 and 2 above. About a month out (or NOW, since #GivingTuesday is Dec. 3), start talking up your #GivingTuesday goal on Instagram.
Gopin suggests focusing on a specific program or project rather than general fundraising. The breadth of most nonprofits' mission is too broad to really communicate in an event like #GivingTuesday, even when you spread the awareness over the course of a few months.
Better than trying to garner support for your organization as a whole, hyper-focus your campaign on something specific and pour all of your energy and time into generating a buzz around that.

Create a GivingTuesday Campaign calendar – and content – in advance.
Just like any other social media campaign, it's helpful to map out exactly what your organization will post, when, where and by whom – whether you do it six months, six weeks or six days out.
Your Instagram strategy should be a part of that. While social media may seem to be a spur-of-the-moment thing – and many times it is – your #GivingTuesday efforts will benefit from having a well-thought-out rhythm. That's not to say you should exclude the excitement of "happening now" updates.
On the actual day of #GivingTuesday, especially, those can build momentum and encourage sharing, engagement and giving. You can even schedule content to post automatically, freeing up staff to focus on in-the-moment posting.
Messaging to remember – get creative with videos, photos, infographics, Instagram Stories, etc.:
Tuesday, Nov 26: "We're one week away!"
Thursday, Nov. 27 (Thanksgiving): "Give thanks by giving back on #GivingTuesday
Friday, Nov. 25 (Black Friday):

Use your savings to give back on #GivingTuesday
Here's a better way to kick off the season of giving

Monday, Dec. 2: It's tomorrow!
Tuesday, Dec. 3: Today's the day!
Wednesday, Dec. 4: Thank you!
Create a landing page specifically for your #GivingTuesday campaign
Include information with a call-to-action and a donate button. Link to it from your Instagram bio and Stories.
Temporarily change your Instagram bio
Highlight your #GivingTuesday campaign and link to the landing page and/or donation page (or any page that reflects your #GivingTuesday goal – newsletter subscription, volunteer sign-up, etc.). Be sure the call-to-action is strong and clear.
Take advantage of that famous hashtag, then get creative.
While Facebook posts are best limited to one or two hashtags, Instagram posts usually have a few more. Naturally, you want to use #GivingTuesday on your GT posts.
But beyond that, create at least one that's more specific to your campaign, project, goal or organization. If you can do that with a play on "Giving Tuesday," even better.
Looking to stock the food cupboard pantry? Something like #GivingFoodDay works. Collecting shoes? #GivingShoesDay. Or #GivingTreesDay, if you're working on behalf of the environment and focusing on tree repopulation. The possibilities are limited only by your imagination. For example, check out this #GivingTurkeysDay campaign that Gopin writes about.
The most popular Instagram hashtag supposedly is #love, so maybe throw that in too to get more eyes on your posts. After all, love is at the heart of all giving, no?
But remember that the more generic the hashtag, the less truly interested in your campaign those who search for it will be.
Just be careful not to go overboard… posts with too many hashtags tend to look spammy and overwrought.
Use images.
This is a no-brainer, right? Posts on any social media platform do better when accompanied by a meaningful and relevant image – the keywords being "meaningful" and "relevant." Use original images that reflect your work and draw followers into your cause.
You can also grab some #GivingTuesday graphics from givingtuesday.org to tie your efforts into the national campaign. But remember this important hashtag: #nostockphotos
Or step it up with video.
Same rules apply: meaningful and relevant, and produced and scheduled ahead of time (for the most part).
Take advantage of Instagram Stories.
Instagram stories disappear after 24 hours, so they're perfect for shorter, intense campaigns like #GivingTuesday. Use the function to post 15-second videos that showcase your organization in action.
Think footage from work sites, quick motivational messages from staff, beneficiaries of your work talking about the impact it's made in their lives, even donors and volunteers talking about why they support your organization, and lots of updates and thank-you content.
Like other post content, these can be created well in advance and used in your content that leads up to #GivingTuesday.
But also use Stories to live stream the action on the actual day, as well. If you've planned events onsite for the day, you can build excitement online by sharing what's happening onsite in real time.
Not convinced? CNBC recently reported that Instagram Stories now has more than 250 million users a day. The Instagram live stream alone is worth the effort to plan some sort of actual event or gathering on #GivingTuesday to support your campaign. Maybe consider a challenge or contest. And update, update, update. Think old-school telethons with a modern tech twist.
If you haven't already, sign up for Charitable Giving Tools, link your Instagram and Facebook accounts, and switch your Instagram account to a business profile.
Once you've done that, you can add donation stickers to your Instagram Stories to make is easier for people to donate through Instagram.
Keep followers updated.
Be sure to let your followers know how things are going. Can you share a thermometer or other "funds raised so far" graphic that makes it easy to see progress?
A cool graphic to represent the number of volunteers you've signed up, or something adorable to show how many pets have been adopted?
Stay engaged and aware.
No matter how carefully you've planned your #GivingTuesday campaign, things can go south – or, better yet, north – quickly. Be prepared with content that you can push out if your campaign is tanking ("urgent" updates) or soaring ("Wow, can you believe this?
Let's keep up the momentum!"). By carefully monitoring your Instagram account and getting a feel for how things are going, both in terms of giving and engagement, you can respond quickly and keep the campaign on track.
It's also a great way to respond to your followers who ask questions, offer encouragement, share that they've shared, etc.
Remember, you're not going to be gathering email addresses or other information from #GivingTuesday like you do in other types of campaigns, so use this time to meaningfully engage followers and get them to your website to share contact information and opt in to your other communications stream.
Do something different with your GivingTuesday Campaign.
Gopin is not a fan of #GivingTuesday for various reasons that you can read about in his recent blog post, where he applauds The Gracepoint Foundation in Tampa, Fla. That organization used its Instagram account to turn #GivingTuesday into #GivingBackTuesday, a day to thank donors, volunteers and other stakeholders who support its work year 'round.
Follow up and say thank you.
In the days after #GivingTuesday, be sure to share results and say thanks for the giving and engagement. Use Instagram Stories to share videos that express gratitude and convey the impact of all the great stuff that transpired.
Want to Dive Deeper into #GivingTuesday?
Nonprofits raised over $380 million online last year, and there is no reason to believe that number won't increase this year. Instagram can be an important part of that number, but it's just a small piece of the puzzle.
For an intensive look at the big picture of #GIvingTuesday campaigns, you'll want to check out this webinar. Join Julia Campbell to learn "How to Run an Amazing Giving Tuesday Campaign!
Guest Blog Post by: Margaret Battistelli Gardner
Margaret is a collector and teller of stories, and a starry-eyed champion of the people and organizations. Dedicated to making the world a better place. She's been in love with the nonprofit sector since becoming the editor of FundRaising Success magazine in 2003, a position she held until 2015.
From 2016 to 2018, she was the chief scribe and content manager for The Resource Alliance, a global organization dedicated to cultivating new ideas around social change around the world. Currently she is a freelance writer and editor, and president of her fledgling consultancy, LunaSea Communications.
Margaret has been honored to put pen to paper (or finger to keyboard) to help support amazing, life-changing organizations such as Americans United for Separation of Church and State (Washington, D.C.), City Harvest (New York), The Resource Alliance (UK), and many more.