There's no doubt that the coronavirus pandemic — and its related restrictions and shutdowns — has wreaked havoc across all elements of society.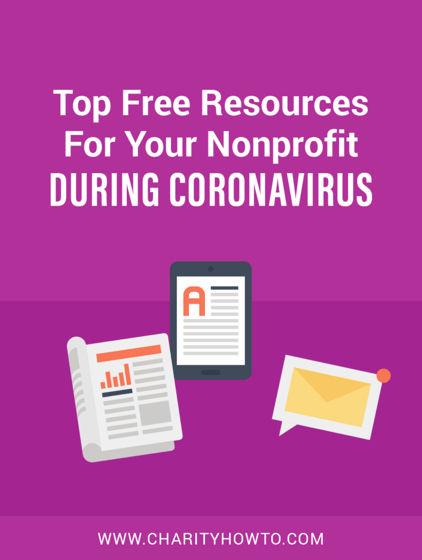 But even as businesses everywhere are shuttering their doors and windows — temporarily, at least — shutting down isn't an option for most nonprofits. Charitable organizations are needed now more than ever as unemployment rises and hunger, poverty homelessness and depression are starting to affect people who have never experienced these things before. And those who have feel the impact more acutely.
At the same time, nonprofit organizations are facing a reduced workforce due to the illness and social distancing — and possible reduced income as economically stressed donors are forced to rethink their giving.
In the best of times, securing free resources for your nonprofit to keep expenses as low as possible and freeing up as much revenue as possible to serve your mission is more of an essential than a luxury. And even more so now.
Here is a list of free resources for your nonprofit that can help you through the Coronavirus.
One of the biggest impacts is the fact that social distancing regulations mean most if not all physical fundraising events will be impossible to produce.
The options are canceling events altogether or morphing them into virtual events and online fundraising. These free resources for your nonprofit can help:
99Pledges is built specifically for "thon"-type fundraising and offers customizable donation pages, reporting features and multiple ways to accept donations. 99Pledges is free to use; organizations are responsible for credit card processing fees of 2.9 percent plus 30 cents per transaction.
Fundly lets users customize a professional-looking online donation page that is mobile-optimized and set up to share campaign activity via Facebook. The software is free to use, but there is a 4.9 percent platform fee and a per-transaction credit card processing fee.
GlobalGiving is a global crowdfunding community connecting nonprofits, donors and companies in nearly every country. There's no cost for nonprofits to join the crowdfunding community. Instead, GlobalGiving retains a 5 percent to 12 percent nonprofit support fee plus a 3 percent third-party processing fee on donations.
Digital Fundraising Strategy Worksheet is a great free resource from GlobalGiving that will help you assess your nonprofit's online fundraising capacity, set new fundraising goals and put a plan in motion to achieve those goals. You'll learn how to develop ambitious, yet achievable, fundraising goals based on your past successes and challenges, and you'll get free questionnaires and tools that will help you and your fundraising team stay on track and organized throughout the year.
Donately software comes with a host of online giving tools, including seamless donation forms and integration with apps such as MailChimp, HubSpot and Google Analytics. Donately Startup is free to use upfront, with 4 percent platform fees deducted from fundraising revenue.
DonorBox offers quick checkout, a donation button, an embeddable donor wall, company-match search, donor management system, a fundraising thermometer function, customizable page and form builders, capability to accept donations from around the world, and integration into other software. A basic version of DonorBox is free until you reach $1,000 in donations per month.
Google Analytics helps you optimize your online activities by pinpointing how people are connecting with you online – or not. It allows you to track both hard and soft online conversions, as well as page drop-off rates, among other things. The basic service is free and is probably all you need.
Qgiv's starter plan offers features such customizable donation forms, recurring donations, campaign thermometers, landing pages, a mobile app for donors, dashboard and reports, personalized receipts and embeddable form widgets, among others. The starter plan is free to use, but there are per-donation charges and transaction fees.
Instrumentl – published an up-to-date directory of COVID19 grants for nonprofits that they update daily. This list is uniquely tailored to 501(c)(3) nonprofit organizations in the US and there are now over 400 opportunities listed – search by specific state or for national/international opportunities.
Bearing in mind that so many of your donors are under stay-at-home regulations, the need to connect is more important than ever — for outreach and engagement rather than just fundraising.
Email is a great way to reach out, and these free resources can help you optimize that outreach.
Evan's Awesome A/B Testing Tools' free suite of online statistics calculators is intuitive, visual and easy-to-use and will help you understand what's going on "under the hood" of common statistical tests. By providing ample visual context, the tools make it easy to understand and explain p-values and confidence intervals. All you have to do is enter some information to quickly see if your test is significant (chi-squared test) or how many people you'll need to reach your goals (sample size).
MailChimp is free for users who have fewer than 2,000 email subscribers and send fewer than 12,000 emails per month. MailChimp lets you customize and brand your emails, using a range of templates or your own. It also provides thorough analytics that allows you to see how many subscribers have opened your email, which links were clicked the most frequently and how many people unsubscribed after receiving your email, among other data.
Sample Email Marketing Campaign for nonprofits is a freebie from GlobalGiving that contains four email samples that are helpful tools for any fundraiser who is struggling to write emails that create urgency and lead to donations.
Petitions also are an effective way to keep in touch, allowing even those who might need to cut back on charitable giving to feel like they can still make a difference.
And petitions of course are a useful way to build your email list. Two free resources to check out:
Care2 offers a free and easy way to start petitions for your cause. You can opt in to upgraded services to get more mileage from the names you collect, but it's free to create petitions.
Change.org is an online petition platform used by over 200 million people in 196 countries. Its advocacy tools help organizations worldwide advance their causes and mobilize new supporters.
This is also a good time to ensure that your web and social media presence, including video, are useful and optimized:
Action Sprout's free platform helps you to grow and engage your Facebook following. Once you register, it finds engaging content around topics that you've listed as being of interest and then allows you to set up a posting schedule to share that and other content. It also allows for actionable insights into how your posts perform/engage and why they do or do not work.
Animoto is a cloud-based video-creation service that lets you easily produce video slideshows with photos, video clips, and music, along with customized web-based presentations. The standard plan is, as promised on the website, "forever free" and includes unlimited video creation, standard-quality video (720p), more than 1 million photos and videos, more than 350 music tracks, three standard fonts and 30 color swatches.
Buffer: Buffer lets you create and schedule content and then posts it on your behalf according to the schedule you set. Buffer offers a variety of service levels and pricing, but you can sign up for a free trial of any level and then once the trial is over, you can downgrade to the actual free level, which includes three social accounts and 10 scheduled posts for a single user.
Canva PRO for nonprofits offers registered nonprofit organizations all of the features of Canva's premium-level service for free. Canva makes it easy to design anything from a quick Facebook post to an entire presentation. The premium features, which all come free with Canva Pro, include more than 60,000 templates; more than 100 design types (social media posts, presentations, letters); and free photos and graphics.
Chatfuel enables users to create Facebook Messenger bots without any coding experience. A chatbot is an automated chat function that interacts with users. The free Chatfuel plan allows up to 1,000 subscribers, with upgrades available for premium options
Hootsuite: Hootsuite allows you to manage all your social media accounts from a single dashboard. There are a number of paid and premium options available, but a free option allows for three social profiles and 30 scheduled messages for a single user.
Lumen5 helps you to convert articles and blog posts into video content in minutes. The free version includes popular templates, a standard media library, thousands of music tracks and five videos a month, with options for premium options and pricing.
Tweetdeck is a totally free, all-in-one resource to help you manage your organization's activity on Twitter. It has functions that will manage multiple Twitter accounts, schedule tweets, track hashtags, respond to notifications, etc.
YouTube Nonprofit Program helps nonprofits connect with supporters, volunteers, and donors, using video to enhance their outreach, engagement and storytelling.
WeVideo is an easy-to-use, cloud-based video-editing platform with an advanced suite of creative tools such as animation, color keying, voice over and clip transformation. Different pricing plans offer increasingly advanced and numerous options, but the free version allows enough publish time to get you started.
WordPress is one of the most popular and relatively easier open-source content management systems that lets you design your own website and blog. Premium paid options have lots more features, but even the free version offers a plethora of themes and design elements.
The pandemic has people working from home, which might be a new scenario for your nonprofit. These free resources can help you stay connected and productive:
GoToMeeting is an online meeting, desktop sharing and video conferencing software package that enables users to meet via the internet in real time. GoToMeeting Free allows collaboration through high-quality screen sharing, webcams, VoIP audio and chat messaging with no download needed.
Slack is a cloud-based tool for teams of staff and volunteers to collaborate on projects and track workflow and responsibilities. The free version offers the ability to create groups for real-time chats, integration with other apps, and one-to-one video calls.
Trello allows for communication and project management by letting you to make to-do lists, track progress and set deadlines, allowing for creation of a team playbook, syncing across devices and app integration. The free version is probably useful enough for all your needs, but premium paid options are available as well.
Zoom is the "in" platform right now for hosting online meetings both internally and with outside participants.
If you would like to reach out to donors via phone:
CallHub allows smaller organizations to sign up for free and get 5,000 calls at no charge. You can locate the option on CallHub's site under "Collective Calling Campaign." CallHub helps organize and track your fundraising outreach via automated calls and text.
Pandemic or not, it's best to make careful decisions when it comes to free resources for your nonprofit. One size rarely fits all, and you might find yourself working with a product or service that doesn't specifically suit your needs. Or you may find yourself stuck with no real support if things go wrong.
Tread carefully when it comes to jumping into free products. As with anything, research is key.
Blog Post By: Margaret Battistelli Gardner
Margaret is a collector and teller of stories, and a starry-eyed champion of the people and organizations. She's been in love with the nonprofit sector since becoming the editor of FundRaising Success magazine in 2003, a position she held until 2015.
From 2016 to 2018, she was the chief scribe and content manager for The Resource Alliance, a global organization dedicated to cultivating new ideas around social change around the world. Currently she is a freelance writer and editor, and president of her fledgling consultancy, LunaSea Communications.
Margaret has been honored to put pen to paper (or finger to keyboard) to help support amazing, life-changing organizations such as Americans United for Separation of Church and State (Washington, D.C.), City Harvest (New York), The Resource Alliance (UK), and many more.