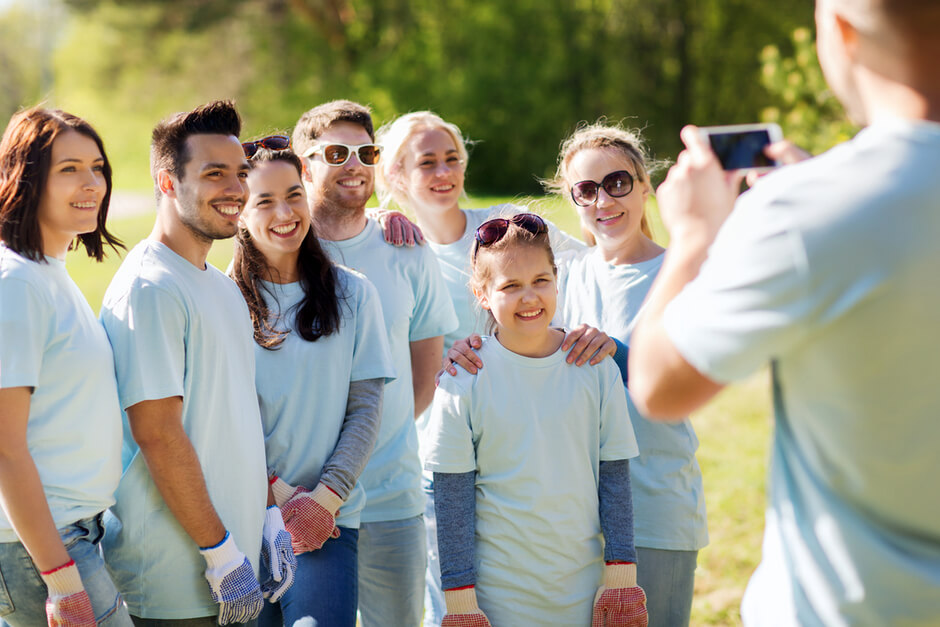 Technology has revolutionized the way nonprofit professionals operate. Gone are the days when fundraisers kept their donor information organized using complex spreadsheets or paper records. Now, nonprofit technology allows organizations to manage supporters more efficiently than ever before, keeping data organized and easily accessible.
The same goes for volunteer management. In the digital age, there are plenty of solutions for marketing your program, staying in touch with volunteers, and keeping scheduling processes organized. As a program leader, it's your job to find the software tools and digital strategies that will serve your program most effectively.
In this guide, we'll review five essential tips for managing your volunteers in the modern era:
Use volunteer management software.

Level up your email communications.

Leverage social media to reach a wider audience.

Stay in touch using your volunteer app.

Offer virtual engagement opportunities.
Keep in mind that your program's technology should make your life easier. If you've outgrown your current solutions or are using tools that don't integrate with your CRM, it could be time for an upgrade. Let's start by taking a look at features to look for in a volunteer management system.
1. Use volunteer management software.
Volunteer management software is a tool that allows volunteer coordinators to manage all aspects of their volunteer program, from recruitment to scheduling and ongoing retention, from one system.
Bloomerang's volunteer management software guide recommends finding a system that allows you to:
Automate simple administrative tasks

, such as sending notifications for urgent volunteer needs or when there are a low number of volunteer spots left for certain shifts.

Simplify recruitment and scheduling

by automating volunteer screening and allowing volunteers to sign themselves up for shifts online.

Communicate with volunteers

via email, text message, or in-app notifications.

Show impact

by seamlessly translating your volunteer program data into easy-to-read reports that provide greater insight into your program's strengths and challenges.

Encourage

volunteers to become donors

by tracking volunteer and donor data in the same system and screening volunteers for giving capacity.
Your volunteer management system can increase your team's productivity by streamlining administrative tasks and allowing program leaders to focus more energy on interacting with volunteers. Plus, when you keep your volunteer schedule and other information organized, you can facilitate a more positive volunteer experience, boosting your program's retention rate.
2. Level up your email communications.
Email is an effective way to stay in touch with volunteers because most people check their email several times per day. In fact, the average working professional spends 28% of their day looking at emails.
But it's essential to ensure your subscribers are actually opening and reading your emails rather than sending them to the trash. Make your volunteer newsletters more engaging with the following tips from Kwala's nonprofit newsletter guide:
Personalize your outreach.

Address your email messages with recipients' first names to add a personal touch.

Segment your audience to send more tailored messages.

Using your email marketing platform, you can group subscribers based on shared characteristics, such as how long they've been a volunteer or the specific programs they work with. Then, you can create tailored email messages that speak to the interests and needs of each group.

Include more engaging stories.

Use your emails to tell compelling stories that encourage volunteers to continue engaging with your organization. For example, you might include testimonials where volunteers share positive experiences they've had during your opportunities.

Make your calls to action more compelling.

If you're using your emails to encourage volunteers to do something, like sign up for an upcoming event or donate, make these calls to action as clear as possible. It should be easy for volunteers to take the next step by clicking a clearly-labeled button or link that leads them to a user-friendly website page where they can learn more or sign up for a shift.
Track email metrics such as your open rates and click-through rates to understand which types of messages are most compelling for recipients.
3. Leverage social media to reach a wider audience.
Whether through appreciation posts, event recaps, or shift reminders, social media is a useful tool for keeping volunteers in the loop about your program's activities.
Social media can help you not only better engage with your current volunteers but also get in touch with a broad audience of potential volunteers. Consider the following social media content ideas to spark your volunteers' interest:
Use Instagram and Facebook Stories to provide a behind-the-scenes look into your volunteer program.

Post photos that show volunteers in action and short video clip testimonials from volunteers and community members.

Choose unique hashtags for your Twitter and Instagram campaigns that are relevant to your organization's mission.

Your hashtag can be your program's name or tagline to help promote brand recognition.

Ask volunteers to send in photos and use your hashtag when sharing posts.

Sharing user-generated content gives your social media posts greater authenticity.

Share updates with information about how much progress volunteers have made.

Create charts or infographics that depict volunteers' impact. For example, you might create an infographic displaying how many pounds of food volunteers sorted during a recent weekend opportunity.
You don't have to maintain an active presence on every social media platform to build a strong social media strategy. By focusing on just one or two main platforms, you can ensure your campaigns on those channels are as engaging and visually appealing as possible.
Leverage platforms that are popular among your audience and those where you already have a strong following. For example, if your volunteer program focuses on recruiting high school and college students, you might focus your outreach efforts on Instagram and TikTok. This helps ensure that you're getting your content in front of the right audience.
If you're unsure which social media platform is most popular with your volunteers, consider sending out a survey to better understand your volunteer base or solicit the information during the signup process.
4. Stay in touch using your volunteer app.
If you're looking to upgrade your volunteer management system, consider investing in a platform that also offers a mobile app. A volunteer management app empowers your team to stay in touch with volunteers and manage schedules while on the go.
You can improve the volunteer experience with the help of a mobile app by:
Sending shift reminders and other updates

Allowing volunteers to track their hours in the app

Enabling volunteers to update their profiles and communicate with your organization

Sharing important information, such as parking instructions, directions to your headquarters, or your code of conduct

Sending thank you notes after shifts conclude
A mobile app makes your program information and updates much more accessible. The ability to send push notifications directly to your volunteers' mobile devices can also help reduce no-shows and facilitate open communication.
5. Offer virtual engagement opportunities.
Beyond just managing the administrative and communication aspects of your volunteer program, technology tools offer the opportunity to strengthen your volunteer engagement strategies by connecting with supporters virtually.
Using livestreaming tools like Zoom and other virtual communication platforms, you can facilitate remote engagement opportunities such as:
Virtual

training and

onboarding

, including live and/or prerecorded information sessions

Virtual networking or social events

, like virtual trivia

Virtual volunteer opportunities

, such as managing a helpline or uploading new information into a database
In the digital era, volunteers expect to be able to engage with your organization without always having to leave their homes. These virtual opportunities give volunteers the flexibility to fit volunteer activities into their busy schedules.
The digital age presents both challenges and opportunities for volunteer managers. It may take some time to get your team up to speed with your new software tools and digital strategies, but the effort will pay off when you can better engage with prospective and current volunteers.
Take a look at Bloomerang's FREE webinar, view here!