Blog post by Erica Waasdorp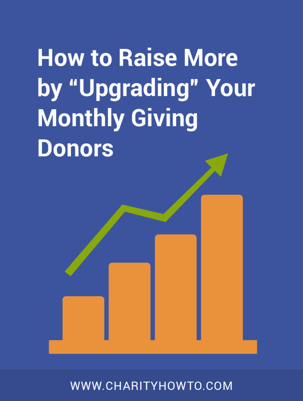 Fundraisers sometimes tell me: "I don't want to convert my donors to monthly giving, because then I can't ask them to give more!"
Well, that's an absolute myth! The best real-life example of monthly giving came from a story in my son's university magazine. A donor made a $1,000,000 gift to support campus expansion. Do you know how he started his giving? As an alum, giving $5 a month!
Now, I can't guarantee that this will happen to your monthly donors. But I can guarantee you that you will absolutely be able to bring your monthly donors to higher levels if you treat them right. If you recognize them every time you approach them.
Monthly donors are not that different from other donors. They like to be thanked. Sometimes publicly. They like to hear from you and they want to know that their gifts are making a difference.
So, the absolute worst you can do is cut off your monthly donors from your communication. Keep them in your email messaging, but make sure you have a separate segment or group, so you can include something special.
Three ways to upgrade your monthly donors to give more
1. Send them monthly giving appeals
Keep them in your printed and email newsletter pool. Send them your annual report if you do one. And yes, you can even keep them in your appeals! With reason. If you're sending two appeals a year, you can include them in both.
If you mail eight appeals a year, I recommend sending your 4 best appeals to your monthly donors. A match. A supporter card if you do one. A certificate of support if you send one. A calendar if you have one.
Ideally handwrite a personal note (or laser one) on the appeal, thanking them for their monthly gifts. Code them separately and see what happens.
And do send them a tax-letter every January.
2. Ask monthly donors for an upgrade once a year
Even if they start with $5 or $10 a month, you can upgrade your monthly donors to higher levels, at least once a year. Take those donors who started giving that way at least 6 months ago. You don't want to ask for an upgrade too soon. You don't want to come across as too greedy!
Donors will understand that things become more expensive. Ask for a small upgrade. Give monthly giving donors the choice.
Ideally, the maximum upgrade ask is one third of their current monthly gift, but of course, you'll always have the 'other' option. So, if a donor gives you $24 a month, you can ask for $3, $5, $8 a month and other. Some donors may surprise you, but your response will be higher if you ask for a small upgrade.
Remember that no gift too small, and you're better off getting more small upgrades than no upgrades at all. Always give the donor the feeling that they are in total control of their giving.

3. Ask Monthly donors to leave you in their will
Monthly donors are six times more likely to leave you their ultimate gift. They'll put you in their will. They care so much about your organization. They're loyal. They just can't afford to write the big checks right now.
You just have to plant those little 'leave us in your will seeds'. Remind the donors in the printed and email newsletter that they can leave you in their will. Include a little buck slip in the tax letter. Ideally use a story and an example of a real donor who has left you in their will.
Keep things simple. Don't talk about charitable remainder trusts and annuities but really focus on legacies only and you'll do alright. If you have a special legacy email newsletter, do include your monthly donors in the mix. It's a continuous 'education' in a subtle way. My British fundraiser colleague Richard Radcliffe always says: Ask for 1% of the donor's estate and you'll do alright.
You see with all the above: a small ask will go a very long way, for a very long time!
Not only will monthly donors provide you the money you can count on now, you can expect to get even more in future.
Want to learn more about how to create a monthly giving program? Checkout my CharityHowTo webinar, The Hidden Gem: How to Create an Awesome Monthly Giving Program!
About the Author
Building partnerships and trying to find the best solution for donors and her clients are what Erica Waasdorp does best. Her multi-lingual skills and multi-cultural experience bring added value to those clients interested in raising money internationally. And her experience in monthly giving has given her an edge for those clients who are ready to embark on this way of giving.
For Further Reading
For other idea's on nonprofit monthly giving, check out these articles by our friend at: