INTRODUCTION
Social fundraising is a critical concept to understand, but can also be a confusing and complicated one. The focus of this series is to explain the five key concepts introduced when social fundraising is added to nonprofit fundraising campaigns. A fundraising campaign can include an annual donation request, dinner or gala, a peer-to-peer campaign, an organized 5K, etc.
This social media training for charities is a must-read!
How to use this guide
By the end of this series, our goal is to have communicated the value and opportunity, core principles to follow, and some next steps in order to use the power of social fundraising to benefit your organization.
There are five key concepts in understanding the opportunity of social fundraising for your organization. Each of the next five chapters will tackle one of the concepts in depth.
First thing's first - what is social fundraising?
Social fundraising for nonprofits is getting people (supporters, donors, evangelists, fundraisers, etc.) to post to their personal networks about the actions that they take related to your cause.
What we do NOT intend to cover in this blog:
How to get likes on Facebook or followers on Twitter

How to get people to see your organization's posts on Facebook

How to get retweets of your organization's tweets

The best time of the day to post on social media

How to speak 'one-to-many' on Facebook and Twitter

How to get value out of Facebook Ads

How to get your posts in front of followers without boosting

How to go viral
What we DO intend to cover in this blog:
How to practically add social fundraising to the fundraising you're
already doing in order to:

Increase awareness of your organization and its mission
Increase new donations to your campaigns
Increase participation and awareness of your events

Now let's get started with the principles for social media marketing for nonprofits.
01 | SHARES HAVE REAL VALUE
There's a bit of a misconception out there that shares don't have any value. However, the tremendous value actually can be created for your organization when your supporters share their actions.
So while this notion might require a bit of a mindset shift, if you can think holistically about your organization, shares will have the power to provide real value to your fundraising programs, marketing programs, mission awareness programs, recruitment programs, and more.
Shares create value in three ways:
Increasing reach

Spreading awareness

Driving new donations
1. INCREASING REACH
Your supporters have personal networks that would be difficult to reach on your own. Let's state the obvious…
You don't have access to your community's friends

Growing your list is expensive and hard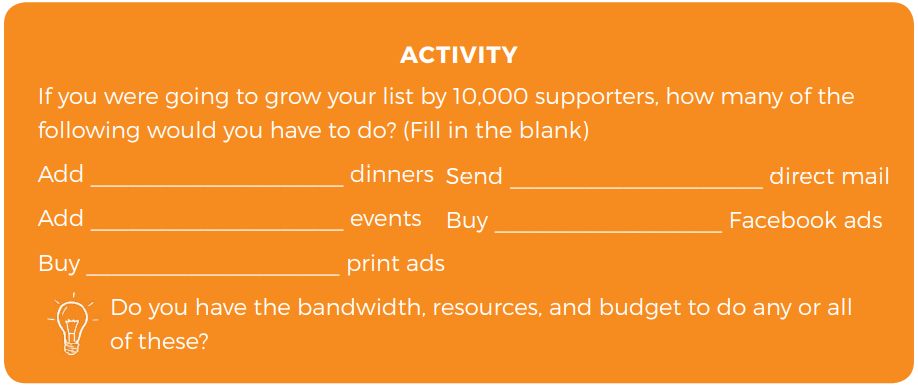 2. SPREADING AWARENESS
Sharing spreads awareness about your mission that is so critical to your organization's success. What can more social shares potentially bring you?
Increased Issue Awareness | For those organizations who need to let the


world know a problem exists

Awareness of Your Nonprofit | Connecting your organization's work with people who may need your help or want to learn more

New peer-to-peer fundraisers

New Donors | From grassroots to high wealth, everyone has a social media presence

New grantors

New corporate partners

3. DRIVING NEW DONATIONS
Sharing often drives new donations. Often a supporter can't give monetarily at a given moment, but they could still lend their voice and share.
And when donors share their donation, about 20% of the time it results in a new donation.
Let's look at some numbers! The average donation generated per type of share: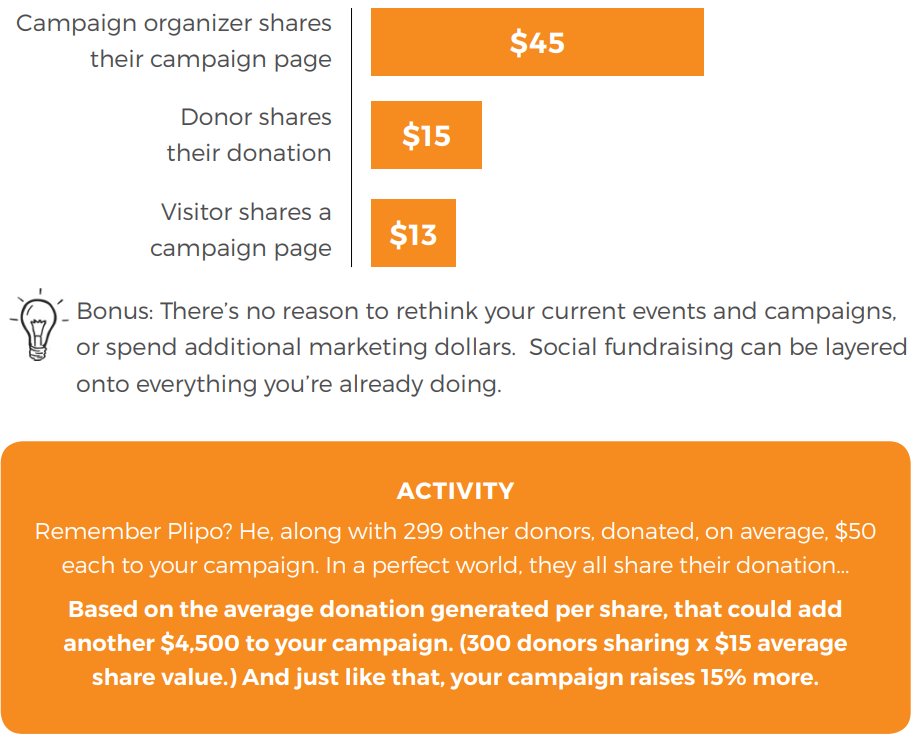 CONCLUSION: KEY TAKEAWAYS
Remember that shares have real value because:
Your supporters have personal networks that would be difficult to reach on your own

Sharing spreads awareness about your mission that is so critical to your organization's success

Sharing often drives new donations
02 | Fundraising On Social Is Not Social Fundraising
One of the biggest misconceptions of social fundraising is that it simply means to be active on social media using your nonprofit account.
When you solicit donations via posts on your nonprofit's social account, we call that fundraising on social. However, the larger opportunity of social fundraising is when you actually get your supporters to spread the word on your behalf on their own social channels.
It's all about WHO is doing the sharing.
Let's think about it in terms of your upcoming spring campaign...
You reach out to your supporters via the normal marketing channels: social media, email, direct mail, a telegram, pony express, etc. Those efforts direct the supporter to take action on your campaign page.
Time for a table!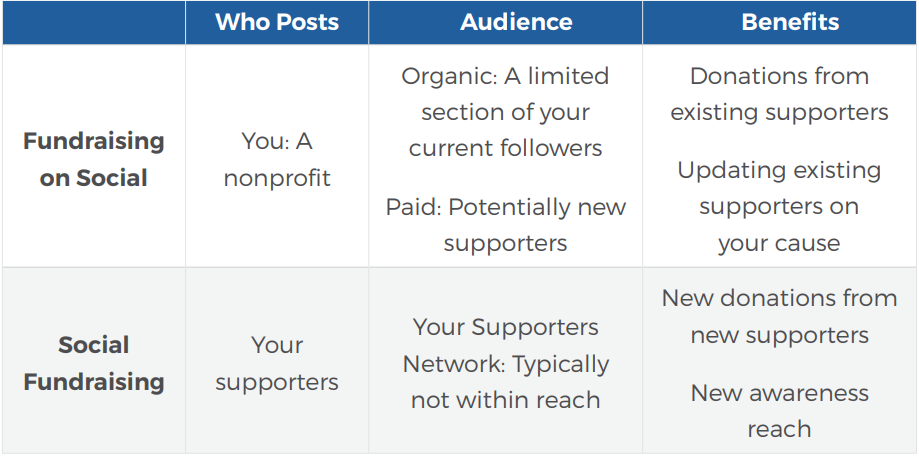 In comes social fundraising.
Adding social media doesn't mean you have to reinvent the wheel or change your event altogether, but rather, if you layer social fundraising on top of what you're already doing, you have the power to increase your reach, spread awareness, and raise more money for your organization.

CONCLUSION: KEY TAKEAWAYS
So there you have it! A quick rundown of why social fundraising is so different than fundraising on social, and how this distinction is key to understanding the benefits and uses of social fundraising within your organization.
03 | Your Supporter's Megaphone Is Larger And Louder Than Yours
When your supporters share with their own personal network, the message will have more reach, more validity, and more effectiveness than your message alone.
The power of the crowd is real. When a passionate supporter embraces a nonprofit's story as part of their own, it resonates with their networks on a much more personal level, making it nearly impossible to ignore.
Why do posts by your supporters work so well?
When your supporters' post and share on behalf of your nonprofit, it helps to spread awareness and drive new donations because of the following factors:
Reach

Trust

Storytelling

Authenticity
1. REACH
When your supporters share your story or campaign, it gets delivered to the personal network they've built. The average person has 155 friends on Facebook. So a single share has a 155x multiplier on the number of people it can reach.
Most importantly, these are all people you don't have direct access to and probably couldn't reach even if you tried.
2. TRUST [SHARING BUILDS TRUST]
When a supporter shares the reason they support your cause in a uniquely personal way, their family and friends trust them. When they talk about your cause, it puts you in the best possible light for getting new supporters.
Example: Think about restaurants — When you're looking for a bite to eat in a new place, how do you decide?
Recommendations from friends

Peer reviews

The power of personal recommendations works just as well




for nonprofits as it does for retail,




hotels, and restaurants
3. STORYTELLING [PERSONAL CONNECTIONS CREATE INCREDIBLE STORIES]
When your passionate supporters tell your message through their own personal experiences, it's incredibly compelling to their networks.
It's the personal connection that makes the story so compelling to a supporter's network of friends and family.
You care about the people you know, and what they care about.
Try a mindset shift In order to pave the way for successful storytelling, try to: Let go of the controls a little and allow your brand story to be told with some freedom, based on the personal connection each supporter has with it.
4. AUTHENTICITY [PEOPLE WOULD RATHER HEAR FROM A PERSON VERSUS A BRAND]
Which of these two posts feels more authentic and would get you to think about buying the boots?

Why is Steve's more compelling?
The interest and motive behind a post from a brand versus a post from a person are distinctly different.
A brand needs to reach out because they need to 'sell more.'

A person doesn't need to reach out, rather they're compelled to reach out to share their knowledge and experience.
CONCLUSION: KEY TAKEAWAYS
That's our breakdown on why your supporter's megaphone is larger and louder than yours. Pretty awesome stuff, right? And, we're pretty sure no one else has used the word 'megaphone' so much, so there's that too.
04 | Go Beyond The Donation
When most people think of fundraising, they think of the end result being a donation — a monetary contribution to their nonprofit. But what if the end result of successful fundraising was more holistic and had much more impact on your cause and the multiple goals you're trying to tackle every day?
When you incorporate social fundraising into your mix, you can go beyond the donation and crush all of your goals, from monetary to awareness and beyond.
There are 5 main actions supporters can take to interact with your cause. And your organization should be trying to get them to share each of them with their own network of friends and family.
Visiting campaign pages

Making a donation

Buying a ticket and registering for an event

Having a personal experience with your nonprofit

Starting their own campaign on your behalf
THE 1ST SUPPORTER ACTION THAT SHOULD BE SHARED
1. Visiting a fundraising campaign page
Although not everyone who lands on your campaign page will donate, they all should have the opportunity to share what they learned, what they did, or how they connected to your cause.
You put forth the effort to get them to your latest campaign. If, for whatever reason they can't give at the moment, they could still be providing value to your organization by sharing that campaign out via social media.
Just because someone isn't able to donate at that particular moment, it doesn't mean there isn't value in sharing what about your cause resonates with them with their own network.
THE NUMBERS: The average amount of donations generated by a visitor's share is $13.
THE 2ND SUPPORTER ACTION THAT SHOULD BE SHARED
2. Making a donation
People love to spread the word about a donation that they just made. Not only does it show their personal networks that they're altruistic, but it also shows the world what they believe in.
And, often the sharing of a donation results in new donations.
THE NUMBERS: The average amount of donations generated by a donor's share is $15.
THE 3RD SUPPORTER ACTION THAT SHOULD BE SHARED
3. Buying a ticket or registering for an event
You've got an event coming up. People are buying tickets and registering. There's really no reason why they shouldn't have the opportunity to share with their personal network about the awesome event they're gearing up to attend.
Attendees inherently like to go to these things with family and friends, so this gives them an opportunity to not only recruit additional people to attend, but it also gives them a reason to share with the world what they care about and what they stand for.
THE 4TH SUPPORTER ACTION THAT SHOULD BE SHARED
4. A memorable experience with your Nonprofit
A patient saved by the research of a nonprofit, an animal that received a forever home, a granddaughter of someone affected by a disease, a volunteer trying to make their streets safer, a Mom fighting on behalf of their child.
Whatever the reason, these are amazing stories to be told. And though they have a common thread, they are all unique.
Empower your supporters to be brand ambassadors and share their personal connections with your cause. It's the most powerful form of authentic advertising and the audience it is reaching resonates with the message in a more personal and compelling way due to their connection with the person posting.
THE 5TH SUPPORTER ACTION THAT SHOULD BE SHARED
5. Creating their own peer-to-peer fundraising campaign
The most valuable of all the shares is when a peer-to-peer fundraiser, who created a campaign on your behalf, shares their campaign with their personal network.
When a passionate supporter creates their own campaign,
they're saying louder than ever what they care about. By taking the time to create a campaign on your behalf and then sharing it with the world in order to get donations and create awareness, your supporter is taking profound action.
CONCLUSION: KEY TAKEAWAYS
So there you have it… five real reasons why you should always think more holistically about going beyond the donation. These passionate supporters are at your fingertips and when you embrace social fundraising as a component of your fundraising strategy, magic happens.
05 | Design For Real Humans
These days, more than ever, it's vital to craft your supporter's journey and experience with your cause based on how people actually behave. With different goals and missions, your messaging should be unique in order to encourage each supporter to share in a way that resonates with them.
How do you get the most out of social fundraising?
There are 6 main strategies that help to get the most out of every interaction with your supporters and grow your social fundraising:
Great timing

Ease of use

Optimization

Spread the knowledge

Leverage the data

Invest in social fundraising
1. GREAT TIMING
When your supporters are taking an action with your cause, whether it's donating, starting a fundraiser, learning more about your mission, etc., they're in the right mindset to do even more.
Capitalize on this timing and ask them to share their donation, fundraiser, or recent experience while they're mindful of it.
2. IT'S GOT TO BE SO EASY
In a world where everything is at our fingertips, complexity can be a real drawback. That's why sharing has got to be easy. A frictionless, one-click experience that easily allows supporters to reach out to their network is a must.
Additionally, a deep integration with social platforms is necessary to create that seamless experience on both mobile and desktop that we're all used to.
3. OPTIMIZATION
Like with anything online, finding the optimal experience for conversion is a critical part of success. We're talking button colors, sizes, placements, multi-variant testing, etc.
These are the details that are thoughtfully designed and highly tested to be ideal for the way humans actually think and behave.
4. SPREAD THE KNOWLEDGE
"We get a lot of requests like, "What else can I do to help you - I want to give more than money?' What is a good way to manage that?"
You're basically a social fundraising expert by now… so that means you know the real value of a share. The bigger question is, does your community? When you incorporate this narrative into everything you do, your supporters will catch on and understand that there's so much more they can do for your cause.
Sharing key points:
The value of a share is so important.

When you're talking to a volunteer at an event, let them know about the value of the share.

Let them know how powerful it is if they share with their network that they bought a ticket.
5. LEVERAGE THE DATA
Data is paramount to growing your nonprofit. Why? Because data offers valuable insights into your community. And this community is not just one big entity that reacts to your cause in the same manner. They're diverse and have many different reasons why they are
connected to your cause and what makes them tick.
When you can take your data and leverage it to talk to your community in ways that actually speak directly to them and their connection with your nonprofit, you have a much better opportunity to grow and create even more impact.
6. INVEST IN SOCIAL FUNDRAISING
Investment is somewhat of a taboo word in the nonprofit world, where overhead is scrutinized and budgets can be erratic. But, deciding to invest in social fundraising is a critical decision for today's modern nonprofit.
Organizations need to move beyond cardboard checks and door-to-door solicitations. The world we're living in has changed at your fingertips and supporters are ready to pounce at a new solution if given the chance.
__________________________________________________________________
Learn more about Upcoming Live or Recorded webinars focused on social fundraising.