In my work with nonprofits, I often hear the same refrain about nonprofit marketing and communications: People are feeling very overwhelmed and stressed out by their never-shrinking to do lists.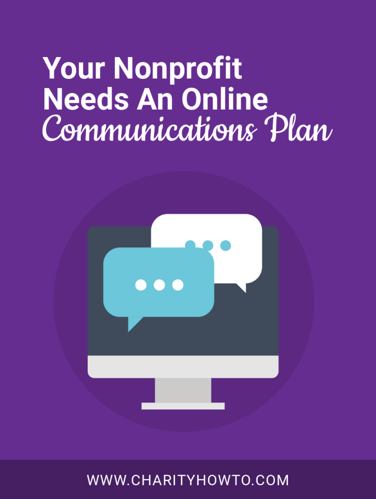 With so many digital marketing and online fundraising tools out there, how can a small nonprofit choose what to focus on, and how can they manage their time and resources effectively?
There are constantly emails to send out, a website to update, a Facebook page and Twitter feed to manage, Instagram and Snapchat to explore, plus phone calls and meetings… how can a small nonprofit get it all done?
The answer? You don't have to do it all!
Creating a Strategic Online Nonprofit Communications Plan will help you re-focus, re-prioritize, and get yourself back on track with your online communications.
Here are 5 reasons that you need a Strategic Online Nonprofit Communications Plan:
1. You will be able to allocate resources more efficiently.
By spelling out a plan for your online communications, you will be able to take a look at your budget, your staff time, and other needed resources and see what needs to be allocated and what needs to be raised. If you find that you have zero budget and zero staff time to allocate to online communications, this is also an important discovery. You may find that you need to focus on raising enough money or hiring staff/interns to do this work, even if just for a few hours per week.
2. You will understand the steps required to be successful.
Cutting through the noise and the clutter and getting your message heard is difficult, and it requires creativity and a lot of elbow grease. I will not sugar coat it for you. But with a plan in place, you will know what to do first, what to do second, and so on – and you will know what success looks like, rather than throwing things up to see what sticks.
3. You will be able to reach your audience.
Spending time working on your Strategic Online Communications Plan will focus your message and enable you to target the right audience. Your target audience should not be everyone in the world. Your target audience should be the people that you need to accomplish your online communications goals.
4. You will stay organized and on task.
Creating an Editorial Calendar so that nothing slips through the cracks is essential to managing your online communications. The Calendar will keep your ideas in one place and serve as the central location for your content.
5. You will be able to measure success.
All great plans have a way to measure whether or not they worked. Did you reach your destination? What does success look like, and how will we know if we achieved it? With a Measurement Spreadsheet, you will be able to identify which metrics matter, and how to collect and analyze them.
What other reasons do you have to creating a Strategic Online Communications Plan? Share them with us in the comments section of the website or via social media.
Looking for more detailed advice about all things digital marketing, online communications, social media and nonprofits, visit us here!
About The Author
Julia C. Campbell, Founder of J Campbell Social Marketing, consults and trains nonprofits on the best ways to use digital tools to raise money and awareness for their organizations. Her blog is consistently featured in the list of Top 150 Nonprofit Blogs in the world, and she is currently publishing a book on storytelling and social media with Charity Channel Press. She has helped dozens of nonprofits small and large with their online fundraising and marketing campaigns, raising over $1 million for social causes.