I love teaching the Annual Reports webinars for CharityHowTo's participants (How to Create an Awesome Annual Report and How to Transition Your Annual Report to an Infographic).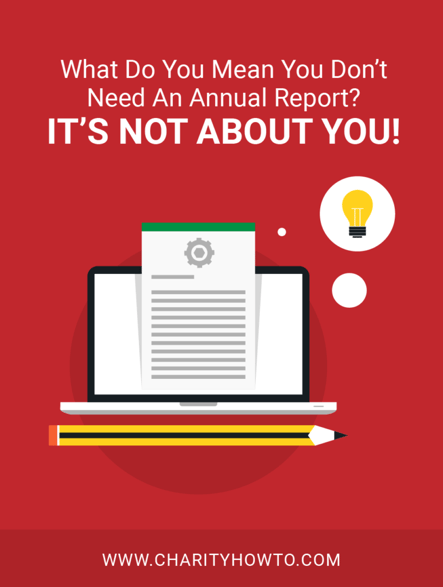 Professionals who attend and engage have excellent questions, constructive ideas for others, and thoughtful approaches to serving their donors.
And fundraising publications are one of my favorite topics in development. Sure, as a professional writer, I'm biased, but every nonprofit needs them and (should) use collateral all the time!
While I know the folks who attend these webinars benefit from the conversation, I have also noticed a big problem. I receive A LOT of emails from potential participants who are interested in learning about infographics or fundraising publications in general but say to me "we don't publish an annual report and don't see a need to do one."
Pause. Deep breath Heather.
The annual report has nothing to do with you or your organization and everything to do with your donors. It's about and for them. Donors expect an annual report or an update on the impact of their gifts.
This is donor-centered fundraising 101: "It's because of you, dear donor, that these results are possible." It's not just a kind or trendy way to approach your work with donors. Being donor-centered increases donor retention and gift acquisition. Period. Isn't that what we're all working towards?
Make your annual report a priority. If you're not already publishing one, get one on the calendar next year. Your bottom line simply can't wait!
Ready to create your annual report?
Or look for dates to open soon! If you can't make a live event, no worries. There's a recorded version of each webinar, and you can find those by clicking on the annual report links in this article. Register now – your donors deserve it!