Blog Post by Julia Campbell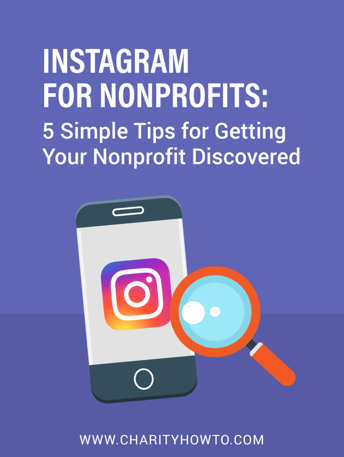 Getting sick of Twitter? Are you considering joining the #DeleteFacebook movement? Have you considered using Instagram for nonprofits?
Even though it's owned by Facebook, building an engaged community of supporters on Instagram may be a viable social media alternative for your nonprofit.
Here are some Instagram statistics from the Pew Research Center 2018 Social Media Report:
35% of U.S. adults now say they use Instagram (an increase from 28% last year);
71% of Americans ages 18-24 use Instagram, with 81% of this group going on the platform daily!
Even if you have been on Instagram for years now, or if you are a complete novice, there are a few tried-and-true ways to gain more followers and to get discovered by even more of your community members.
Here are 5 simple tips for getting your nonprofit discovered on Instagram.
1. Write a unique, interesting, fun Instagram bio for your nonprofit
The profile picture and the bio are the very first pieces of information that a potential follower sees when they click on your account.
Think back to WHY you joined Instagram. What do you want to get out of it? What kind of person do you want following you? What do you hope that they will do as a follower?
You can now add clickable hashtags and clickable links to other Instagram accounts in your bio.
You only have 150 characters, so think strategically. What sets you apart? What are you most known for? Most importantly – why should I follow your nonprofit on Instagram?
If it makes sense (and it almost always does), incorporate emojis to add a visual element and break up the text. I'm not saying go crazy and add 20 happy faces – but remember that Instagram is a visual social network, primarily used via mobile devices, and mostly embraced by a younger demographic.
Just because you don't like emojis does not mean that your audience won't. Remember that you can edit your bio as many times as you like! It's not carved in stone.
In the bio, ask a question, be personable, be different. That's how to you get people to follow you – and stay following you – on Instagram. Being boring just doesn't cut it.
2. Leverage location on Instagram
Unless you can't identify the city or the town where you took the photo, you should be adding location tags to EACH post.
Location tags, even just adding the city/town where the photo was taken, improves engagement and discoverability by a significant percentage.
With my clients, we have seen dramatically increased reach and engagement on the Instagram posts that include a location tag.
BONUS TIP: On my Instagram Stories that have a location added to them, I have seen has much as 5x the reach!
Add location tags to all posts! Go back to old posts also and add a location where relevant.
3. Be proactive not just reactive
Instagram accounts with large, engaged communities don't simply show up, post a photo, and then leave. They follow other Instagram accounts and interact with their community members by responding to comments, questions, and thanking people for likes.
To get more ideas of great accounts to follow, use the Search function. By typing into the Search bar, you can find People (accounts), Tags (hashtags), and Places (locations).
Spend some time each week searching for new accounts to follow or to interact with – if the accounts are public, you do not have to follow them to make a comment or like their photo.
Allot time each day to respond to any comments or questions made on your Instagram posts. Social media is not a broadcast tool like TV or billboards – it only works when it's a two-way dialogue with your online community.

4. Use hashtags
When using Instagram for nonprofits, define your hashtag strategy with each video and photo that you post.
Instagram posts with at least one hashtag get 12.6% more engagement than those with none (SimplyMeasured.com)
Use a combination of popular hashtags and specific ones for your audience, your photo, and your industry/field. Look at what your competition or partners are using.
Do some research – hashtags that are used on Instagram may not be the same as the ones used on Twitter and other social media sites.
Some of the most popular hashtags on Instagram (use sparingly):
Tools to research hashtags for your cause, issue, location, and industry:
5. Host an Instagram contest
Hosting a contest by your nonprofit can help you gain new followers and explode your engagement on Instagram.
Here is a step-by-step guide to setting up your Instagram contest:
1. Plan your objective
do you want email sign ups, website traffic, more Instagram followers, more Instagram engagement?
2. Determine how people can enter:
Post a photo or a video with a specific hashtag and a specific theme.
Follow you or do so in addition to creating a post.
Tag your brand in their post.
Like or comment on one of your posts.
Determine how winners will be chosen and create terms and conditions.
3. Review Instagram's Promotion Guidelines
When the guidelines are set and you are ready for people to enter, be sure to promote the contest everywhere, not just on Instagram. Some ideas:
Write a blog post on your site detailing the contest.
Use your email list to make an announcement.
Use Instagram Stories.
Use live video broadcasts.
Use all social media channels.
Create great graphics to promote the contest using Canva.
Want to dive deeper?
About the Author
Julia Campbell is a digital marketing strategist and nonprofit technology evangelist, providing workshops, webinars and trainings to nonprofit professionals in organizations of all sizes. Using social media, email, blogging and online fundraising platforms, Julia has over a decade of history of helping nonprofits find success online. She founded J Campbell Social Marketing, a boutique digital marketing agency.
Check out all of Julia's free and premium trainings at CharityHowTo here!