Blog post by Erica Waasdorp
There are many opportunities to generate monthly donors, if you're willing to use them. I've given you several options in past blogs, but here is one of the BEST ways to make a real splash and generate a substantial number of new monthly donors in a very short period.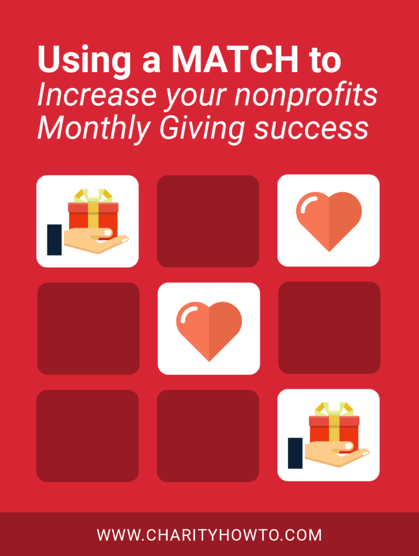 It's by using a MATCH. It literally sets your program on fire!
A match is a special gift you'll receive if you reach a certain fundraising goal. A match will help motivate donors to make a gift and it will help motivate prospective monthly donors to click the button: give monthly.
You may know a match appeal from Giving Tuesday. You may already do one (or two) as part of your appeals every year. A match is typically provided by a donor or a group of donors (named or anonymous).
Here's an example of the overall match message.
"If we reach 25 new monthly donors, board member xyz will give $5,000. If we reach 50 new monthly donors, a group of generous donors has promised they'll give us $20,000."
There are many variations of amounts and conditions. I'll discuss a few options here.
Key is to keep it as simple and easy to understand for the donor as possible. Remember that matches are magical. They work in many areas of fundraising and monthly giving is no exception!
How do you obtain a match?
Typically, you can talk to a (major) donor you know is already going to commit to giving you a substantial gift. You can ask him or her if you can use that gift to reach out to generate sustainable gifts. Because that's exactly what monthly gifts are.
Which donor wouldn't want to help you grow sustainable revenue for your organization?
Examples of Matches to generate monthly donors
Matches can be done via mail, email, on the air in TV, radio or a tele-fundraising campaign.
A typical match email campaign consists of three, four and sometimes more emails, typically over a period of a month. Not too long, not too short.
Email one is the launch of the match. It has a clear goal. It has a clear deadline. It mentions the amount of the match and how this can make a difference to the clients, children, animals you serve.
Email two is a reminder of the match with an update, usually with a message of, we're this close, we only need to find xx more monthly donors. Will you help?
Email three is another reminder, usually a day before the deadline with another update. For some, this is the final push. In other cases, there's one more reminder.
If need be, you can do a fourth email. This can be done on the same day, "it's not too late. There's still time to help reach xx new monthly donors by midnight."
I've seen and collected many examples of matches.
Here are just a few: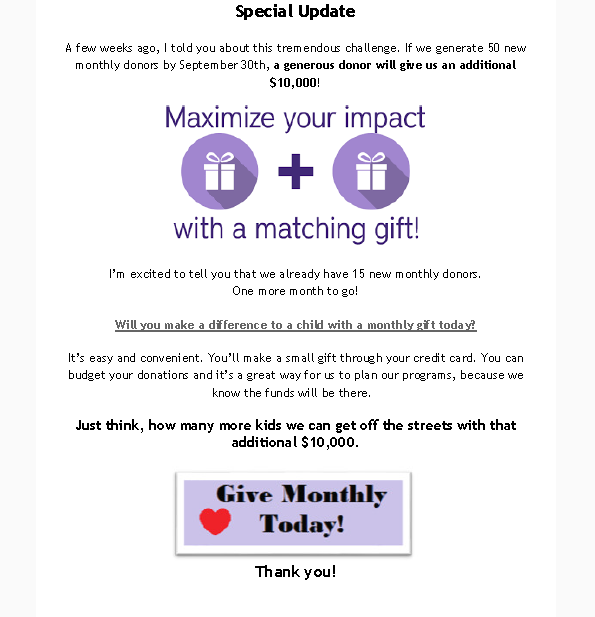 Source: Stand Up for Kids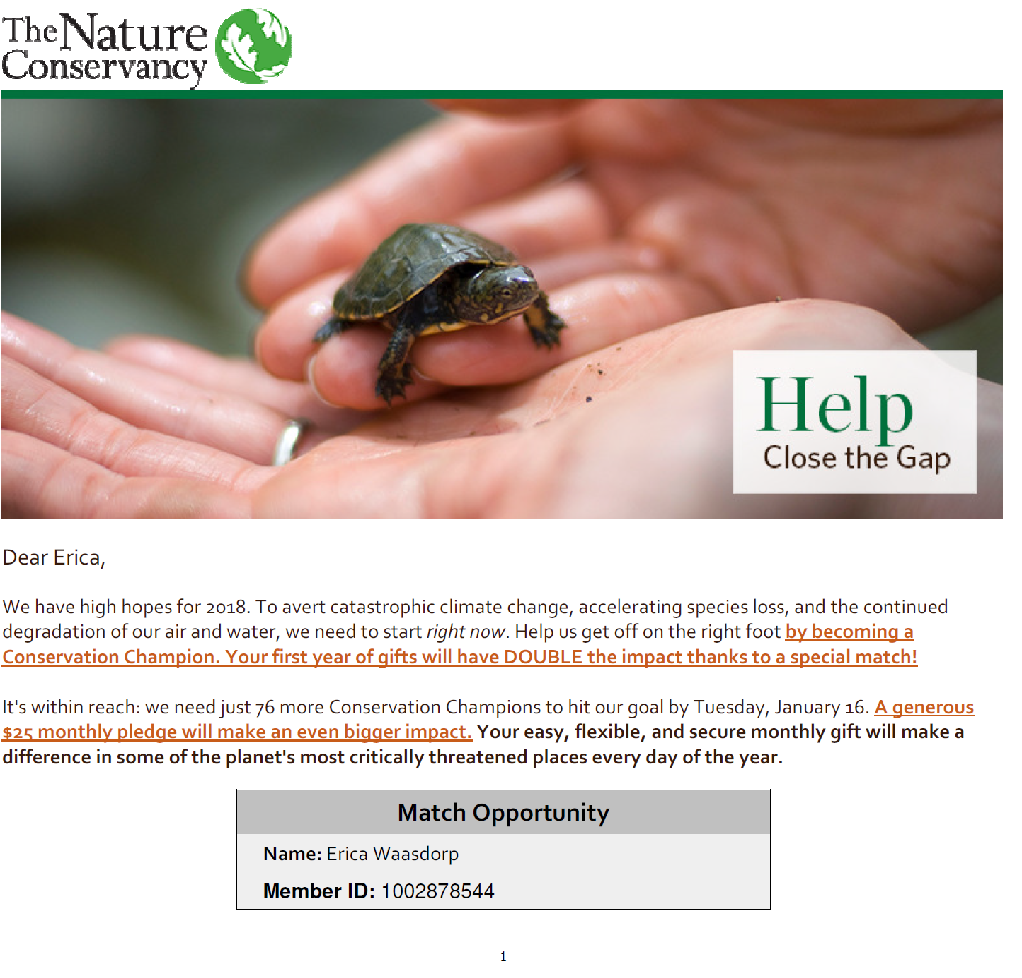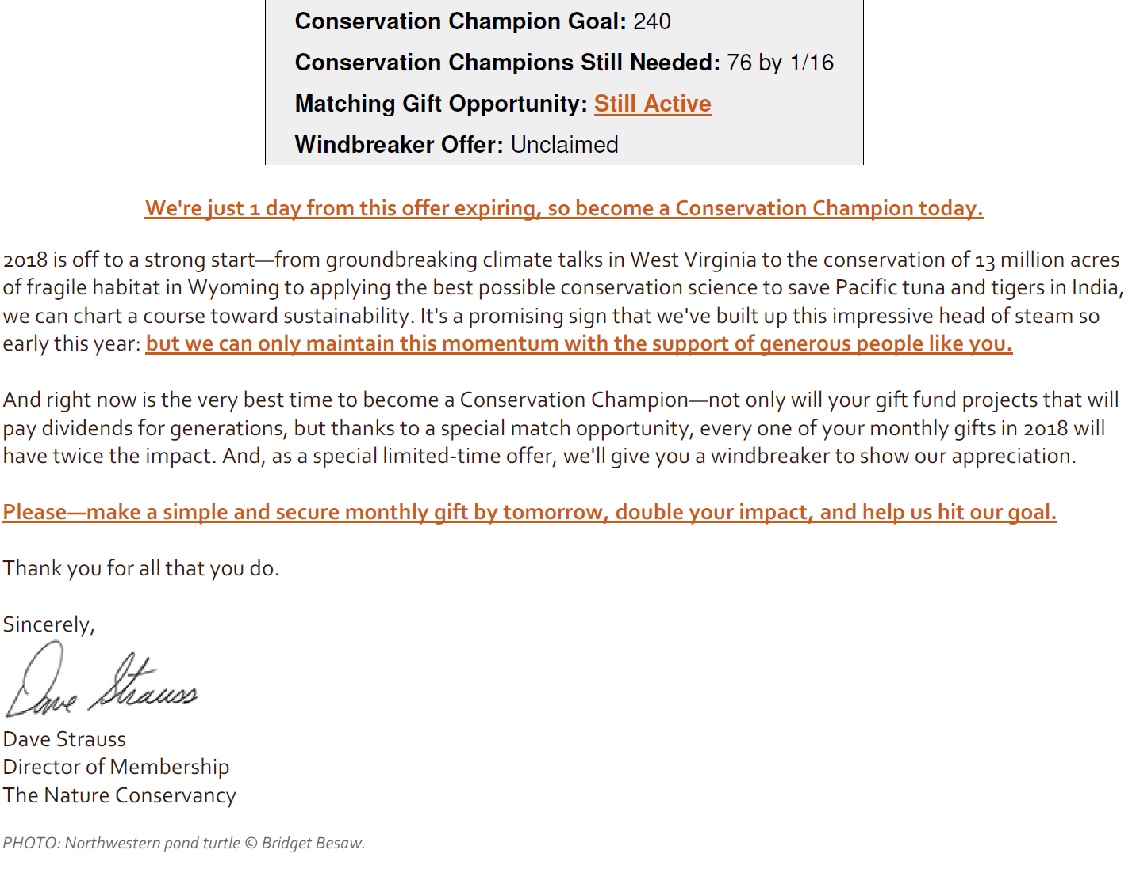 Source: The Nature Conservancy
When it comes to monthly gifts, some promise to match the first gift up to a certain amount. Others promise to match the whole year of monthly gifts. Others are based upon a certain number of monthly donors.
As mentioned before, I've found that the goal of a specific number of monthly donors to be reached is usually easiest to understand.
But as long as you follow the sequence, keep the urgency, keep the donor up-to-date on your goal, and focus on the 'reward' and impact on the children/clients/animals you help.

Extra important when it comes to using a match via direct mail
A match direct mail appeal typically has a bit longer of a deadline, usually 6 weeks after the expected delivery date of the mail piece.
If you don't give people enough time, it's not going to work as well. You can of course always drop the direct mail appeal first, then send an email appeal and make some phone calls as a follow up. It all depends on how many monthly donors you'd like to generate.
The more opportunities you build into your communication schedule, the better off you are.
Consider a very special campaign, combining all your channels. Take over the home page on your web site and mention the match there. Link to your monthly donor only giving page.
A fundraising match case study
This small children's welfare organization wanted to increase their number of monthly donors . The director of development talked to the board and one board member agreed to provide a $5,000 match.
They set a reasonable goal of 25 new monthly donors to be reached after a one-month campaign aimed first at its extensive number of volunteers.
They sent two emails, almost 3 weeks apart. The launch email and then a follow up reminder two days before the deadline of the match.
These two emails alone generated 38 new monthly donors out of the gate. They almost doubled their goal and they received an additional $5,000 to boot. SCORE!
Fundraising Matches are truly magical
So, use a match to your advantage. Light the fire and feed more monthly donors into your program.
The good news about a match is that you don't have to worry about offering anything to persuade the donor to give monthly, the match does all of that for you.
It's that extra carrot, that will benefit your cause and donors – even those that already like supporting you now – will be extra motivated to make the switch and become monthly donors.
Click Here To View All Upcoming Webinars From Erica Waasdorp And Learn All The Ins And Outs Of Monthly Giving For Your Nonprofit!
About The Author
Building partnerships and trying to find the best solution for donors and her clients are what Erica Waasdorp does best.
Her multi-lingual skills and multi-cultural experience bring added value to those clients interested in raising money internationally. And her experience in monthly giving has given her an edge for those clients who are ready to embark on this way of giving.
For Further Reading
For other idea's on getting your nonprofit started with a matching gift, check out this article by our friends at: