This a guest blog post by Julia Campbell, originally posted on Wild Apricot's Blog
Having worked with hundreds of nonprofits over the years, I can tell you that the nonprofits who develop and follow a well-thought-out marketing plan grow faster and make a bigger impact than those who don't.
In this article, I will cover the five steps it takes to create an effective nonprofit marketing plan I've seen make any organization's goals a reality, whether they be to increase donations, grow members, raise awareness, or otherwise.

What is a Nonprofit Marketing Plan?
A nonprofit marketing plan is simply a document that outlines the activities needed to execute any type of campaign. The document should be made available to everyone in the organization so they can refer to the main goals of the campaign in case they need to adjust activities.
Most nonprofits begin outlining their marketing plans and assigning roles with their Board at the beginning of the new fiscal year.
Step 1. How to Pick The Best Goal For Your Organization
One small foundation I worked with was marketing their organization everywhere (Facebook, email, events, etc.), but getting little return for their efforts. The problem I quickly discovered was that they were trying to accomplish multiple goals — increase donations, boost community engagement, raise awareness, etc. — all at once.
With such a small team, they were spreading themselves thin and bombarding their target audience with every type of ask. From my experience, the nonprofit teams which focus on one primary goal at a time meet the most success. As soon as I helped the foundation focus on one goal with their marketing campaigns (increasing donations), they started seeing better results.
If you need help deciding on a primary goal, here are the four most common nonprofit marketing goals I've seen:
New donor or member acquisition
Community engagement
Raise awareness
Become a thought leader and go-to resource on an issue
Make sure your nonprofit marketing goal is tied directly to your organizational growth objectives. We all want to raise awareness of our organization and the work that we do, but what will this "raised awareness" get our organization at the end of the day? What do we hope to accomplish?
Small nonprofits typically see the best results when they select one priority goal per quarter. Larger organizations with a marketing department of more than one person may be able to focus on two goals.
Since nonprofit organizational priorities are always changing and shifting, I recommend reviewing your nonprofit marketing plan every quarter (3 months). This may not mean creating a new one from scratch, but rather examining the plan to see where it can be tweaked and analyzing your progress.
Step 2. The Best Way to Achieve Amazing Results
Two years ago a friend of mine decided to participate in a charity run. She showed up in a jogging outfit and dragged her way to the finish line. She came in dead last. Last year she signed up again, but this time she was determined to come in first place. She began practicing four months before the event. She tracked her times, began eating better, and even hired a trainer. On the day of the race, she pushed herself harder than before and finished in the top 10% of all runners — something she never thought she could do.
The only thing that drove my friend to reach such an amazing result was refining her objective: simply participating in the race vs. aspiring coming in first. In the same way, nonprofits who refine their marketing plan objectives are able to accomplish their goals to a greater degree.
The best way I've seen nonprofits refine their objectives is by using something called the SMART objective framework. SMART goals for your nonprofit stands for:
Specific: Choose an objective with one key result.
Measurable: Ensure you have the tools available to measure your progress along the way.
Achievable (but Ambitious): Given your current reality (time, money, expertise, help, etc.), choose something you know you can set out to do, but will also push you to learn more.
Relevant: Good objectives increase the success of the organization. Increasing donations may be more tied to your organization's overall objectives, while simply increasing Twitter followers may not.
Time-based: Create a realistic deadline you want to achieve this by.
For example, if your primary marketing goal is "raising awareness", then some sample SMART could be:
50% increase in blog traffic by March.
25% increase in social media shares by July.
10% increase on Facebook post reach by October.
3,000 video views on YouTube by January.
Once you've refined your SMART objectives, they will drive you to do the activities that will lead to their success.
All nonprofits are different and will have different SMART objectives to match their primary goals. To find the numbers that are right for your nonprofit, you will need to look at the marketing benchmarks that already exist, or estimate to the best of your ability.

Step 3. How to Find The Right People Who Will Support You
Look at the number of likes and shares on this Facebook post from Girls Who Code, an organization with a mission of closing the gender gap in tech, one girl at a time. If you go to Girls Who Code's Facebook Page, you'll find nearly all their posts have similar likes and shares. And while the stories they share are quite powerful, their success comes from something else entirely.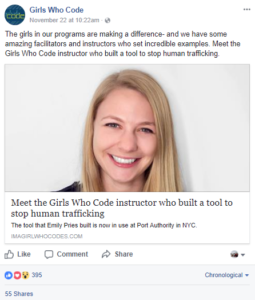 Girls Who Code was able to find and target a specific audience that responds to their mission. By marketing to that specific audience over time, they learned how to better connect with them — by sharing powerful stories of girls making a difference through their program. They don't worry about people who don't understand or support what they do — they focus on their most passionate online community members, and that leads to their success.
And that's the key. Successful marketing campaigns are targeted towards very specific audiences — and this is what the concept of Personas is all about. Personas are simply fictional characters that help marketers envision someone who might respond to their marketing messages.
For instance, a few Personas for Girls Who Code might be:
A middle-aged woman in the tech industry who wants to support the next generation of women in coding.
A parent of a teenaged daughter who has an interest in coding.
A young woman in a university coding program.
Once your Persona is created, you can start crafting a message that will connect with that Persona. Personas help humanize your marketing message, as you can better imagine you are speaking to or writing for one person vs. the entire online world.
A good tip when creating your own personas is to be very specific about who they are. As Jason Grunberg from the Sailthru marketing agency says, "Ozzy Osbourne and Prince Charles are both British men in their late 60s, but they aren't necessarily interested in the same things." As you can imagine, Ozzy Osbourne and Prince Charles would respond to different marketing messages.
> Learn the tactics to successfully raise money online for your nonprofit <<
Step 4. How To Craft A Compelling Message
This is the hardest part of any marketing campaign — getting your audience to pay attention long enough to take your desired action. This is also where most nonprofit marketers have the most fun, because creativity comes into play, in a big way. Here's an example.
WaterAid wanted to get the word out among young people about their work to provide clean water and toilets to the world's poorest communities. To do this, they took an approach many older donors might grimace at, but younger people embraced.
They created a Poopmoji campaign, where supporters could create personalized poop emojis and share their creations with friends. This campaign was wildly successful and resulted in a huge uptick in social shares, website traffic, and email sign-ups. But if you're hardpressed to come up with something as creative as WaterAid, there's another fail-proof way to create a compelling message that works for any nonprofit. And that is through the power of storytelling — in fact, 56% of those who support nonprofits through social media confirm that compelling storytelling motivates them to make a donation.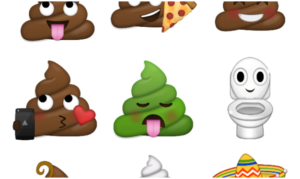 Take this example. Small nonprofit Rosie's Place, a women's shelter in Boston wanted to raise funds for its programs. They knew about SMART objectives, so they created an ambitious one: receive 500 gifts (of any size) in seven days from their online community (Facebook, Twitter, YouTube).
They also knew the power of storytelling, so they filmed a series of heart-warming (and often heart-wrenching) stories of women who the shelter had helped.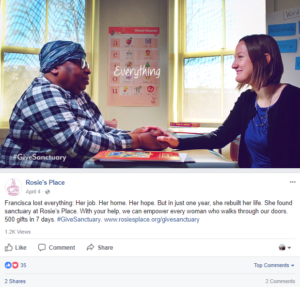 Everyday during the campaign, they shared one of the videos with their online community along with their goal of 500 gifts in seven days. Here's an example: At the end of the week, they received a total of 150 gifts — still short of their 500 goal, but still incredible. Plus, they touched the hearts of hundreds of people online, compelling many to become regular donors of the shelter.
If you're thinking of using storytelling to make your messages more powerful, I suggest taking the approach of Rosie's Place and searching for stories among the people your organization supports. Once you've found a compelling story, the next step is to find the right platform to share it on.
Step 5. How To Craft A Compelling Message
Nonprofits tend to dive into platforms first — let's get on Instagram, let's start tweeting! However, each marketing platform has a different strength and if you choose a blanket approach for every platform, your message may end up falling flat. If you want to maximize your impact, it's important to tailor your message based on each platform's strengths.
Here are the strengths of the four most popular platforms I see nonprofits using.
Facebook: Facebook is great for showcasing impact, expanding reach, and engaging debate or conversation among different supporters.
Twitter: Twitter is useful for sharing news around an issue, or tagging specific people in your updates.
Email: Email is an intimate platform to speak with those who know you and trust you on a personal level. That's why they're great for large asks (ex. "Would you donate $300?"), or specific asks (Ex. "Come to our event on Tuesday.").
Website: Your website is your most important piece of marketing collateral because it is your face to the world and the place where you make that vital first impression. This is where people will go to find out further details about your campaign, and also dig around to discover your organization's mission and vision.
If you're a very small nonprofit with limited staff and staff capacity, I've found your efforts are best spent if you focus on three areas:
Optimize your website by featuring your compelling message on your home page
Communicate your ask in an email campaign to your supporters
Consistently share your campaign on the one social network (Ex. Facebook) where your supporters are most engaged
One Final Word…
The nonprofits who take the time to create a strategic, thoughtful and purposeful nonprofit marketing plan see the biggest impact in growing their organization. Plus there's the added bonus of avoiding overwhelm as you go.
If you'd like more information about small and mid-sized nonprofits who have successfully raised money online, check my Free Webinar at CharityHowTo. All the best with your nonprofit marketing plans!
---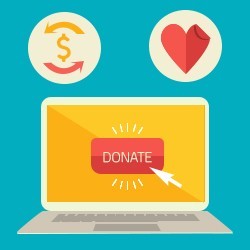 Learn some tactics to promote your online fundraising campaign and achieve your nonprofit´s goals. Try our FREE Recorded Webinar
About Wild Apricot

Wild Apricot is web-based software for small associations and non-profits to help manage membership, website, events and other activities.