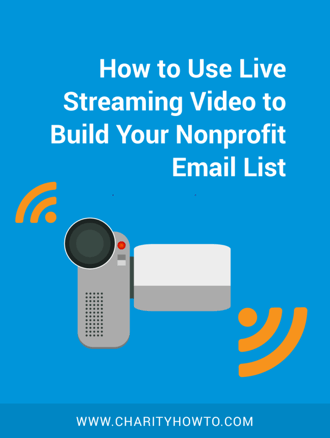 Post by Julia Campbell.
Live streaming video may sound like the newest trend in social media. But it's more than just a fad, and can do more than just increase your engagement on social media.
In the Nonprofit Internet Hierarchy of Needs, there are three main digital tools that you need to communicate with donors and reach new supporters.
These vital tools are: 1) your website, 2) your email list, and 3) your social media platform(s) of choice.
Having an engaged and active email list is so much more powerful and beneficial for your nonprofit than having 10,000 Facebook followers or 500 Twitter followers.
This is because – love it or hate it – our email inboxes remain a more intimate, exclusive space than our Facebook or Instagram feeds.
For nonprofits, our email lists continue to have the highest return on investment (ROI) of all the online fundraising platforms, making up 26% of all online revenue in 2017. Email messages prompted one third – 31% – of online donations made by Gen Xers last year!
With all the recent changes to social media algorithms on platforms like Facebook and Twitter, and with the unpredictable nature of social networking in general, nonprofits need to do more to ensure that they are actively growing their email lists every single day.
This is where live streaming video for your nonprofit comes in.
According to Facebook, 78% of their users are already watching live stream videos(4) – and they spend 3x more time watching them, and comment more than 10x more during live videos(5).
A study by Livestream found live video to be more appealing to audiences, with 80% stating they would rather watch live video from a brand or a cause than read a blog, and 82% saying they prefer live video to a plain social post.
Here are 4 ways to use live streaming video to build your nonprofit email list.
Click here for even more tips on how to improve your donor relationships and acquisition.
1) Use live streaming video software
One option is to sign up for and use live streaming software like GoToWebinar, Crowdcast, WebinarJam, or Zoom to require people to give you their email to access the livestream.
This could be a good choice for you if you are offering exclusive and unique content in your livestream and if you have the resources and the time to promote it and get people to sign up ahead of time.
TechSoup offers discounted rates on many of these platforms, and several of them offer their own nonprofit-specific discounts.
2) Ask for emails during social media livestreams
When doing a livestream on social media, include a sign-up link to your email list in the comments both during the livestream and as a follow-up comment.
You can also add your email sign-up call-to-action in the caption of the livestream when it's concluded.
TIP: Be sure to avoid boring and neutral language in your call-to-action. Encourage people to "get involved to end breast cancer" or "sign up to save lives" – make it more appealing than simply writing "sign up for our email newsletter".
3) Offer an incentive on your livestream
If you have a special report, white paper, or useful resource for your supporters, promote it during your livestream and add a link to sign-up in the comments.
In this case, you'll want to talk about your free resource directly in your Facebook Live. Let your viewers know what it's all about, who it's for, what benefits they'll receive from it, and exactly how they can access it.
Make sure to put the sign-up link in the caption, comments, or even on the screen if you are using live streaming software like Ecamm or Belive.tv.
4) Boost your livestream
Once it's done, I recommend waiting 24 hours for the replay of the live video to get some added traction and reach.
After that, spend a few dollars to boost it so that even more of your social media followers see it. The key is to building your email list using live streaming video is to have an irresistible reason for people who watch the live stream to sign up to get more information from you.
Use live streaming to build authority, increase trust and affinity, and bring your supporters behind-the-scenes of your work and your impact.
Then it will be an easy sell to get them on your email list for more valuable information on a cause and an issue that they care about!