This is a Guest Blog Post by Julia Campbell, originally in Wild Apricot's Blog
Does trying to manage all your social media accounts feel like running on a hamster wheel that never stops? You're not alone. For over a decade, I've helped nonprofit professionals save time (and money) by setting up free and low-cost tools for social media managers that can easily manage and monitor all your accounts in one place.

The best part is that the nonprofits who use these tools also receive a drastic boost in authentic engagement with their followers — and there are four main reasons for this:
1) How Productivity Skyrockets:
Imagine having one central location to manage all your social accounts — Twitter, Facebook, LinkedIn, etc. Instead of logging into each platform separately (and potentially going down a social media rabbit hole on each one), everything you need to manage is in one place, allowing you to save time and really focus.
2) The Impact of Consistency:
Using a tool to help you plan, create, and schedule content all in one place will allow you to maintain a consistent, cohesive presence across several platforms. What's more is that a study found that organizations who consistently promote their brands experience a 23% increase in revenue.
3) More Engagement:
It can be difficult to remember which tweets have been replied to and if Facebook comments have been acknowledged. A social media management tool can help you track and allow you to respond quickly to all conversations that need your attention. It can also help you follow hashtags and topics to make sure your voice is heard where and when it needs to be.
4) Measurement and Improvement:
When you are able to look at your analytics and see which posts are performing best, what times tend to be most engaging for your audience, and what types of content resonates, you will be able to tweak and improve your overall social media strategy.
If this all sounds good to you, I recommend using some tools to help you out. Unfortunately, there are thousands of social media management and scheduling tools available, and more are cropping up every day so it can be hard to know which ones are right for your organization.
To help you choose, I've simplified things and only included tools that meet the following criteria:
Can manage all of our social media accounts in one dashboard
Schedule posts
Reply to comments and posts
Monitor conversations (hashtags and topics)
Measure and track results
Do not require an IT background or formal training
Are affordable!
Read on, and I'll show you my top 10 social media scheduling and management tools nonprofits use to optimize workflow and save time!
1)Hootsuite
Hootsuite is one of the most popular and widely-used social media management tools, due to its ease of use, accessible pricing, and variety of features.
Key Features: Hootsuite allows you to manage your presence from all major social networks like Facebook, Instagram, Twitter, LinkedIn, and YouTube from one dashboard. They also offer integrations with several other platforms. Hootsuite allows you to schedule up to 350 social media posts at once. You can also schedule Instagram posts, including regrams.
My favorite feature is the ability to add the Hootsuite button into your browser so you can schedule a tweet, Facebook post, or LinkedIn post with one click.
Pricing: Free for one individual user and 3 social profiles. Other paid plans available if you need to add more team members or profiles. Hootsuite offers 50% off on all of their plans for nonprofits.
2) Buffer
Buffer is my favorite social media scheduling tool, mostly because I love their fun and friendly brand voice, and their blog is the best in the business.
Key Features: Similar to Hootsuite, you can schedule posts on all the major social media networks, access analytics, and reports, and use the browser extension to quickly and easily add content to your posting queue.
My favorite feature is the ability to schedule retweets that look great and pull in the original photo. If you are like me, you go on Twitter during certain parts of the day, and you don't want to flood the feed with tons of retweets. Buffer integrates with Twitter when you want to retweet someone so you can schedule it to be spread throughout the day or week.
Pricing: Free for one individual user per network on the Individual plan. Note that Pinterest is not included in the free plan. Like Hootsuite, paid plans are available if you need to add more team members or profiles. Buffer offers 50% off on all of their plans for nonprofits.
>> Try this Free Webinar Recording: An Introduction to Online Fundraising for Small and Medium-Sized Nonprofits <<
3) Later:
If you are a heavy Instagram user and you want to build your community and engagement on that platform, then Later is for you.
Key Features: The most unique features are the ability to plan and schedule posts in a visual calendar view, which is useful to a visual person like me. You can also preview posts as they will actually appear on the platform. I especially love the Visual Instagram Planner, where you can see your entire feed on desktop and mobile, which helps to create a consistent look and feel, as well as plan longer campaigns.
Pricing: Free for one individual user per network on the Individual plan, with a limit of 30 Instagram posts per month. Through the Later for Nonprofits Program, they offer a 50% discount on an annual subscription for our Premium plan to qualified nonprofit organizations.

4) ViralTag:
ViralTag advertises itself as "the #1 social media marketing tool for sharing visuals." if your nonprofit has active accounts on Instagram and Pinterest, and you are looking to create and share more visuals, you should check out ViralTag.
Key Features: Like many social media scheduling tools, you can manage multiple social networks, schedule unlimited posts, recycle evergreen content, collaborate with a team, and analyze performance. What's special about ViralTag is their "visual marketing calendar", where you can create and schedule multiple Pinterest pins and Instagram posts.
Pricing: 14-day free trial. Individual accounts start at $24/month. I could not find specific information about nonprofit discounts on their website, but since their competitors all offer this perk, I suggest contacting them directly to see if you can get a discount.
5) SocialOomph:
SocialOomph was originally brought to my attention by social media marketing expert John Haydon, based on its affordability and ease of use for the non-techie, a huge plus for many nonprofit social media managers.
Key Features: If you primarily use Twitter for your nonprofit, SocialOomph has many features that can maximize your productivity and engagement, including: Ability to schedule unlimited tweets, track keywords, save and reuse drafts of posts, and check DMs on multiple accounts.
Pricing: All Twitter features can be used on their free plan. To sync more social media accounts, you need to sign up for their Professional plan, which is $17.97 every two weeks. Like ViralTag, I could not find specific information about nonprofit discounts on their website. However, since the majority of their competitors offer special nonprofit pricing, I recommend contacting them directly to see if you can get a discount.
6) PostPlanner:
PostPlanner is a great way to not only schedule and monitor the content that you create yourself but also discover, curate, and share other content that your audience will love.
Key Features: The best feature in PostPlanner is the ability to discover content based on their recommendations, and customize your publishing calendar incorporating your unique posts as well as curated content. Other unique features include Canva integration for sharing infographics and visuals, GIF creation and sharing, and recycling evergreen posts.
Pricing: Starts at $3/month for 3 profiles and 30 posts per day. Check with them directly about nonprofit pricing.
7) Crowdfire:
I've been using Crowdfire for a few years now, mostly to occasionally cull through my Twitter followers to make sure I am not following old or outdated accounts. With over 19 million users, it is one of the most popular social media management platforms.
Key Features: Search other Twitter accounts to see who they follow, unfollow inactive accounts, search for relevant articles, automatically share your blog posts, and the best one – "automagically" customize each post for individual social networks.
Pricing: The free plan lets you connect 1 account per social network, with up to 10 schedule posts per account per month. Their paid plans start at $4.99/month. Check with them directly about nonprofit pricing.
8) Loomly:
Created by frustrated social media managers who couldn't find a tool that they liked, Loomly is one of the newer platforms out there. I love their tongue-in-cheek style, as their website claims they are the "social media manager's best friend – after cats."
Key Features: Create and manage social media calendars from one dashboard; get real-time analytics on each post with their Live Post Analysis; submit posts for approval to a team member. You can also schedule posts in Loomly, or integrate with Hootsuite or Buffer.
Pricing: Plans start at $15/month, and include 10 social profiles, unlimited calendars, posts, and file uploads. You also receive post ideas, live analysis, approval workflow, and basic analytics. Loomly offers a 50% lifetime discount upon presentation of a copy of an IRS determination letter or any equivalent document. Send an email to contact@loomly.com to apply.
>>An Introduction to Online Fundraising for Small and Medium-Sized Nonprofits <<
9) Sprout Social:
Sprout Social is one of the most trusted social media management tools out there, having been around since 2010. Team Sprout maintains official partnerships with LinkedIn, Facebook, Twitter, Instagram, Google+, and more.
Key Features: One unique feature is the "Social Inbox" – one place to manage all the direct messages that your brand receives on social media. You can also schedule and publish posts across networks and across devices, and collaborate with team members on content planning. The higher-level plans even offer presentation-ready reports, so you can wow your Executive Director during the next performance review!
Pricing: Sprout Social is the most expensive option on this list, with the most features. All plans include a free 30-day trial, but after that, they start at $99/month. They do offer nonprofit pricing with qualifying 501(c)3 documentation. To learn more about their pricing structure for nonprofits, email sales@sproutsocial.com.
10) SmarterQueue:
Last but certainly not least, we have SmarterQueue. I first heard of SmarterQueue in a social media marketing Facebook group where I am a member. Several of the members were raving about it and said that it was so much easier to use than other platforms, as well as having much more customization and integration with more apps and social networks.
Key Features: Like 99% of the platforms detailed in this article, you can schedule your posts, analyze competitors, and find great content to share. You can recycle your evergreen content, and, according to their website, "get all of your social media posts scheduled in 1 hour per month." What's not to love about that?
Pricing: Their Solo plan is $16.99/month, and you get all of the features listed above, plus 4 social profiles and 10 posts per profile per day. Registered charities, non-profits, schools, universities, and students in full-time education all get 50% off any plan.
>>Bonus: Planable
Planable is social media content collaboration platform for marketing teams and nonprofits. They bring team members and social content on the same page for better, faster brand storytelling. With Planable you can create social media posts, preview exactly how it looks like, exchange feedback, get approval and schedule posts directly to social media.
Key Features: Get feedback from your team members directly on your posts. This is great if you work with an agency, as it streamlines the sign-off process.
Pricing: Their Starter pack is $14.00/month, which allows one workspace, three team members, and unlimited pages and posts. They also offer discounts to nonprofits, just contact them about it.
Which Tool Will You Choose? Whether you're a social media expert or just getting started at your nonprofit, these 10 tools can help you save time and get better results.
---
Get Julia's 10 steps to Online Fundraising Success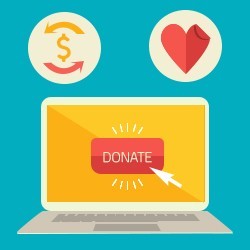 About Wild Apricot

Wild Apricot is web-based software for small associations and non-profits to help manage membership, website, events and other activities.