This is a guest blog post by Julia Campbell
Your nonprofit website is the most important tool in your fundraising, marketing, outreach, and communications toolbox – BY FAR.
Think about how you conduct research on things that interest you and causes that you care about – you Google them, right? And what happens if you end up on a website that is clunky, ugly, takes forever to load, and has tiny text that you can't read?
You would click away, without even giving it a second thought.

This is the main reason that Google is penalizing websites that are not mobile-friendly, by having them show up lower in their search results. After all, Google wants to provide their users with a productive experience, and a terrible website showing up in search results is not good business for them.
Too many nonprofits want to focus on the next shiny new platform, or tool, or social media site – without taking a good hard look at the damage their website is doing to their marketing and fundraising efforts.
Your website is your first impression to people who do not yet know who you are but want more information. And we all know – you only have ONE CHANCE to make a good first impression. This is especially true when you are trying to raise money and solicit donations online.
But what, exactly, makes a great (not just good) website? In a world of ever-changing technology, it can seem impossible to keep up. Good news: it isn't as hard as you might think.
We've compiled a list of best practices for the nonprofit web that never go out of style, no matter what the next big "trend" may be. Focus on these features, and your site will support your goals – not hinder them.
7 tips to set up your website for maximum online fundraising success:
1. Enable one-click donations
Did you know that 65% of nonprofits require three or more clicks to get to the form that allows someone to make a donation?
Website visitors should be able to donate with just one lick of the mouse or tap of a button. This means having a bright DONATE button on the homepage of your website. When visitors click on the DONATE button, bring them directly to the donation form where they can enter the amount and their credit card information.
DO NOT send people to the "Ways to Get Involved" page or any other page on the website.
2. Make your website responsive
Having a responsive website is no longer optional in today's always-online environment. Your website visitors should be able to easily access your site from any size screen, whether it be their desktop, laptop, tablet, or smartphone.
Responsive websites shift their content to fit any screen size. Test out your website by pulling it up on a variety of phones and devices to see if it works.
Blackbaud found that responsive nonprofit websites receive a 34% increase in donations! In addition, a responsive website will certainly please those 16.6% of donors that give directly from your email appeal on their mobile device. (More emails are now opened on mobile devices than desktop, so make sure your email appeals change accordingly also.)
3. Less is always more
Eliminate all distractions on the online donation page of your website.
Take off any Facebook and Twitter feeds, remove the "sign up for our email newsletter" box. If you can, use a service like Leadpages.com to make the page completely free of any links – this is often called a "squeeze page" and it is used effectively by businesses of all sizes. Think about it like this – they pressed the DONATE button. So get right to the credit card information!
You can and should use your logo, colors, and consistent branding so donors will know where they are and not get frightened off. Adding a video/or visual is always good as well (more in the next bullet).
4. Include visuals
When I encourage you to include visuals on your online donation page, I mean one clear photograph or video that showcases your impact. The purpose of this visual aid is to push the donor prospect even closer to pulling the trigger on the donation – or maybe increasing the size of their donation.
Here are two great examples of visually appealing online donation pages:
Project C.U.R.E.

– photograph, small paragraph telling the donor where the money will go, several donation levels, and the form right underneath

Invisible Children

– large, colorful photograph and the only option is to enter in a donation amount and click "once" or "monthly"

Operation Smile

– hard to ignore powerful photograph, compelling ask, gift levels, and the credit card form immediately visible
>>Try this Free Instant Access On-Demand Webinar Recording: An Introduction to Online Fundraising<<
5. Showcase your best stories
Showcasing the stories of the people you help and the impact you have is the absolute best way to build relationships with existing donors and to convince new people to jump on board.
Housing a diverse selection of impact stories in a particular, dedicated section of your website is also a great idea. Nonprofits that do a fantastic job of collecting and showcasing impact stories on their website include the Harlem Children's Zone (hcz.org), Denver Rescue Mission (denverrescuemission.org), and Women for Women International (womenforwomen.org).
Remember: Your website exists to educate people about your mission, but it also exists to inspire them to take action on behalf of that mission. Otherwise, why have a website at all? The best way to do this is through compelling visuals and succinct storytelling, threaded throughout the site.

6. Encourage monthly gifts
Monthly online giving has been growing leaps and bounds, and your nonprofit needs to take advantage of this philanthropic trend.
For more on monthly giving programs and for some wonderful advice on how to create monthly giving programs, be sure to check out The Hidden Gem: How to Create an Awesome Monthly Giving Program with Erica Waasdorp.
7. Encourage sharing
Studies have shown that giving to charity is good for your health – but it actually makes you happy too!
When your donors give to you, they are expressing their values, their ethics, and their priorities. Give them a chance to share that they made a gift by including social share buttons on the Thank You page after someone enters their credit card information. 73% of nonprofits do not offer a "share" option after an online donation – and that seems like a serious missed opportunity.
Not everyone will take advantage of this, of course, but my bet is that the younger generations will – thereby giving you free advertising, and showing off that this person felt so strongly about your cause that they were willing to make a financial commitment!
---
>>> More resources:
---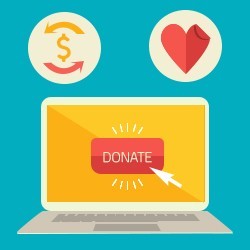 About The Author
Julia C. Campbell, Founder of J Campbell Social Marketing, consults and trains nonprofits on the best ways to use digital tools to raise money and awareness for their organizations. Her blog is consistently featured in the list of Top 150 Nonprofit Blogs in the world, and she is currently publishing a book on storytelling and social media with Charity Channel Press. She has helped dozens of nonprofits small and large with their online fundraising and marketing campaigns, raising over $1 million for social causes.
For Further Reading
For other idea's on how to succeed in monthly giving, check out these articles by our friend at: