As a follow up to the recent free webinar '7 Reasons why you should start a monthly donor program NOW', we're happy to share the answers to some of the questions we didn't have a chance to answer during the webinar.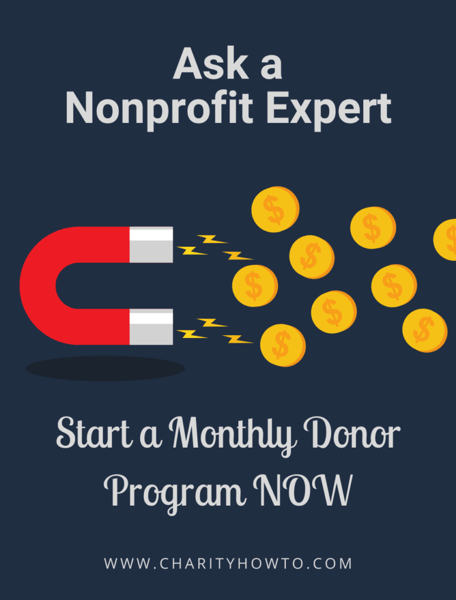 These are very short answers of course. But feel free to contact Erica Waasdorp at erica@adirectsolution.com if you have any additional questions or join her in one of the upcoming advanced monthly donor webinars.
Question: Do you recommend that we set up a specific donor web form for monthly gifts?
Yes, absolutely. Ideally, you'll have at least two web forms. One that has one-time and recurring, one form that offers monthly only.
When you're promoting monthly giving and you ask for it, make sure that it's really clear that's what you'd like the donor to do. Once you have the form, you can link from the home page, you can link in emails, etc. And of course, keep the monthly giving option on your regular donation page as well.
Some consultants advocate to preset the monthly gift option on the (one-time) donation page as well, I recommend however you test it first. You really want the donor to have a good donor experience and if they go to the monthly page and they hit the give monthly button, you'll know they're committed. If they hit the monthly by accident when they just want to make a one-time gift, that's not good.
Question: We have a monthly e-newsletter with a donate button…should every other month insert a monthly donor button or have two buttons in the e-news?
The more focused you are on adding monthly donors, the more opportunities you should give your donors. If you can offer at least two buttons in every e-news, that would be fantastic. One for the one-time gift option, the second for the monthly gift option. Ideally, you can include that extra button linking to your monthly only page in every email you send. What do you have to lose?
Question: Do you recommend sending a thank you via mail to thank a donor for their contribution in addition to their email thank you? Do you send them a thank you every month?
Yes, I am a strong proponent of a hard copy thank you letter when monthly donors join.
In that letter you'll explain that they'll not receive any more thank you letters but rather other updates on how their gifts will make a difference and a tax letter showing all gifts in January. That letter should have your contact information so they can reach out if they have questions. They will hold on to that letter.
Also: if your system 'spits' out a thank you receipt every month, that's okay although I typically recommend suppressing it if you can. You do not need to send a thank you letter every month though.
Rather replace that with other emails with a short thank you for your ongoing monthly support in them. You can make a version of your e-news with that intro. And replace it with print newsletters if you have them. Indicate that you will not plan to send a thank you every month in the first monthly donor-join thank you letter.
Question: What do you mean by setting aside 1 hour a week to focus on your program? What do you suggest we do with that hour?
The main goal of this is that you carve out at least one hour a week to work on your monthly donor program.
You can create a monthly donor only page, you can create an email, you can call a monthly donor to say thank you and get a testimonial, you can create a thank you message and thank you letter, you can look at your web site, and most of all, you can look at your results to see how the activities you've done in the past worked for you and tweak it for upcoming messaging.
Of course, if you can spend more time, that's even better. But who doesn't have one hour a week?
Question: Is a $1/month starting point too small for staff and volunteers? You suggest to "start small" with the ask. Doesn't this conflict with the anchoring philosophy? If I ask for only $5/month, that's all I might get. Shouldn't we shoot for a bit more?
If your system can handle $1 a month, you can try that in your message and ask to your staff and volunteers. Your monthly donor only page should have multiple options on it though.
Send it out and you'll see how many will do much more than that $1 a month. You're asking staff and volunteers to participate, and they can do that at a low amount a month and that's okay. You may be pleasantly surprised what you get.
Starting small helps to get prospective monthly donors to the form and the idea that it only takes $1 or $5 a month will do exactly that. Then once they get to the form, they'll self-identify what they're most comfortable with. And especially if you can be specific in how $10 or $20 a month can make a difference, that will help in that process. Ask low, get high response. Then get extra gifts and upgrade within the first year.
Question: What sort of communication and outreach do you recommend for monthly donors to ensure they feel connected and appreciated? What do you give your monthly donors? Special eNewsletter?
Well, first, look at what you're already sending out to donors. Maybe you have a major gift program and they're doing something special there?
If you have print newsletters, those are great. Handwritten thank you notes, or special holiday cards are great. Maybe there's a special important day for your organization.
For example, if you're an environmental organization, you could send a special Earth Day card to your monthly donors with a short thank you. You can invite your monthly donors to a zoom call or virtual tour.
The key thing is to do all of that, have a special tag/group in your email program and every time you send them an email, include a Thank you for your ongoing monthly gifts. Let me tell you…
Videos of how gifts are helping are always terrific. It's totally okay to repurpose, so if you have created something for a special occasion, share it with your monthly donors.
Thank you calls are great and even appeals are great, as long as you have a similar recognition in the appeal. Especially if you're only sending something to your donors a few times a year, it's okay to include your monthly donors with that special recognition.
Question: If you're launching it for the first time, what's a good goal number of monthly donors for the year – 50 new monthly? More?
The answer of course is: It depends!
On average, organizations see 15% of their donors becoming monthly donors, but that doesn't happen overnight.
If you have 1,000 email addresses and/or 1,000 donors to work with, you may get 10 monthly donors the first time and then you just keep adding.
If you have 5,000 email addresses and/or 5,000 donors to work with you may get to 50 the first time out the gate.
Look at your typical open and click through rates and use that to help you set your goals. Do one email, see what happens, then do another. Start building.
If you have any questions about this, you can use this monthly donor calculator that may help in determining the best goals for your organization.
But feel free to contact Erica Waasdorp at erica@adirectsolution.com if you have any additional questions or join her in one of the upcoming advanced monthly donor webinars, just go to www.charityhowto.com/nonprofit-experts/erica-waasdorp.