As the global population moves online, most people will end up with a more connected digital life than they had before. That includes your nonprofit community. The new shift to virtual interaction we're experiencing won't rebound completely back to traditional mediums of communication. Virtual interactions are becoming just as meaningful and almost as real as face-to-face conversations.
Now that more people are active online, your website needs to be set up for frequent and fast changes.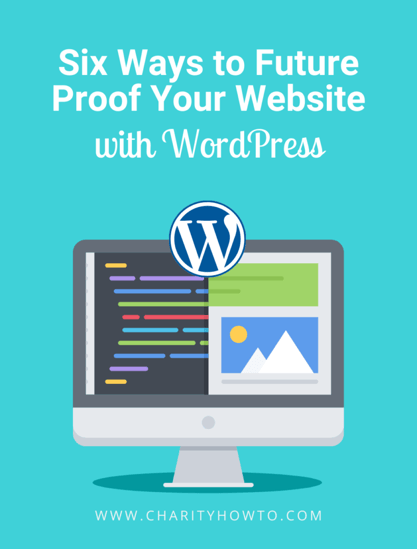 The internet changes faster than the real world. Future-proof your nonprofit website using WordPress. WordPress allows your organization to easily update, change, and maintain your site with tools necessary to adapt for all the things that the future of technology might bring your way.
6 Ways to Future-Proof Your Nonprofit Website
Even if your nonprofit is ahead of technological trends, you need to set yourself up on a platform that is easily changed later on. Your website needs the following four qualities to adapt to future technology trends.
1) You Need to Combine Value and Versatility
WordPress is not expensive to maintain or use and it's easy to change or customize in any way you want. There is a reason WordPress is used by over a third of the internet. Open source software is a huge win for nonprofits.
It's simple to change and update your content on WordPress so you can get information out to your supporters and those who use your services immediately. You can easily create a standard training guide for your volunteers and staff, update and re-design as you need to, etc.
Anyone can search for information on how to use WordPress and find great resources online. WordPress is one of the most cost-effective and versatile nonprofit website solutions available.
2) You Need Strong Website Security and Reduced Liability
Information security has traditionally been one of the biggest deterrents to incorporating online giving and communications for nonprofits. WordPress provides a wide variety of solutions to protect your site from hackers of every kind.
Once you implement online giving, your site automatically has a lot more appeal for hackers because they think you're potentially not treating credit card information with high enough security protocols.
But, if you use a WordPress donation plugin like GiveWP, your organization's credit card information is never stored on your site. The security needed to accept credit card payments online are high enough on your website to keep anyone from watching data while it's sent to your payment gateway.
Plus, the larger WordPress community that contributes to building WordPress, ensures the software is always maintained and updated. As long as you maintain your own site properly, you shouldn't have any issues.

3) You Need to Own Your Data and Content
One thing WordPress does that many third-party platforms don't is ensure you own all your data and content. That means you can choose who is allowed to use any videos, photos, or other kinds of content on your site. You also get the peace of mind that no one else can use or sell your donors' contact information to third-parties.
As time goes on, people are increasingly wary of where and how they share their data. Owning your donors' data will become even more important in the future. Giving your donors the peace of mind that you never share their information with anyone not only allows you to control who contacts your donors to give, but it also gives them more of an incentive to give to you.
Transparency and trust are the key to a healthy nonprofit-donor relationship now and in the future.
4) You Need a Future-Proof Mobile-Friendly Site
Nothing is guaranteed in life except death, taxes… and the progress of technology.
Technology will continue to move forward, no matter what that looks like. Right now, we're seeing a large increase in mobile giving trends. In the near-future, mobile giving is expected to increase even more. How that looks might change, but for now most donors give through the mobile version of your website.
WordPress not only easily adapts to mobile devices now with the right Theme, but you can also create your own app for your organization.
Additionally, with how broad the WordPress open source community is, you know that it will advance alongside technology. You won't need to worry about switching to a new website platform to transition to the next "big tech fad."
5) You Need the Flexibility to Change Your Content Quickly
Last but not least, your nonprofit likely needs to update your content constantly. Your cause doesn't stop when your website is complete.
Keep telling the story through blogging and news updates. Share your projects while you're working on them and when they're completed.
Adding this kind of flexibility to your content management system allows you to create new pages to add to your site as well. For example, you could add a corporate sponsorship page and ask businesses or large donors to give a little extra in exchange for public recognition. Or, you can add a page that simply tells sponsors what their perks are so that they are compelled to contact you.
Whatever you use your content for, make sure you update it often. To do this, you need to make sure your website is set up in a way that's easy to use.
6) Online Fundraising for Nonprofits Needs to be Flexible, Powerful, and Secure
Your organization might have many different programs or a building to fund. Right now, how do your supporters give? What would help improve funding the areas that could use a little more love? Would more visibility help? Creative fundraisers?
Try to find an online giving platform for your nonprofit that supports at least:
Regular online subscription giving (recurring donations)
General giving with one-time contributions
Form and fundraising campaign customization
Different display styles (button pop-up, full form, etc.)
The ability to display multiple forms together in a visually pleasant way
It's important to also give your donors access to their giving history and annual tax receipts. You might also want to give people the option to join your mailing list when they give. All of these things and many more are available through the GiveWP WordPress donation plugin.
Nonprofits also need to report regularly and transparently. GiveWP has great reporting features for that as well.


However your nonprofit specifically uses online giving, you need a solution that's adjustable and easy to use. The GiveWP WordPress donation plugin provides you with exactly that. Learn more in the GiveWP Getting Started Guide.
Get Started With WordPress Fast
You might not already have a WordPress site. Your site might even be on Drupal or Wix. Or, you could just have a Facebook page right now. Your charity may have no online presence at all yet.
That's okay. Getting started with WordPress is easy and fast.
Start with choosing a domain name and hosting platform. WordPress itself is free, but you still need to host your website somewhere and purchase "internet real estate." There are a lot of website hosting companies that make it easy to get started with WordPress. A few to consider are:
WP Engine
GoDaddy WordPress Hosting
Siteground
Bluehost
Once you have WordPress up and running on your site, find a great theme to start out with. Astra Theme's Charity Website template is perfect if you want to start with a "Starter Site."
Future-Proof Your Nonprofit's Website
Nonprofit technology is critical during unprecedented times. It's going to become even more important once we adjust to a new norm afterward. Is your charity future proof?
Get started with the free GiveWP donation plugin on your own or schedule a demo to talk to their team about the best way to approach modernizing your nonprofit website. They'll let you know if WordPress is the solution for you. If not, they'll point you to the right one.
About the Author
Taylor Waldon is the Content Strategist at GiveWP. She has a passion for WordPress and over 10 years of professional experience in marketing, website content management, and article and documentation writing and editing.