Blog post by Erica Waasdorp
What was a monthly giving program like before computers and the internet?
It existed but it was a lot harder! The channels used were mail, phone and in person.
When I first started managing a monthly giving program, now many (26+) years ago, nonprofit's web sites didn't exist! Emails were just used for internal communication and even that was still very new.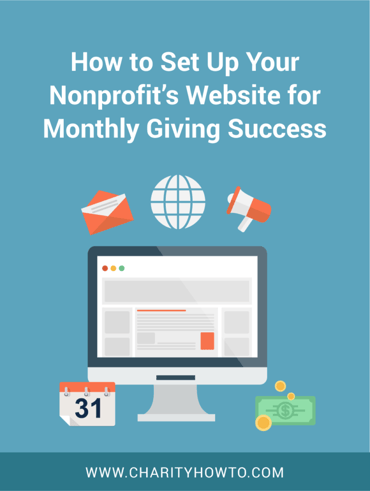 Cell phones were only used in cars and nobody had even heard of smart phones. Computers were still big and clunky. Consumers buying things on a computer was still an unknown. Instead they had to mail in their orders or call them in to a special phone line. And it would take a few days to get your order delivered.
Things sure have changed since then! If you're a baby boomer, you may still remember those days (perhaps even fondly! Life sure was a lot quieter).
Now, everything is faster, more immediate and the world wide web has totally taken over! I don't think we could ever imagine living without it.
The good news is that the internet has given fundraising a big boost. It's making it much easier to raise funds and respond quickly, especially after a disaster. Why? Because it is so much easier to give online. It's just a few clicks et voila, your donation is processed.
No charity these days could exist without a website. It's an absolute must-have!
The internet has really made giving, especially monthly giving, a lot easier.
No doubt, asking for donations and especially starting and growing a monthly donation program still requires a little bit of work. Especially if you're looking to make giving and especially monthly giving easier to set up for your donors.
So here are the top 7 tips to set up your nonprofit's website for Monthly Giving Success:
1. Make sure your donation page is easy to find. What does that mean? A big button, preferably in a different color on your home page.
Here are two examples of what that could look like.
Above you see how there are basically two choices. It's very clear.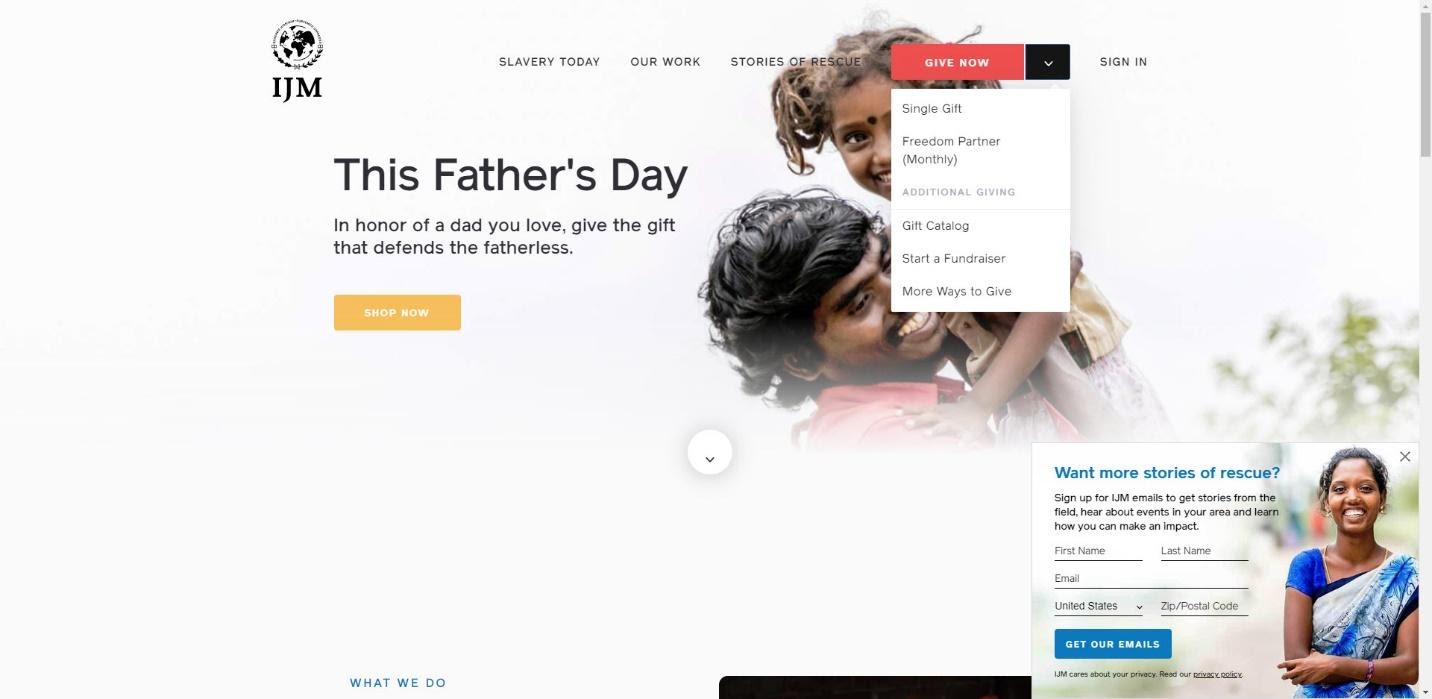 This example shows you the pull-down menu options in give now, single gift or monthly or other ways, it's easy to find. Some organizations are putting the Give monthly as the first option.
2. Add the 'make this a monthly gift' or 'make this a recurring gift' to your one-time donation page. That way it's always there for anybody to see. Here are two different examples.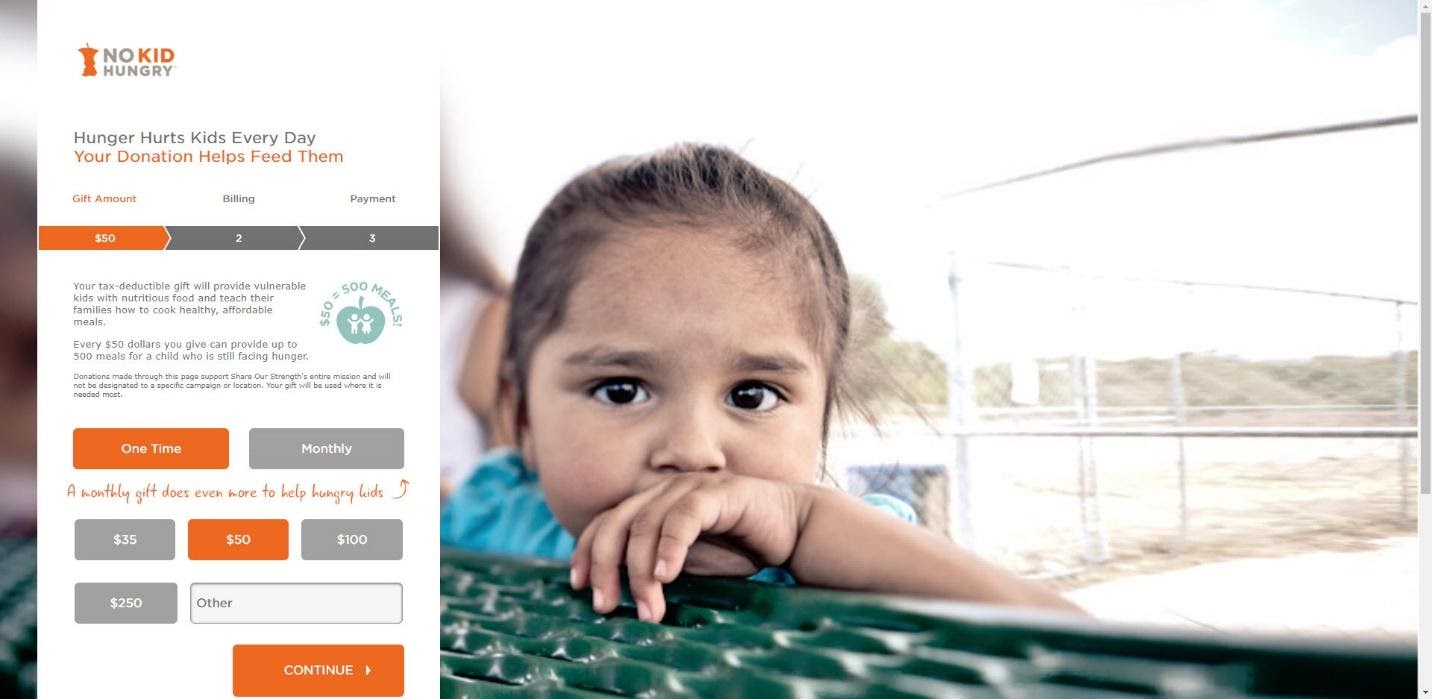 3. Create a monthly only page and link to it from everywhere.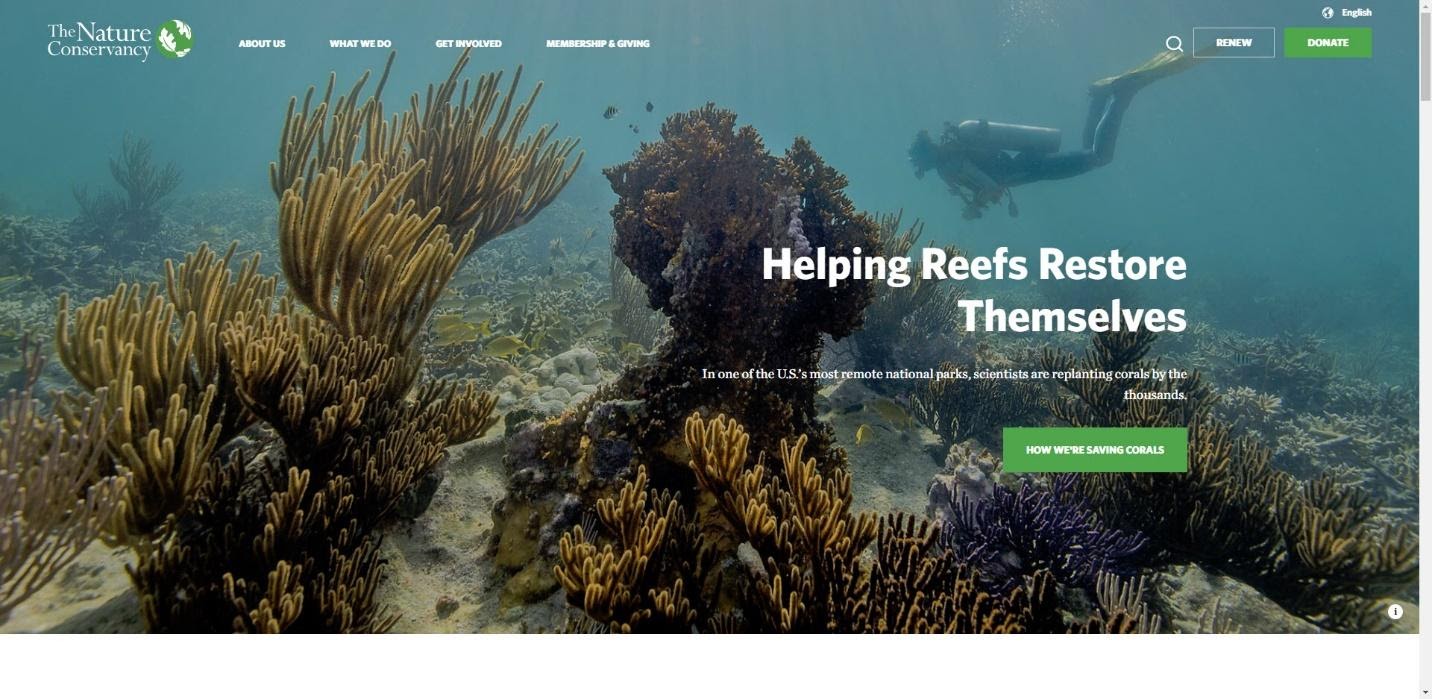 If you're really daring, consider a Give Monthly right below or next to your Donate Now button. Add monthly to the Ways to give page, have it be on the side bar of every page. Donate Now, Give Monthly.
See how Nature Conservancy has the two-button option, they highlight this for whatever is relevant for the month. You can use Give Monthly and Donate. Or you can have it as part of the pull-down menu.
4. Consider taking over the home page and make it all about monthly giving for at least one month a year, preferably even more often.
Here's an example of what that could look like. You certainly can't miss it! And you'll link right to the monthly page you created earlier.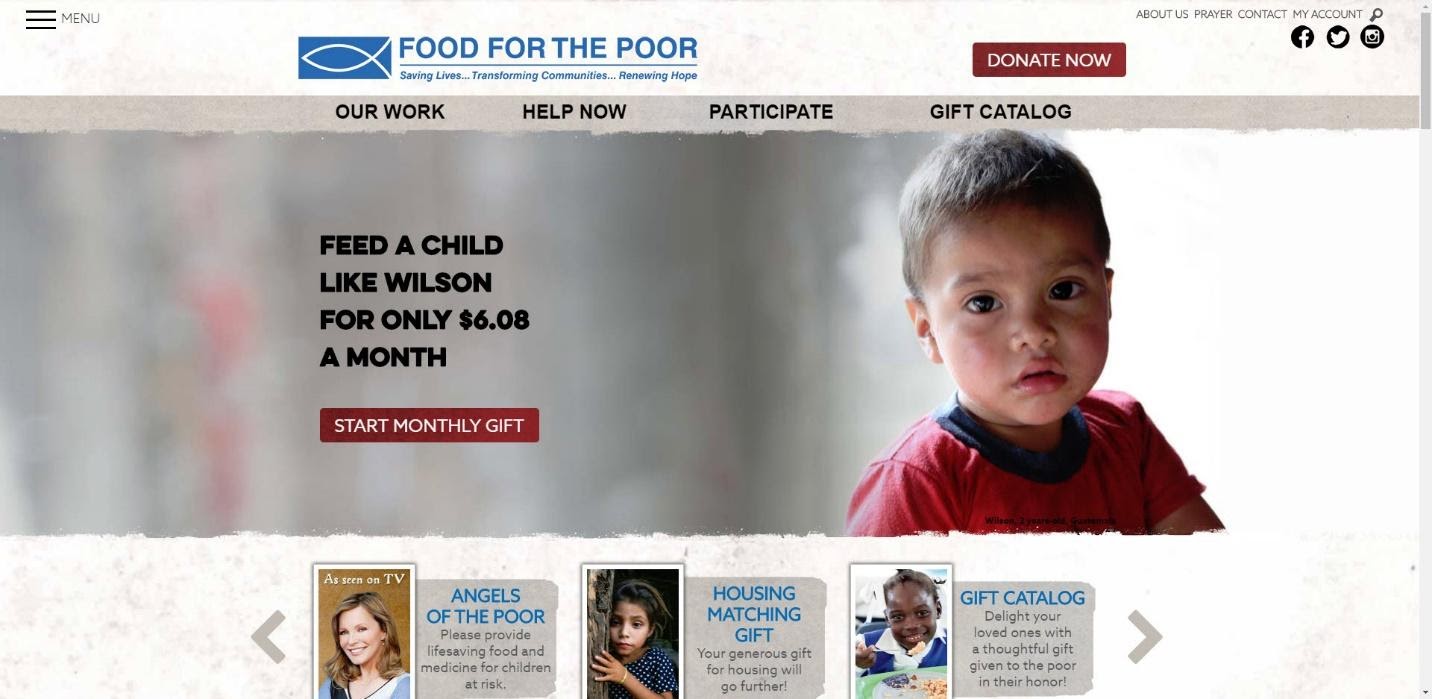 5. Create the back-end messaging and materials right away. Your auto responder. Your email that is generated just as soon as the donor hits the give monthly button. Make it as warm and fuzzy as you possibly can. And have your thank you letter or new monthly giving donor welcome kit ready to go.
6. Test everything first before you go live! I can't stress this enough. Just take a few minutes to go through the whole monthly giving process and make sure that everything works, including feeding into the database or getting the information so you can enter the gift into the database.
7. Start driving your donors to the monthly giving pages through email, appeals, phone, social media. Look at every opportunity to link back to that monthly page whenever and wherever you can.
How can you make your monthly donation page most successful?
The first step is to make sure that your donation pages are mobile responsive. The number of people opening emails and donation pages on their mobile phone or tablet continues to grow.
Also, rather than using a brand-new payment page, consider evaluating the page options you have now. There are literally so many payment and online giving options popping up every month. It's mindboggling. See if you can work with what you have first.
If you find that it really is not that intuitive, you don't like it, it seems clunky, it doesn't integrate with your database etc., only then when you're totally dissatisfied with your current process and options do I recommend that you look at other options.
Here's why. Once your donors are giving monthly, it can sometimes be more difficult to transition them to a different payment system.
Of course, you'd like to try to integrate your monthly giving donors to feed into your database so that's ideal, but it may not always be possible. If you're a bigger organization and you have the luxury of some systems and IT support, you may be able to create custom pages, so it doesn't really matter what happens in the backend. But most of you may have to live with what's on the market now and trust me, there are PLENTY of options.

Monthly donation pages are successful if the donor completes the gift
Make it easy to give, but also not too easy. You really want to make sure that your monthly giving donor is committed.
What does this mean?
Prepopulate the monthly option on your monthly only page.
Do NOT prepopulate it on your one-time giving donation page.
You really want to ensure the donor knowingly wants to give monthly when ticking that make it monthly (or recurring, depending upon the wording your online payment system uses).
Don't ask for too much information upfront. Any information you don't need to process the payment is too much. You can do a survey later if you really must do so.
Everything you do to make the donor 'stop and think too much' is not good. If you look at the number of donation pages that are abandoned, that will give you an idea.
Ask some 'outsiders' to look at your donation pages and get their feedback. What is too much information? What is too soon? How easy is it too fill out the information? How easy is it too pay? If the bulk of your donors are individuals, do you really need to ask if their company matches their gift? Create little yeses whenever you ask for information, so the donor is most likely to complete the form and hits submit.
Here's an example of a page that only asks for the most pertinent contact and payment information, hit donate et voila!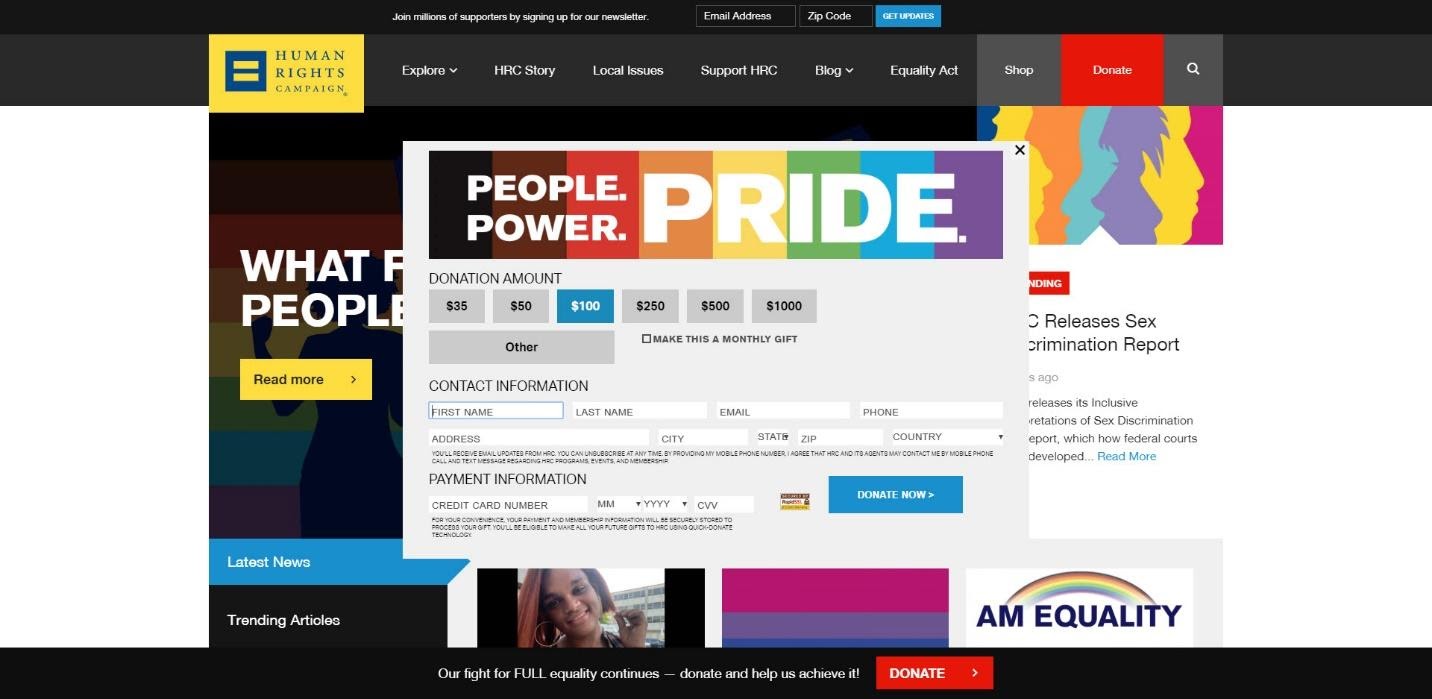 Have more payment choices
Again, this will be somewhat dependent upon the payment processor you're using. As mentioned, every day, new options come to market. Do some research and then pick the one you can live with for a while or the one that gives you the best customer support.
Be realistic with the number of donors and donations you can expect. If you have 800 donors and you get a small number of donations a year, it doesn't make sense to spend $199 or $299 a month. You can probably live with something like www.givelively.org or www.donorbox.org. (But check with your donor base first to see what's built in.
More and more, Credit card and Electronic Funds Transfer (often also called e-check or ACH) are being offered and PayPal is typically also in the mix. Many older donors have become very comfortable with that way to pay and it's just one log-in and password they must remember, rather than multiple individual log-in options for each individual donation.
PayPal has now almost become a fifth credit card! And depending upon your audience, you may need to look at other options like Apple Pay and Venmo.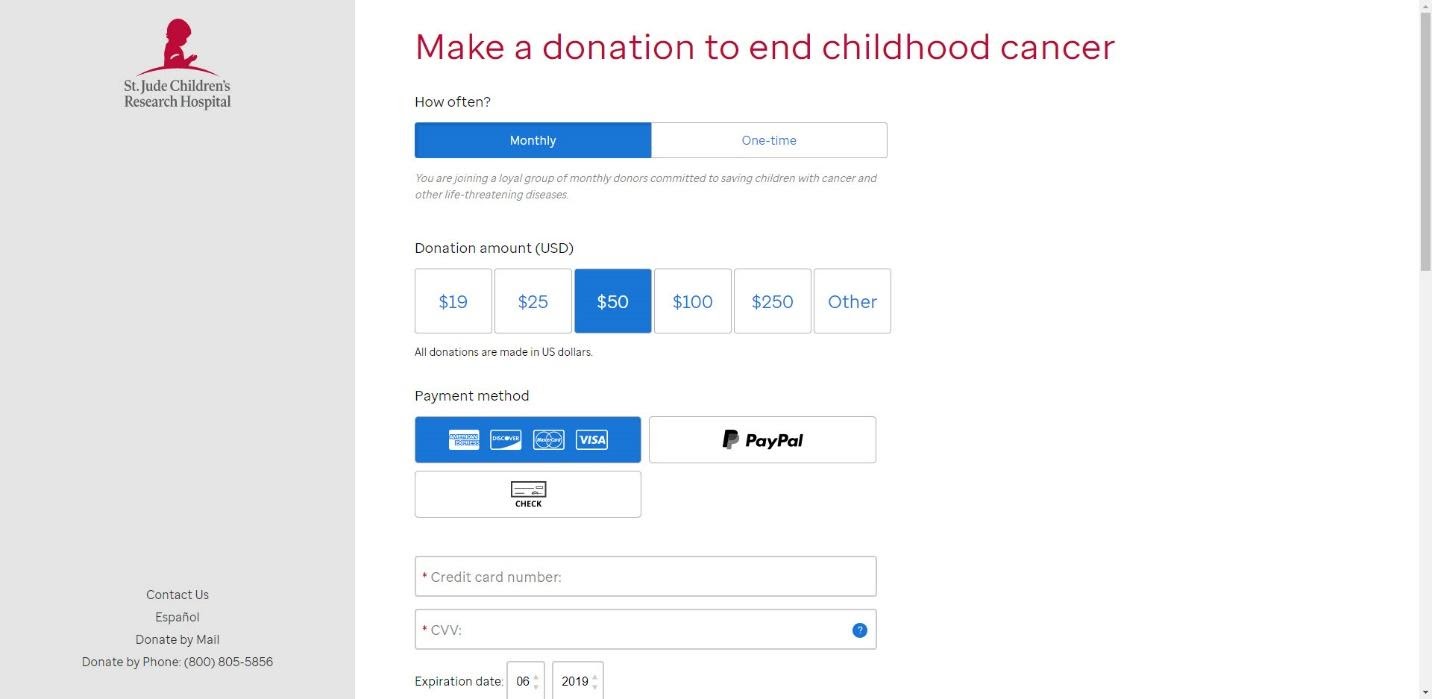 See here for an example of what this might could look like.
Finally, here are 5 crucial Items to consider when It comes to monthly giving and your nonprofit's website:
1. I'm a strong advocate for named programs. Not because the monthly donor will necessarily remember, but because it makes it easy for recognition later.
However, when soliciting new monthly gifts, the name is secondary. Focus on inviting the donor to consider a monthly gift first, use words like: 'Make a Monthly Gift' or 'Give monthly'.
Then use the recognition and benefits of the 'club' they're joining secondary. You can build the name of the program into the email thank you and auto-responder, that's totally fine.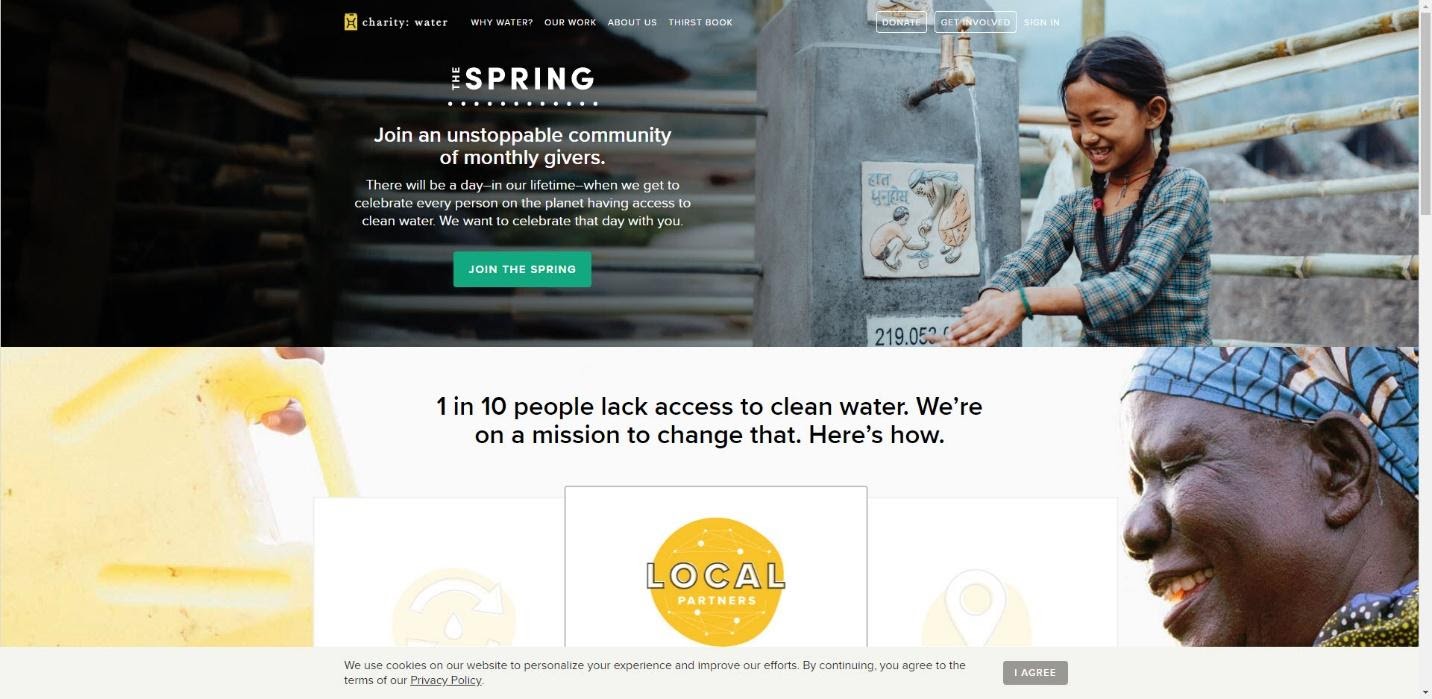 Charity Water focuses on the monthly gift first but then refers to the name. In their case, the name is immediately associated with an ongoing flow… very powerful but not everybody is able to do so. Most of you must 'sell' the donor on giving monthly first, then offer them the recognition and benefits of the monthly donor community.
2. Always try to drive people to your nonprofit's own website. While it may be exciting and interesting to participate in crowdfunding campaigns organized by certain companies, sometimes you're not able to get the information you need to really steward the monthly giving donors the way you'd want them to be stewarded.
Here's the thing: the donor doesn't know about all these systems. The donor thinks he or she is supporting you and it makes for a bad donor experience, especially if they don't hear from you after they commit to giving monthly!
Not to mention the fact that monthly donors are expected to give for a very long time, so you'd want to make sure you're in control of what happens, upgrades later etc.
And yes, Facebook donate buttons and Instagram donation stickers are starting to become more popular, but you will not receive all the information. Even with the risk of your messages being slightly lower in the pecking order because FB penalizes you by NOT using their donation buttons.
This far outweighs the fact that by driving to your nonprofit's own website, you'll keep all your monthly donors in one system and monthly donor retention goes up.
After all, how can you steward new monthly giving donors the right way if you don't know who they are?
3. Your new monthly giving donors who came in online still wish to hear from you offline (mail or phone) as well. Be careful with assumptions but rather consider a survey to find out if they'd like to just receive online communications or if they'd also like to receive mail and phone calls.
4. If you're investigating new systems, ask if they have the credit card updater built in or if it can be added. Especially if you're a mid to large size organization, it will be a game changer when it comes to keeping your monthly donors even if their card expires or declines.
5. The more people you can drive to your nonprofit's website and the easier you make it to find the monthly giving payment page, the more monthly giving donors you'll generate.
So, to recap. Start by using the systems you already have and try to optimize them as much as possible for monthly gifts. Test them before you go live.
Then start promoting your monthly gifts to as many donors and constituents as possible. Then track them and do it again. Go for monthly giving donors with as much internet gusto and gumption as you can! If you chip away at it, you will grow!
About The Author
Building partnerships and trying to find the best solution for donors and her clients are what Erica Waasdorp does best. Her multi-lingual skills and multi-cultural experience bring added value to those clients interested in raising money internationally. And her experience in monthly giving has given her an edge for those clients who are ready to embark on this way of giving.
Click here to view all upcoming webinars from Erica Waasdorp and learn all the ins and outs of monthly giving for your nonprofit!
For Further Reading
For other idea's on how to succeed in monthly giving, check out these articles by our friend at: