Blog Post by CharityHowTo Expert Diane H. Leonard, GPC
Having a successful grant writing strategy in an organization is SO much more than "simply" submitting well-written grant proposals. Having a successful grant writing strategy is about following the overall best practices for grant seeking.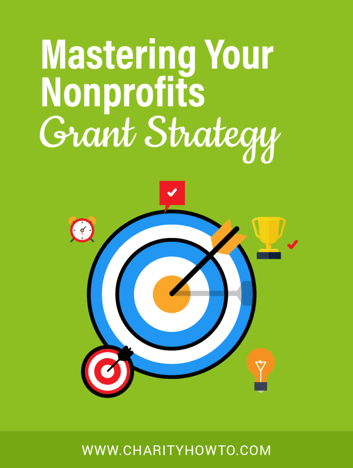 To help you become a master of your organization's grant strategy, here are five essential tips about grant writing best practices.
1. Nonprofit Grant Writing is NOT a Solo Sport
Grant writing for a nonprofit organization is NOT a solo sport. You are not a grant team of one!
You do have a grant team within your organization, the team just may not know it.
A grant team includes the colleagues that have a stake in seeing a grant application be success. They are the colleagues providing information to help you write a successful application, the colleagues that help manage the proposal once funded, and the colleagues that help manage financial billings once awarded.
You need to bring them together as a grant team. Engage them in your grant calendar and grant strategy discussions to maximize your organization's grant seeking success.
There are some common traits and activities across successful grant teams. You can work to instill these traits in your organization, including creating a team that:
Drafts and agrees upon a proactive grant strategy for the operating year ahead.
Vets new grant opportunities for the organization and decide whether or not they are a strategic fit during an operating year.
Delegates relationship interaction with grantmakers. These are based on background, collaborative interaction, or other elements that make one colleague the best connection point.
Breaks down into sub-grant teams for specific applications to help get the real application work done.
2. Researching Grantmakers is Critical Homework
Researching potential grant funders is an important step in the grant development process.
You should have a solid understanding of a potential grant funder's funding history, current priorities, and application/funding process. These components are key due diligence items to understand if you expect to win a grant.
Grant funder research involves a great deal more than contact information and deadlines. It includes understanding funding trends, priority interests, types of support provided and geographic focus. It includes understanding the type of grant maker, if they allow or encourage contact prior to applying, and who is on their board or decision-making committee.
To be successful in your grant research efforts, you need to be prepared to go the extra mile.
Be sure to research and understand the nuances of a potential new grantmaker, rather than relying solely on your grant writer intuition that this funder might be your diamond in the rough.
Perfect fit funders, not just *good* fit funders are scarce. Take off your rose-colored glasses during the grantmaker research phase.
Look not just at the high-level guidelines, but also what types of organizations are on their recent grantee lists. Be sure to check whether or not that list has changed over the past few years, and what the dollar amounts are for the majority of their grants.
This information helps you to understand their actual grantmaking practices. You'll know whether you're just a good fit on paper, or also a good fit based on their approved grants.

3. Don't Shortcut and Skip Relationship Building Efforts
Grantmaker relationships are a critical element of a successful grant seeking strategy. But you may be wondering how to build on those relationships once you get your first grant from a funder? How can you authentically build long-term funding relationships and partnerships?
It boils down to the key question: "How can you express next-level gratitude for your grantmakers of all sizes and types (in a way that aligns with your own capacity and other grant-related responsibilities)?"
of all sizes and types (in a way that aligns with your own capacity and other grant-related responsibilities)?"
of all sizes and types (in a way that aligns with your own capacity and other grant-related responsibilities)?"
Many grantmakers appreciate the recognition of a funding relationship as expressed in written form and via public channels for recognition.
A few examples of how you might choose to express next-level gratitude for a grantmaker through words of affirmation include:
Going beyond the standard IRS recognition thank you letter is key. At a minimum, writing an additional handwritten note on the formal letter can help grant makers feel more appreciated.
Write posts on social media providing updates on the success. Tag your grantmakers, and include a message of sincere gratitude!
Writing stories about funded program success and including them in your newsletter, annual report, and website are another way to express your gratitude.
Provide a handwritten note from the grantee's organization leadership or from a program participant. Let the grantmaker know what a difference they are making in the lives of those served.
4. Engaging Your Reviewers
Grant writing is indeed an art, not science as there are so many factors at play in each grantmaking organization's decision-making process.
Each grantmaker and grantmaking organization is unique in their approach. This means each of your applications needs to have a unique and customized approach.
The best way to successfully achieve this art? Walk a mile in your grant reviewer's shoes.
Step back and look at your proposal as if YOU were the reviewer. Here are four key questions to ask yourself as you try to think like your grant reviewer.
4 Key Questions To Help You Think Like A Grant Reviewer
1. What is the review/scoring criteria used by the grantmaker?
2. Is your story consistent across all elements of the application?
3. What is unique about your work and proposal that would make a reviewer advocate for your application?
4. What do you know about your reviewers? Do they focus on evaluation plans? Do they want to see more comparative statistics in the need statement?
5. Don't Short Change the Grant Report
The grant report is more than a formal closing of the grant agreement. It's also a key element of your relationship with the grantmaker so you want to ensure that you go beyond the bare minimum.
As the grantmaker may provide a framework for a report, and ask you to answer three specific questions. The questions may or may not be "the right" questions that provide meaningful information about your success with the grant.
You can check out these five tips I recently shared about writing a grant report that meets requirements and exceeds expectations.
Annual Planning
To implement a grant strategy, you have to take the time to plan out your grant calendar for the year ahead. Think how your organization will request and receive grant funds that best support your organization's mission and strategic vision
You want to ensure that as the grant professional, before you dig into each year, that you have your annual planning in place.
Here are four planning items I take care of each year:
Layout my annual professional development schedule. (Top on the list is always to get the Grant Professionals Association's Annual National Conference on the calendar.)
Layout my professional development, teaching/presenting engagements, and community involvement. I want to ensure that I am meeting the requirements for maintaining my GPC (Grant Professional Certificate.
Ensure that each client's registrations are current with their funders if at the individual funder, state government, or federal government level any required.
Work with each client to layout their upcoming grant calendar, grant revenue goals, and go over their standard grant attachments to ensure that they are up to date for use in applications.
Overall, a successful grant seeking strategy is always focused on enhancing existing grantmaker relationships. Moreover, it's more expensive to successfully receive funding from a new grantmaker than to maintain a current grantmaker relationships.
Following these five best practices along with focusing on your annual planning will ensure that your nonprofit masters its grant seeking strategy.
For more information on this topic, join me for one of my upcoming webinar trainings!
About The Author
Diane H. Leonard, GPC, President of DH Leonard Consulting & Grant Writing Services, is an experienced and respected grant professional. She has provided grant development counsel to nonprofit organizations of varying size and scope for more than a decade.

In addition, Diane is an in-demand speaker and trainer on the topics of grant readiness, grant writing and grants management. She regularly provides her expertise to audiences ranging from national conferences to boards of directors for small, nonprofit organizations.
Check out all of Diane's CharityHowTo trainings here.
For Further Reading
For other idea's on how to succeed in finding funding for your nonprofit, check out this article by our friend at:
Wild Apricot – How to Write a Sponsorship Letter (+ 2 Templates)