Instagram is a marketing powerhouse for brands, companies, and nonprofits alike.
If you want to target a younger demographic, Instagram could be for you, with 59% of online adults ages 18-29 active on the network. More than 500 million people have Instagram accounts, more than 300 million of which use it daily!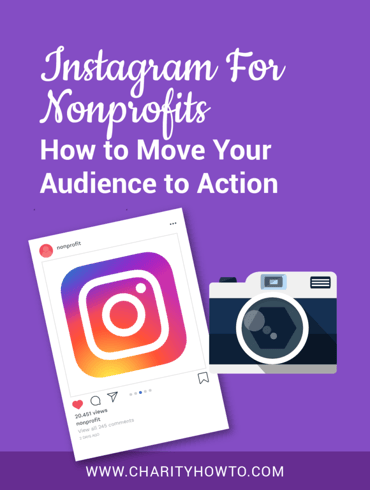 Another key characteristic that differentiates Instagram from social media stalwarts Facebook or Twitter is the way in which people use it. Instagrammers frequently check the site, often several times a day, and engage with posts at a much higher rate than other social networks.
In short, people that use Instagram LOVE Instagram, and if you use it right, you could tap into an engaged, active network of passionate people, ready and willing to like, comment on, and click on your posts!
As with any other social media platform, to succeed with Instagram, you do need a clearly defined strategy, an eye-catching visual style, a staff commitment to consistent posting, and a deep familiarity with your target audience.
Here are some quick tips to getting started on Instagram. Download my Ultimate Guide to Instagram for Small Nonprofits for even more tips and actionable ways to use Instagram to raise money and awareness for your cause.
Why should you consider building your nonprofit Instagram strategy?
Instagram is growing rapidly, with one-third of online adults reporting that they use Instagram!
They have nearly 1 billion monthly active users.
Instagram images get an average of 23% more engagement than their Facebook counterparts.
Brands see engagement rates 10x higher on Instagram than they do on Facebook.
With hundreds of thousands of brands, nonprofits, and organizations creating accounts on Instagram, how can your nonprofit cut through the clutter and stand out?
Instagram use for nonprofits both small and mid-sized is increasing, but very few set up and start using their accounts properly right out of the gate.
Even if your nonprofit is small and on a shoestring budget, there are several benefits to setting up and implementing a solid strategy for marketing your nonprofit on Instagram.
Join me for a special webinar focused on getting your nonprofit results on Instagram – Instagram 201: Intermediate and Advanced Strategies!
Here are 5 steps to building your own killer Instagram for nonprofit strategy that will move your audience to action:
1) Determine your purpose.
Should you be on Instagram in the first place?
Without knowing a bit about you and your work, I'm not sure I can answer that for you – but it is a question you need to answer for yourself.
(HINT: Just because the Board told you to do it, or because you love Instagram in your personal life are not adequate reasons to set up and use the platform for marketing your nonprofit.)
Do a quick assessment. Success on Instagram requires the ability to create and share content specifically designed for the platform.
Eye-catching, colorful, compelling visuals win on Instagram every time.
To optimize your nonprofit Instagram strategy, you have to determine 1-2 main goals – that's your purpose, your WHY.
Some common goals to creating an awesome marketing strategy on instagram for nonprofits are:
Showcase your work
Build your community
Increase awareness of your brand
Showcase your culture and values
Advertise to potential donors
Increase donor loyalty
Share news and updates
When choosing your purpose and your goals, ask these questions:
Why are you considering using Instagram specifically?
What attracted you to Instagram in the first place?
How can Instagram assist you in achieving your overall marketing goals?
How much time or budget can you commit to Instagram?
How does Instagram offer you something different to other platforms?
For example: The IRS set up a new Instagram account with the stated purpose of "spreading useful information to help younger people get ready for the upcoming tax season."
Resource: 5 Ways to Promote Your Nonprofit's Fundraising Message on Instagram
2) Define your audience.
You can't go anywhere on social media without figuring out who you are talking to and what they want to hear from you.
Utilizing social media for nonprofits is not about pushing out your promotions – it's about building a community of raving fans who will want to engage with your Instagram posts.
Your success on Instagram will be determined by your followers. Figure out what they want to see from you and give it to them.
How to do this? Look at your purpose and your goals. Why is your nonprofit on Instagram in the first place?
To deepen relationships with current donors?
To expand your reach a new, younger audience?
To showcase impact to the community?
Ask these questions:
Who is most likely to take the desired action that will get you closer to accomplishing your goals?
What are their passions and interests?
What are their dreams and goals?
What motivates them?
What do they want to learn more about?
Why does your cause resonate with them?
What value do you provide to their busy lives?
What problem does your nonprofit solve FOR THEM specifically?
Why would they share your nonprofits content on social media? Is it useful, valuable, educational, entertaining?
What type of emotion resonates the most with your audience? Inspirational, aspirational, angry, sad, happy?
What sets you apart from your competitors?
What do you do best?
Why do people love you?
For example: The IRS wants to reach younger taxpayers, millennials especially, and they know that Instagram is the platform on which to do this. In an interview, their social media team said, "It's a matter of meeting the taxpayers where they are."
Resource: Instagram for Nonprofits: How to Use Instagram to Raise Awareness and Build An Audience

3) Remain realistic.
I encourage my clients to work every single day on growing their Instagram following, but to be realistic and not to get easily frustrated.
Nonprofits, no matter how huge, will never be Kendall Jenner with over 100 million Instagram followers. (However, understand that many, many of those followers only comment on her posts to get likes themselves, and to promote their own accounts.)
Having followers just for the sake of having followers will not get you any closer to your goals and won't increase authentic engagement, the primary goal of social media for nonprofits is to increase exposure and extend your reach.
The 4 keys to getting more Instagram followers:
Have a consistent content strategy.
Post great photos.
Engage with other accounts.
If you remain true to your cause and your mission, if you provide great photos and videos that resonate with your audience, you will grow your followers.
Resource: [FREE EBOOK] The Ultimate Guide to Instagram for the Small Nonprofit
4) Create posts specifically for Instagram.
Sure, you can use a photo or a video that you have used on another channel. But the key to getting traction on your nonprofit Instagram page is to truly understand the aesthetics and the best practices for this unique platform.
When creating content buckets, remember to focus on content that aligns with both your audience and your goals.
Sample content that works on Instagram for nonprofit organizations:
Behind-the-scenes content
User-generated content
Educational (e.g. how to run a food drive, how to prevent elder abuse)
Culture focused (showing the human side of your org)
Fun / lighthearted
Client stories
Donor stories
Volunteer stories
Get to know the team
Team member takeovers
Partner showcase
Know character counts, research hashtags, determine if you can and should use emoji – these are all key to getting likes and comments on Instagram.
Resource: 15 Ways Nonprofits Can Use Instagram
5) Be consistent.
Social media for nonprofits should be looked at like exercise.
If you half-heartedly go to the gym for a half-hour per week, you are not going to get results.
If you are committed, if you work with a personal trainer, create a fitness plan, and execute on it daily or several times per week, you will make progress towards your goals.
My advice:
Post at least three times per week (during the work week).
Experiment to see what works best for your audience.
Monitor your Instagram Insights to look for trends over time.
Always consider quality over quantity – less is always more. Do not throw up a mediocre or crappy post because you haven't posted in a while!
Tools to schedule and monitor Instagram posts:
Success on Instagram for nonprofits involves:
Knowing your audience and creating the types of posts that they like and that they respond to.
Creating every post to elicit a reaction – getting a link click, a like, a comment.
Having an authentic and friendly voice.
Showcasing eye-catching photos and videos.
Bringing "visual value" to the table with every post.
Remember: If people are not inspired, educated, or entertained in some way, they will not engage with you on Instagram!
Join me for a special webinar focused on getting your nonprofit results on Instagram – Instagram 201: Intermediate and Advanced Strategies!
Here are some extra tips to help your nonprofit get even more out of Instagram:
Sign up for Instagram Business Tools.
If you are using Instagram for your nonprofit organization and not for your own personal use, you need to sign up for an Instagram for Business account. It's free, and it provides you with several useful tools that you don't get with the personal account, including analytics and a Contact button.
Watch this short video and learn how to convert your account to a Business account.
Get your ED on Instagram.
If your Executive Director or other spokesperson is willing and able to set up and maintain a personal Instagram account, by all means, encourage this! People prefer to connect with people on social media, much more than brands and logos.
Having a personalized presence can increase your reach on Instagram and create deeper connections with donors and supporters.
TOMS shoes and their founder and social entrepreneur Blake Mycoskie maintain separate Instagram accounts, showcasing different visual styles and points of view.
International nonprofit Pencils of Promise and their founder Adam Braun also have separate, but complementary, Instagram accounts.

Ensure accuracy in your profile.
Your profile is your homepage on Instagram – it's the first thing people see when they find you, so make it stand out.
If you have an Instagram for Business account, you can automatically pull your contact information in from your Facebook Business Page, and link the two pages.
Set up your Contact button to ensure that Instagram users can tap on it and contact you directly, either via phone call, email, or find directions (if you have a brick and mortar location).
Make your profile pop.
Choosing a great profile picture is one of the most important tasks when setting up an Instagram account.
Use your logo, watermark, or a visual that accurately represents your organization.
Remember that this picture is going to be viewed on mobile phones, so it should be easily recognizable even if it is small.
When setting up your profile, keep your description short and sweet, and enter a link.
It may be your website homepage, or it may be a specific landing page for a campaign. Pencils of Promise often uses specific URLs in their profile and changes them depending on their fundraising campaign (see example):
Change the "link in bio" strategically.
One of my favorite Instagram features is the inability to post hyperlinks (other than link in bio). This avoids a lot of spam and helps give the platform a cleaner, more streamlined feel.
Most small nonprofits will only be able to share one hyperlink on Instagram at a time, and that's the "link in bio". (There are 2 ways you can share links on Instagram – if you have 10K followers or more, you can use them in Instagram Stories; or you can purchase ads on Instagram and use links in the ads.)
However, if you are running a fundraising campaign, you can share the specific link in your profile bio. Indicate that the link is in your bio when posting to Instagram (see example):
Create your content strategy.
Creating a content strategy means having a defined goal for the photos and videos you are going to share on Instagram. With 95 million photos and videos posted daily to the network, how will you cut through the clutter and reach your audience?
Many brands on Instagram showcase their products and how people use them (Nike, Sephora).
Some companies focus on workplace culture (WeWork); others educate about trends (The Zoe Report).
The most successful Instagram accounts are not "a little bit of everything" – they are laser-focused on the visual style of content they post and the audience they want to reach.
Some amazing nonprofit Instagram accounts to follow for content inspiration:
Compose compelling captions.
While an eye-catching photo or video is the heart of every Instagram post, what you write in the caption is equally important.
Remember that you have 2,200 characters, and if you exceed three lines of text, the caption gets truncated.
In my experience strategizing social media for nonprofits, I have found that captions telling the background story of the image or video tend to do best on Instagram.
There is no definitive study on whether lengthy captions encourage or discourage engagement – it depends on what you want to say and if your audience will read a longer caption.
Visual storyteller Branden Harvey often uses all 2,200 characters in his captions to tell his stories, which his followers love and enjoy:
Increase your followers with hashtags.
Instagrammers love hashtags – it's a great way to discover new accounts to follow.
Track Maven reported that posts with more than 11 hashtags get the most engagement.
The 10 most popular hashtags on Instagram as of this posting are: #love, #instagood, #me, #tbt, #cute, #follow, #followme, #photooftheday, #happy, and #tagforlikes.
When choosing which hashtags to use on your particular photo, do some research into what others are using on similar posts, and what hashtags make the most sense for your nonprofit and your mission.
Pro Tip: If you don't like the look of too many hashtags in your caption, you can add them as comments, or try this neat hack to hide them.
Use Instagram Stories.
The shiny new feature on Instagram is the Stories feature.
Designed to mimic the popular app Snapchat, Instagram Stories allows users to share many moments during their day in one cohesive story.
Stories disappear after 24 hours and do not stay permanently on your profile, so they are perfect for in-the-moment happenings and events that need to be documented as they happen.
The benefit of this type of content is that you can experiment and share video and photos with your followers that doesn't fit the carefully cultivated visual style of your overall Instagram account.
One big reason you should use Instagram Stories is that they show up in chronological order (no fancy algorithm here) on the very top of your followers' accounts when they open the app (see example):
For a complete how-to guide on Instagram Stories, read Buffer's great post on the topic.
Drive donations using Instagram ads.
There are a few case studies promoted by Instagram where nonprofits have used ads to much success.
For example, the British Heart Foundation wanted to attract younger female runners, ages 25-25, to fundraise for its MyMarathon campaign.
Knowing that their desired demographic was predominantly using Instagram, they focused their advertising message there, and received almost 13% of total sign-ups from the platform!
The main benefit of running an ad on Instagram (and all social networking sites) is the ability to directly track the return on your investment.
By putting a small pixel on your website, you can determine how many people came to your site and completed a desired action from the Instagram ad.
Since Facebook owns Instagram, you do need a Facebook Business Page to run ads on Instagram.
You also need to familiarize yourself with Facebook's Advertising tools. For more on running strategic ads on Facebook and Instagram, read How to Create Fab but Cheap Nonprofit Ads for Facebook.
Post consistently.
A recent study by Union Metrics found that brands post to Instagram an average of 1.5 times per day. They also found that brands posting more than twice per day did not see a decrease in engagement on their posts.
If you are creating and sharing great content that is designed with your followers in mind, your posts will be well-received and you should not worry about posting too much.
If you aim to post at least once per day, make sure you are looking at your Instagram Insights (only available with an Instagram for Business account) to determine the optimal time of day for your followers.
When used thoughtfully and strategically, Instagram can be an effective way to reach and engage a younger demographic of potential donors, volunteers and advocates for your nonprofit cause.
About The Author
Julia Campbell is a digital marketing strategist and nonprofit technology evangelist, providing workshops, webinars and trainings to nonprofit professionals in organizations of all sizes.
Using social media, email, blogging and online fundraising platforms, Julia has over a decade of history of helping nonprofits find success online. She founded J Campbell Social Marketing, a boutique digital marketing agency.
Check out all our free and premium trainings on Social Media here!
For Further Reading
For other idea's on getting your nonprofit started with social media, check out this article by our friends at: