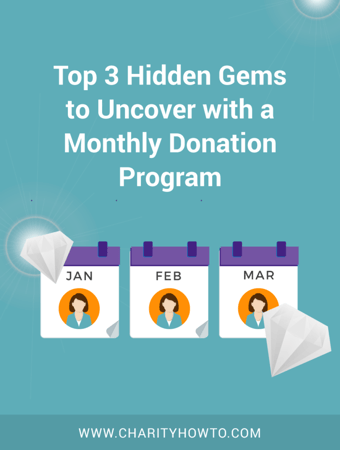 This post is by Erica Waasdorp
Monthly Donors… Sustainers… Hidden Gems. Truly!
If you don't have a monthly donation program yet, I highly recommend you start as soon as you possibly can. It benefits both you and your donors. Let me share with you the top 3 reasons why you should start uncovering these little gems. What do you have to lose by trying?
Monthly donation giving is easy for the donor!
As a fundraiser, you already know raising money for your organization is all about being donor centric. Well, monthly donations are truly donor centric. It's all about the donor:
The donor can make a gift at a time that's convenient for them, morning, afternoon or night.
They can make a gift using their phone, tablet or desktop computer. The mobile phone has made giving so much easier.
They can make a gift no matter which life stage they're in. Did you know that 50% of baby boomers give monthly and 60% of millennials are interested in giving monthly.
Most importantly, the donor can make a difference with the amount that's most convenient and comfortable for their budget. No gift too small. Just $5 or $10 a month makes a difference and the donor can simply 'set it and forget it'. Easy, right?
Monthly donations are easy for you!
I started working with monthly donors before email fundraising existed. And when I first wrote the book Monthly Giving: The Sleeping Giant, it was still somewhat difficult to organize a monthly giving program. But things have changed. A LOT!
Monthly giving is so much easier for you to set up and organize. You already have the tools. You have your online donation processor. All you have to do is create a giving page to focus on giving monthly.
You most likely already have the donor base that can handle monthly donations. And you have the thank you processes in place. All that's left to do, is tweak your materials to accommodate for recurring gifts instead of one-time donations.
I am all about keeping things very simple and easy so that they're much more likely to be implemented. So, simply take what you're doing now and make some small tweaks to it and you can be very successful with monthly giving.
Monthly donor giving costs and resources are minimal
You don't need many donors to get started and it doesn't cost you much to obtain monthly donors. With just a little focus, your time spent growing the program can be very minimal. So, start with the low hanging fruit. Join your own program! Then ask your board, your staff, your volunteers and perhaps even your patients or clients.
You have your email program already in place. It's just a matter of asking.
Let me give you just one example of how a small animal charity wanted to start growing their recurring monthly donation program:
They sent out three emails with a goal of generating 15 new monthly donors and a deadline. If they achieved that goal, a board member would provide an additional $5,000 as a little 'carrot' to motivate donors to give monthly.
Well, that carrot worked and soon, these 15 monthly donors were generating $2,500 a year and they got the additional $5,000. Pretty powerful, right?

You may already have your e-newsletter in place. It's just a matter of adding in a short message about giving monthly. Social media is affordable too, just change the appeal from giving once to giving monthly.
Finally, video is very powerful and cheap. Just take your smart phone, interview a current monthly donor and ask them why they give monthly. Then use that video everywhere you can to motivate other donors to give monthly.
You can literally create a monthly donor program on one hour a week. Of course, if you spend a little bit more time, you'll be able to do more and grow faster!
A Note About Monthly Donation Processing Online
Some finance folks may complain about credit card fees. Just consider this example.

(source: CharityHowTo webinar, start a monthly giving program now. 7 reasons why you can't afford to wait).
And better yet, most online processors allow donors to pay for the fees and some 60 to 70% of donors offer to do just that, so credit card fees are nil!
***
So there you have it. The top 3 reasons why it's time to start uncovering these hidden monthly donor gems. You really have no excuse not to get started!
Want to learn more about monthly giving and get a process for implementing it into your nonprofit? Check out my monthly donor CharityHowTo webinar!