We recently hosted the webinar "Raising More Money with Event Sponsorship – A New Approach That Works!" by Joe Waters, author of Cause Marketing for Dummies. Here are some great tips Joe gave on how to partner with businesses to raise money for your nonprofit.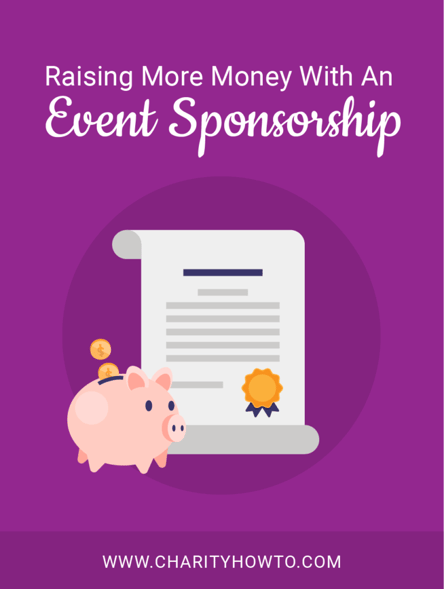 Partnering with local businesses – or "cause marketing" – raises money and awareness for your nonprofit by gaining access to your partner's most valuable asset – their customers.
Best Tactics for Raising money with an Event Sponsorship
1. Coin Canisters.
In the right retail setting you can raise thousands and thousands of dollars with coin canisters. The right store is key to the success of these programs. The ideal place is a busy store where customers normally pay cash, but cannot tip employees. Places like convenient stores, department stores, and bakeries are great. The canisters need to be front and center and have ample security so they can't be stolen.
2. Pinups (paper icons).
This is one of the cheapest strategies, but one of the most lucrative ways to raise money. Pinups are cheap to print and easy to execute. You want retailers who have lots of locations and foot traffic – grocery stores, department stores, and restaurants. The "ask" from the cashiers is critical though. If they won't ask for the donation, you won't get anything.
3. Purchase triggered donations.
With this tactic, the company donates part or all of the proceeds of a sale to your cause. There is no cost to the consumer, and it is a less intrusive way to get people to give. It's very customer friendly as they are buying products but also feeling good about it. However, these are usually geared towards causes that are already well known in the community.
4. Shopping Days.
This tactic allows you to tap into a local shopping or business district. Ask several businesses in that district to support your cause either through coin canisters, pinups or purchase triggered donations, but do it all on the same day or weekend. This masses your forces and turns your program into an event.
5. Facebook Likes.
This is a digital option for those with great online presence. For every like, comment, or new twitter follower, etc, you receive a donation from the company. This can create new opportunities for your partner and being online builds your own credibility within the community.
Partnering with businesses is about "philanthrotunity." Any sized nonprofit can take advantage of the real opportunities that are presented when you find the right business to partner with.
Want to learn more about how your nonprofit can partner with local businesses? Have questions for Joe on how to find the best partners and what to do when you get them?