In a culture of bad headlines around Facebook and Twitter, Instagram remains a fairly-untouched paradise of social media engagement. And in an environment of stagnating social media growth, Instagram is gaining followers and daily users.

Instagram can be a powerful tool for nonprofits, let's take a look at how you can use this storytelling platform to garner support for your cause.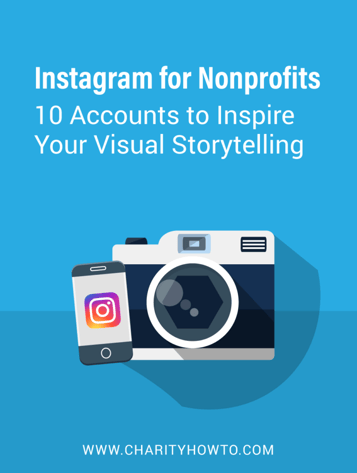 Some reasons that your nonprofit should consider Instagram:
Instagram boasts 1 billion monthly users.
Its users skew younger, with 71% of users under 35.
Instagram Stories are exploding in popularity, with 500 million people using the Stories feature every day!
If reaching younger donors and connecting with a wider audience is one of your social media marketing goals, then your nonprofit should be taking a close look at Instagram.
Nonprofit success on Instagram requires five main tactics:
Know your audience and the types of posts that they like and that they respond to.
Every post should be created to elicit a reaction – getting a link click, getting a like, getting a comment.
Authenticity works, but eye-catching photos and videos work best.
If people are not inspired, educated, or entertained in some way, they will not engage with you on Instagram!
Bring "visual value" to the table with every post.
Who is doing Instagram for Nonprofits right?
Let's take a look at 10 nonprofit Instagram accounts that are doing fabulous and noteworthy visual storytelling.
Instagram bio: Amirah is a multifaceted aftercare organization for survivors of sex trafficking, providing residential, outreach & education services. #HopeLivesHere
What they get right on Instagram:
Amirah deals with a sensitive topic and is often not able to share the names and faces of the trafficking survivors they serve. They work around this by sharing animated videos highlight the problem.
And creating graphics with stock photography to go with their survivor stories.
Instagram bio: We're that crazy head-shaving charity, making a difference for kids w/ cancer by funding the most promising childhood cancer research🎗
What they get right on Instagram:
St. Baldrick's Foundation does not provide direct services to children and families suffereing from a cancer diagnosis – they support research to prevent and end cancer in our lifetime.
On their colorful and bright Instagram account, they share stories of the doctor's who work on treatment.
And the courageous men and women who shave their heads to raise money for the cause.
I also love how they ask you to "join the fight' in their Instagram bio, rather than just sending interested parties to the home page of their website with no inspiring call to action.
Instagram bio: Friendships, Jobs, Leadership Development, and Inclusive Living for people with intellectual and developmental disabilities (IDD).
What they get right on Instagram:
Best Buddies brings you behind the scenes and shows you the very human side of their organization and their volunteers through their Instagram Stories.
Eye-catching photos grab your attention, and the stories move your heart. Best Buddies often allows their volunteer mentors and mentees share stories in their own words, highlighting quotes in their Instagram captions.
Instagram bio: National animal welfare organization. 🐾 We run the largest no-kill sanctuary and programs to help end the killing in America's shelters. #SaveThemAll
What they get right on Instagram:
Another great example of using Instagram for nonprofits stories to build community, Best Friends Animal Society shares photos and videos to give an inside glimpse of their furry friends.
Showcasing compelling, emotional stories through great photography is one of their greatest strengths, as they did on #NationalVolunteerDay.

Instagram bio: On a mission to inspire lifelong learning, advance knowledge, and strengthen communities.
What they get right on Instagram:
The NYPL is constantly breaking the mold and innovating in their use of social media. Using Instagram Stories, they broke down some of the most revered literary classics into bite-size chunks called Insta Novels.
The NYPL jumps on popular trending hashtags to get more exposure, such as #BookFaceFriday.
And #LibraryWorkersDay
Instagram bio: 📣🔥We're inspiring and empowering you to make change in your community.
What they get right on Instagram:
As a nonprofit whose mission it is to empower and inspire youth, Do Something's content is a natural fit for a youth-driven platform like Instagram.
(I mean who doesn't want to destroy their snooze alarm in the morning.
Do Something shares colorful graphics, quotes, and features stories of youth who are active in their communities.
Instagram bio: Where great art and courageous conversations are catalysts for a more connected, civic, and empathetic world.
What they get right on Instagram:
Using hashtag contests to inspire participation and engagement, the Brooklyn Museum curates photos from their followers to showcase on their main account.
The Museum features attention-grabbing photography and enticing stories of the artists featured in its exhibits.
Instagram bio: Sprout Creek Farm is a 501c3 non-profit focussed on educating children about our special role to understand, protect and heal Planet Earth, our home.
What they get right on Instagram:
They love to showcase their staff having fun on the farm.
Sprout Creek Farm knows their audience, and they remain laser-focused on giving them the types of Instagram posts they know they will enjoy – animal babies!
Instagram bio: To Write Love on Her Arms.
TWLOHA is a nonprofit movement dedicated to presenting hope & finding help for people struggling with depression, addiction, self-injury, & suicide.
What they get right on Instagram:
TWLOHA deals with a very dark and difficult topic – depression, addiction, self-injury, and suicide. On their Instagram account, they remain dedicated to showcasing people's stories in authentic but ethical ways, in order to shed light on these issues and encourage others to seek help.
Their Instagram stories are often inspiring and meant to show people support during tough times.
Instagram bio: Our mission is to provide a safe and nurturing environment to help poor and homeless women maintain their dignity, seek opportunity and find security.
What they get right on Instagram:
Rosie's Place features a great mix of promotions, events, staff highlights, volunteer spotlights, and donor stories on their Instagram account.
They also aren't afraid to delve into political issues, in order to advocate for what's best for their clients.
Instagram is proving to be a powerhouse for nonprofits that know how to use it to build community and engage donors!
Want to dive deeper? Join me for one of my upcoming webinars:
About The Author
Julia Campbell is a digital marketing strategist and nonprofit technology evangelist, providing workshops, webinars and trainings to nonprofit professionals in organizations of all sizes.
Using social media, email, blogging and online fundraising platforms, Julia has over a decade of history of helping nonprofits find success online. She founded J Campbell Social Marketing, a boutique digital marketing agency.
Check out all of Julia's free and premium trainings at CharityHowTo here!
For Further Reading
For other idea's on nonprofit storytelling, check out thess article by our friend at: